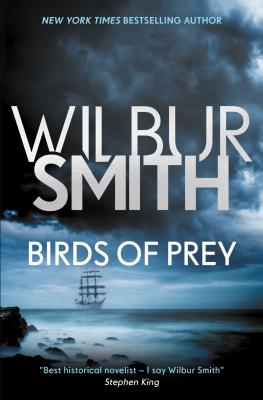 Birds of Prey (The Courtney Series
The Birds of Prey Trilogy #1)
Paperback

* Individual store prices may vary.
Other Editions of This Title:
Compact Disc (12/1/2020)
MP3 CD (2/11/2020)
Mass Market (7/15/1998)
Description
A Courtney series adventure - Book 1 in the Birds of Prey trilogy

"Africa!" The sound of that mysterious name on his own lips raised goose pimples along his arms and made the thick dark hair prickle on the back of his neck.' A simple mission. A battle for their lives. It is 1667 and the war between the Dutch and the English continues apace. Sir Francis Courtney, his son Hal, and their crew are carried around the southern tip of the African colonies by the good ship Lady Edwinna, licensed to attack and seize the treasure-laden ships of the Dutch East India company. When they capture a Dutch trader and hold the passengers to ransom, Sir Francis hopes only for a good price and a small sense of satisfaction. But this is unlawful territory they sail in.An unexpected betrayal will mean the men on board will afce greater peril than they have ever faced before - and many good men may never see home again...
Zaffre, 9781499860887, 676pp.
Publication Date: June 5, 2018
About the Author
Wilbur Smith (Author)
Wilbur Smith is a worldwide phenomenon. His readership has built up over fifty-five years of writing.
Born in Central Africa in 1933, W ilbur became a full-time w riter in 1964 follow ing the success of When the Lion Feeds, and has since published over forty global bestsellers, including the Courtney Series, the Ballantyne Series, the Egyptian Series, the Hector Cross Series and many successful standalone novels, all meticulously researched on his numerous expeditions worldwide.
The establishment of the W ilbur & Niso Smith Foundation in 2015 cemented W ilbur's passion for empowering writers, promoting literacy and advancing adventure writing as a genre. The foundation's flagship programme is the W ilbur Smith Adventure W riting Prize.

For all the latest information on W ilbur visit w w w .w ilbursmithbooks.com or facebook.com/WilburSmith

Mark Chadbourn (Author)
Mark Chadbourn is a Sunday Times bestselling author of historical fiction novels about the Anglo-Saxon warrior Hereward, published under his pseudonym James Wilde. His Age of Misrule books, under his own name, have been translated into many languages. As a screenw riter, he's written for the BBC and is currently developing series for Lionsgate and several of the streaming netw orks. He began his career as a journalist reporting from the world's hotspots.