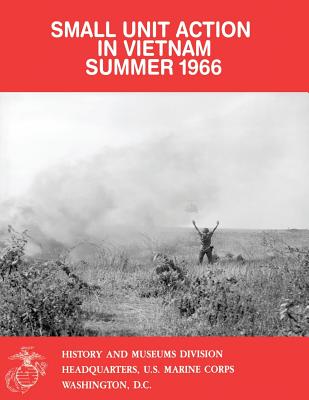 Small Unit Action in Vietnam, Summer 1966 (Paperback)
Createspace Independent Publishing Platform, 9781500143893, 158pp.
Publication Date: June 10, 2014
* Individual store prices may vary.
Description
The origin of this publication lies in the continuing program at all levels of command to keep Marines informed of the ways of combat and civic action in Vietnam. Not limited in any way to set methods and means, this informational effort spreads across a wide variety of projects, all aimed at making the lessons learned in Vietnam available to the Marine who is fighting there and the Marine who is soon due to take his turn in combat. Recognizing a need to inform the men who are the key to the success of Marine Corps operations-the enlisted Marines and junior officers of combat and combat support units-the former Assistant Chief of Staff, G-3, Major General William R. Collins, originated a project to provide a timely series of short, factual narratives of small unit action, stories which would have lessons learned as an integral part. Essential to General Collins' concept was the fact that the stories would have to be both highly readable and historically accurate. The basic requirement called for an author trained in the methodology of research, with recent active duty experience at the small unit level in the FMF, and a proven ability to write in e style that would ensure wide readership. This publication, then, is based upon first-hand, eyewitness accounting of the events described. It is documented by notes and taped interviews taken in the field and includes lessons learned from the mouths of the Marines who are currently fighting in Vietnam. It is published for the information of those men who are serving and who will serve in Vietnam, as well as for the use of other interested Americans, so that they may better understand the demands of the Vietnam conflict on the individual Marine.