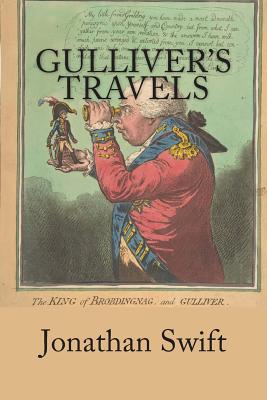 Gulliver's Travels
Paperback

* Individual store prices may vary.
Other Editions of This Title:
Paperback (9/1/2014)
Paperback (4/26/2014)
Paperback (1/28/2019)
Paperback (3/24/2013)
Paperback (2/22/2012)
Paperback (11/7/2012)
Paperback (10/5/2008)
Paperback (12/29/2013)
Paperback (12/17/2010)
Paperback (11/3/2012)
Paperback (7/18/2018)
Paperback (7/30/2010)
Paperback (8/11/2011)
Paperback (5/18/2014)
Paperback (10/4/2008)
Paperback (9/1/2004)
Paperback (5/26/2014)
Paperback (11/29/2011)
Paperback (6/12/2012)
Description
Gulliver's Travels, or Travels into Several Remote Nations of the World. In Four Parts. By Lemuel Gulliver, First a Surgeon, and then a Captain of Several Ships, (which is the full title), is a prose satire by Irish writer and clergyman Jonathan Swift, that is both a satire on human nature and the "travellers' tales" literary subgenre. It is Swift's best known full-length work, and a classic of English literature. He himself claimed that he wrote Gulliver's Travels "to vex the world rather than divert it".The book became popular as soon as it was published. John Gay wrote in a 1726 letter to Swift that "It is universally read, from the cabinet council to the nursery.The travel begins with a short preamble in which Lemuel Gulliver gives a brief outline of his life and history before his voyages.During his first voyage, Lemuel Gulliver is washed ashore after a shipwreck and finds himself a prisoner of a race of tiny people, less than 6 inches (15 cm) tall, who are inhabitants of the island country of Lilliput. After giving assurances of his good behaviour, he is given a residence in Lilliput and becomes a favourite of the Lilliput Royal Court. He is also given permission by the King of Lilliput to go around the city on condition that he must not harm their subjects.At first, the Lilliputians are hospitable to Gulliver, but they are also wary of the threat that his size poses to them. The Lilliputians reveal themselves to be a people who put great emphasis on trivial matters. For example, which end of an egg a person cracks becomes the basis of a deep political rift within that nation. They are a people who revel in displays of authority and performances of power. Gulliver assists the Lilliputians to subdue their neighbors the Blefuscudians by stealing their fleet. However, he refuses to reduce the island nation of Blefuscu to a province of Lilliput, displeasing the King and the royal court.Lemuel Gulliver is charged with treason for, among other crimes, "making water" in the capital though he was putting out a fire. He is convicted and sentenced to be blinded. With the assistance of a kind friend, "a considerable person at court", he escapes to Blefuscu. Here, he spots and retrieves an abandoned boat and sails out to be rescued by a passing ship, which safely takes him back home.Jonathan Swift (30 November 1667 - 19 October 1745) was an Anglo-Irish 1] satirist, essayist, political pamphleteer (first for the Whigs, then for the Tories), poet and cleric who became Dean of St Patrick's Cathedral, Dublin. 2]Swift is remembered for works such as A Tale of a Tub (1704), An Argument Against Abolishing Christianity (1712), Gulliver's Travels(1726), and A Modest Proposal (1729). He is regarded by the Encyclop dia Britannica as the foremost prose satirist in the English language, 1] and is less well known for his poetry. He originally published all of his works under pseudonyms - such as Lemuel Gulliver, Isaac Bickerstaff, M. B. Drapier - or anonymously. He was a master of two styles of satire, the Horatian and Juvenalian styles.His deadpan, ironic writing style, particularly in A Modest Proposal, has led to such satire being subsequently termed "Swiftian"Jonathan Swift was born on 30 November 1667 in Dublin, Ireland. He was the second child and only son of Jonathan Swift (1640-1667) and his wife Abigail Erick (or Herrick) of Frisby on the Wreake. 4] His father was a native of Goodrich, Herefordshire, but he accompanied his brothers to Ireland to seek their fortunes in law after their Royalist father's estate was brought to ruin during the English Civil War. His maternal grandfather, James Ericke, was the vicar of Thornton in Leicestershire. In 1634 the vicar was convicted of Puritan practices. Some time thereafter, Ericke and his family, including his young daughter Abilgail, fled to Ireland.
Createspace Independent Publishing Platform, 9781500275853, 126pp.
Publication Date: June 22, 2014
About the Author
Jonathan Swift (30 November 1667 - 19 October 1745) was an Anglo-Irish[1] satirist, essayist, political pamphleteer(first for the Whigs, then for the Tories), poet and cleric who became Dean of St Patrick's Cathedral, Dublin. He is remembered for works such as Gulliver's Travels, A Modest Proposal, A Journal to Stella, Drapier's Letters, The Battle of the Books, An Argument Against Abolishing Christianity, and A Tale of a Tub.