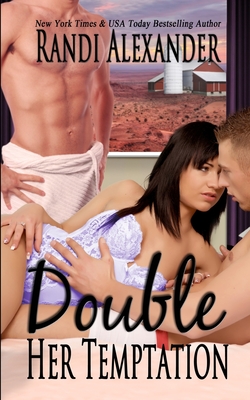 Double Her Temptation (Paperback)
Createspace Independent Publishing Platform, 9781500287788, 260pp.
Publication Date: June 22, 2014
* Individual store prices may vary.
Description
Two Books in One - DOUBLE HER TEMPTATION and DOUBLE HER DESTINY Double Her Temptation: Visiting the Silver Spur ranch in western Texas, Megan Shore loves being the center of sexy Trey and Garret McGatlin's sensual attentions. The more the brothers get to know the woman they'd met and seduced during one memorable weekend in Chicago, the more they can see her fitting into their lives long-term. But when a stalker from Megan's past finds her, she's tempted to run back to the polar north to hide. As the threat escalates, Garret and Trey call on their family to help find the man intent on kidnapping Megan. When Megan's parents start encouraging her to leave the ranch and return north with them, the McGatlin brothers need to prove that the best place for their woman is tucked tightly between their hard bodies, held safely in their arms. Double Her Destiny: In the final installment of the Double Seduction Series, Megan Shore marries her two men, Trey and Garret McGatlin. The secluded, romantic ceremony binds them together, but an unexpected and unwanted visitor brings with him ammunition to destroy their future together. When yet another shock threatens to change their world at the very same time, is their love strong enough to hold the three of them together forever and let them secure their destinies as a family? Or will it all fall apart for Megan, Garret, and Trey?
About the Author
New York Times and USA Today Bestselling Author Randi Alexander knows a modern woman dreams of an alpha cowboy who takes the reins, and guarantees they're rode hard and put up satisfied. Published with Cleis Press, Wild Rose Press, and self-published, Randi writes smokin' hot romance with heroes who'll have you begging to ride off into the sunset with them. When she's not dreaming of, or writing about, rugged cowboys, Randi is biking trails along remote rivers, snorkeling the Gulf of Mexico, or practicing her drumming in hopes of someday forming a tropical rock-band. Forever an adventurous spirit with a naughty imagination, Randi is also family oriented and married to the best guy in the world, her own cowboy, Kick. Give in to the allure of erotic passion, strong but vulnerable heroines, and irresistibly seductive cowboys, as Randi's emotional love stories sweep you off your feet and leave you breathless with passion. Saddle up! And prepare yourself for the sexier side of happily ever after. Randi Alexander loves to connect with her readers! Say "Howdy" at https: //twitter.com/Randi_Alexander, sign up for her newsletter at http: //RandiAlexander.com/, and fall head over spurs for her cowboys at https: //www.facebook.com/RandiAlexanderBooks