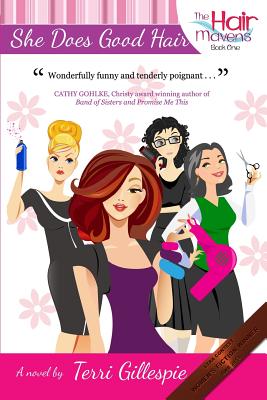 She Does Good Hair
Paperback

* Individual store prices may vary.
Description
Shira Goldstein's life takes a drastic turn when she goes from styling the wealthy and famous at a premiere salon in Manhattan, to humiliated and unemployed in one day. Just when she thinks things couldn't get worse, her Aunt Edna passes away. Her aunt leaves Shira her run-down salon, The Hair Mavens, but an unwelcome surprise accompanies the inheritance. According to her aunt's dreamy lawyer, Jesse Fox, the salon comes with three beauticians-the mavens-Harriet Foster, Beulah Montgomery and Kathy Smith. Harriet isn't interested in any new fangled changes and wants to make sure she comes out on top-whatever it takes. Beulah was Aunt Edna's prayer partner and wants to support Shira, but knows the three mavens are about to be fired. Besides what would a star in the salon field want with a behind-the-times beautician? Kathy, afraid of her own shadow, bears a secret Edna took with her to the grave. Only God could bring four such unlikely women together to make a difference in each of their lives and eventually the whole community-if they don't kill each other first.
Createspace Independent Publishing Platform, 9781500319403, 288pp.
Publication Date: September 30, 2013
About the Author
Terri Gillespie is a wife, mother, grandmother, and award-winning author and speaker. She lives outside Philadelphia with her husband of 40 years. Visit her at www.terrigillespie.com, tweet her @TerriGMavens or say "hello" on her Facebook author page Terri Gillespie, Author.