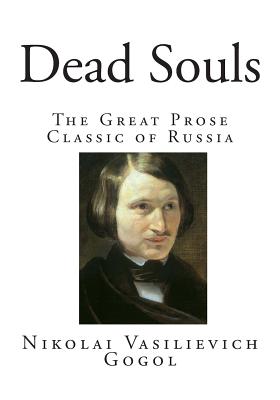 Dead Souls (Paperback)
The Great Prose Classic of Russia
Createspace Independent Publishing Platform, 9781500422400, 264pp.
Publication Date: July 5, 2014
Other Editions of This Title:
Digital Audiobook (7/22/2009)
Paperback (2/28/2015)
Paperback (9/30/2014)
Paperback (2/10/2015)
Paperback (7/30/2014)
Paperback (2/25/2015)
* Individual store prices may vary.
Description
Dead Souls by Nikolai Vasilievich Gogol. Translated by D. J. Hogarth. Introduction By John Cournos. Complete New Edition. Brand New Copy. The Great Russian Prose Masterpiece. Dead Souls is a novel by Nikolai Gogol, first published in 1842, and widely regarded as an exemplar of 19th-century Russian literature. The purpose of the novel was to demonstrate the flaws and faults of the Russian mentality and character. Gogol masterfully portrayed those defects through Paul Ivanovitch Chichikov (the main character) and the people whom he encounters in his endeavours. These people are typical of the Russian middle-class of the time. Gogol himself saw it as an "epic poem in prose," and within the book as a "novel in verse." Despite supposedly completing the trilogy's second part, Gogol destroyed it shortly before his death. Although the novel ends in mid-sentence (like Sterne's Sentimental Journey), it is usually regarded as complete in the extant form.
About the Author
Nikolai Vasilievich Gogol (31 March 1809 - 4 March 1852) was a Ukrainian-born Russian dramatist, novelist and short story writer. Considered by his contemporaries one of the preeminent figures of the natural school of Russian literary realism, later critics have found in Gogol's work a fundamentally romantic sensibility, with strains of Surrealism and the grotesque ("The Nose," "Viy," "The Overcoat," "Nevsky Prospekt"). His early works, such as Evenings on a Farm Near Dikanka, were influenced by his Ukrainian upbringing, Ukrainian culture and folklore. His later writing satirised political corruption in the Russian Empire (The Government Inspector, Dead Souls), leading to his eventual exile. The novel Taras Bulba (1835) and the play Marriage (1842), along with the short stories "Diary of a Madman," "The Tale of How Ivan Ivanovich Quarreled with Ivan Nikiforovich," "The Portrait" and "The Carriage," round out the tally of his best-known works.