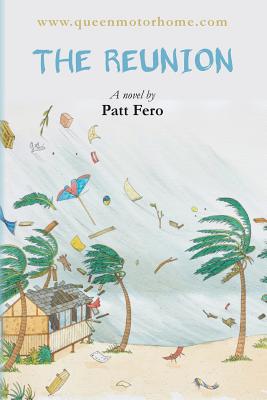 The Reunion
Paperback

* Individual store prices may vary.
Description
Baby-boomer Queens Leslie and Liz are at it again, on the road sharing another fun-filled, surprising adventure. When they embark on a trip to their fortieth high school reunion on Georgia's Jekyll Island, a mysterious man frightens them but also excites them, as they discover that he, too, is attending the reunion. Feeling mired in their lives and on the brink of yet another midlife crisis, Leslie and Liz take journeys of self-discovery when their island experiences and temptations put themselves and their beliefs, values, and commitments to real tests-with their marriages potentially hanging in the balance. The weekend is chock-full of memories, parties, joking, and romantic and sexual encounters as the classmates hunker down for category three Hurricane Queenie, which makes landfall on the night of the reunion party. While exciting, yet confusing feelings push Leslie to her limits, we are entertained by witty personalities and funny escapades. Old high school chums, girlfriends, and the new mysterious Hunk Man all weave an intriguing, yet hilarious tangled web. As events unfold on the night of the hurricane, Leslie finds herself experiencing a separate, personal reunion of her own at the high school reunion. Written with a real feel for the high school days of the late '60's and early '70's, The Reunion will make readers smile and laugh as they reminisce about their own youthful days and experience self-evaluations, inner thoughts and relate to life changes. This is true baby-boomer humor and a light, fun read.
Createspace Independent Publishing Platform, 9781500602659, 162pp.
Publication Date: November 4, 2014
About the Author
Award-winning author, Patt Fero is a native South Carolinian. Patt spent over twenty-five years in the private club and hospitality industries. She enjoys the beach, reading and walking. Patt has created two delightful female baby-boomer characters who experience one midlife crisis and adventure after another. Patt's first novel, www.queenmotorhome.com, introduced us to Leslie and Liz, baby-boomer aged best friends and self-crowned Queens. WWW.Queenmotorhome.com is a runner-up in the 2016 Shelf Unbound Best Indie Book awards. The Reunion is Patt's second novel, with more sequels planned. The Reunion is a finalist in the 2016 Next Generation Indie Book Awards in the chick-lit category. The Reunion was also named an Honorable Mention in the 2016 Hollywood Book Festival in the General Fiction category. The Reunion is the winner in the women's fiction category in the 2016 Beverly Hills International Book Awards. Patt's loyal readers enjoy following the lives and escapades of Leslie and Liz with their marriages, careers and travels. Patt's writings are fun and fast-paced, and readers will identify with her characters and relate to the stories in their own lives.