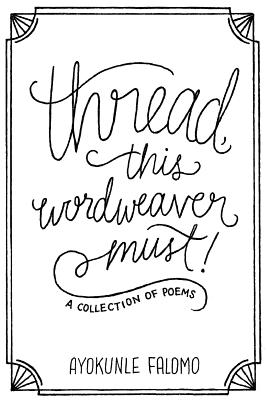 thread, this wordweaver must!
Paperback

* Individual store prices may vary.
Description
The author, Ayokunle Falomo, has with this collection of poems woven a tapestry using the threads - of red, of blue, and white, and green, and black that make up this tapestry - of our interconnected stories. As much as we are tempted to remove some, they all belong here. There are poems in this collection that prompt us to take specific and urgent actions, especially in regards to how we respond to the threads of different colors from ours; and there are poems that call us to celebration. You are invited to join in to behold the beauty of the tapestry, and if you dare, contribute a thread.
PRAISE FOR:
"In 'thread, this wordweaver must ', Ayokunle Falomo has done in poetry what Stephen King achieved in 'The Stand' and Soyinka in 'The Interpreters.' He successfully takes the reader on a path through a forest of words with a lot of beautiful distractions -- but a clear destination..." - Kukogho Iruesiri Samson; Founder of Words Rhymes & Rhythm, Author of What Can Words Do?
"...Here we find an uncommon voice-undaunted but vulnerable, generous but in need as well. Falomo utters the vigor of our frailty." - Peter B. Hyland; Poet, Author of Out Loud
Createspace Independent Publishing Platform, 9781500677992, 88pp.
Publication Date: September 5, 2014
About the Author
Nigerian. Left with Dad for the United States at 17. American. Currently alternates between Huntsville, where he's pursuing a Specialist Degree in School Psychology at Sam Houston State University, and Houston - the city he now calls home. If there's anything he wants to be known as, it's as the poet whose pen is a shovel. With this shovel, his singular aim is to dig deep into the soil of our souls to unearth those things that make us human. Apart from turkey bacon, he enjoys walking, which gives him the chance to talk to himself - something else he enjoys doing...a lot. Other times, he's fortunate enough to have people listen. His poetry has led him - among other exciting places - to the TEDxHouston stage as a presenter.
or
Not Currently Available for Direct Purchase