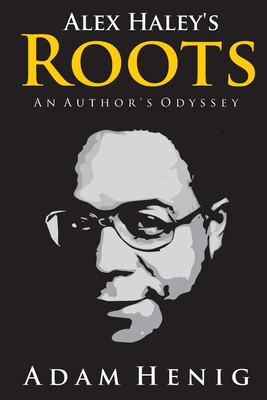 Alex Haley's Roots (Paperback)
An Author's Odyssey
Createspace Independent Publishing Platform, 9781500751494, 118pp.
Publication Date: August 26, 2014
* Individual store prices may vary.
Description
In 1977, following the airing of the mega hit television mini-series Roots, its author, Alex Haley, became America's newest "folk hero. " He was on his way to becoming the most successful author in the history of publishing until it all fell apart. Based on interviews of Haley's contemporaries, personal correspondence, legal documents, newspaper accounts, Adam Henig investigates the unraveling of one of America's most successful yet enigmatic authors. "Few Americans are aware that Alex Haley has two books among the most popular in American history--his collaboration with Malcolm X and Roots. Adam Henig underscores this point and more in his brief but incisive biography of Haley. Much more can be said about this magnificent writer and if Henig's book doesn't ignite this search, it will stand as a worthy pursuit of Haley's contribution to American letters." - Herb Boyd, author of Baldwin's Harlem: A Biography of James Baldwin and co-editor of By Any Means Necessary: Malcolm X: Real, Not Reinvented "While this 52 page book may be his first, it represents a major literary achievement. This book may renew scholar and the general public's interest in Roots once again." - Nvasekie Konneh, Black Star News and author of The Land of My Father's Birth "Adam Henig has created a gem... A must read for anyone interested in the interplay of politics, race and mixed blessings of fame and fortune that produced the contradictory legacy of a onetime icon." - Terry P. Wilson, Professor Emeritus of Ethnic Studies, UC Berkeley
About the Author
Adam Henig is the author of "Alex Haley's Roots: An Author's Odyssey" (2014) and "Baseball Under Siege: The Yankees, the Cardinals, and a Doctor's Battle to Integrate Spring Training" (2016). His next book, "Watergate's Forgotten Hero: Frank Wills, Night Watchman," will be coming soon. His writings have appeared in the San Francisco Book Review, Tulsa Book Review, African American Literature Book Club (AALBC), Medium, The Biographer's Craft and Blogcritics. Adam is an active member of the Biographers International Group. A graduate of California State University, Chico, Adam lives with his family in Gilroy, California. For more information, visit www.adamhenig.com or email Adam, info@adamhenig.com.