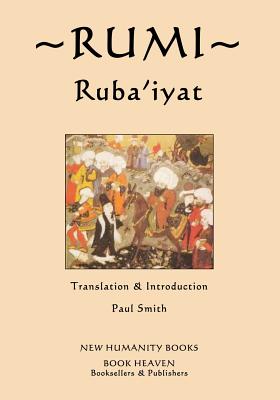 Rumi
Ruba'iyat
Paperback

* Individual store prices may vary.
Other Editions of This Title:
Paperback (11/1/2012)
Paperback (11/5/2019)
Paperback (6/4/2014)
Paperback (1/10/2017)
Hardcover (9/10/2019)
Hardcover (4/1/2013)
Paperback (9/1/2006)
Paperback (4/6/2015)
Description
RUMI Ruba'iyat Translation & Introduction Paul Smith Here are 330 wonderful ruba'is of the great Spiritual Master of the 13th century, who has become today the most popular poet in the world, Jelal ad-din Rumi. They are powerful, spiritual and full of joy, bliss and understanding. Unlike those of Omar Khayyam's these are poems composed by a soul before and after gaining God-realization. Included in the Introduction is the life of Rumi, a history of the ruba'i poetic form and translated examples by its greatest exponents. Bibliography. The correct rhyme-structure has been kept and the beauty and meaning of these immortal four-line poems. 368 pages. Large Edition 7" x 10".COMMENTS ON PAUL SMITH'S TRANSLATION OF HAFIZ'S 'DIVAN'."It is not a joke... the English version of ALL the ghazals of Hafiz is a great feat and of paramount importance. I am astonished. If he comes to Iran I will kiss the fingertips that wrote such a masterpiece inspired by the Creator of all." Dr. Mir Mohammad Taghavi (Dr. of Literature) Tehran."I have never seen such a good translation and I would like to write a book in Farsi and introduce his Introduction to Iranians." B. Khorramshai, Academy of Philosophy, Tehran."Superb translations. 99% Hafiz 1% Paul Smith." Ali Akbar Shapurzman, translator of many works in English into Persian and knower of Hafiz's Divan off by heart."I was very impressed with the beauty of these books." Dr. R.K. Barz. Faculty of Asian Studies, Australian National University."Smith has probably put together the greatest collection of literary facts and history concerning Hafiz." Daniel Ladinsky (Penguin Books author). Paul Smith is a poet, author and translator of over 150 books of Sufi poets from the Persian, Arabic, Urdu, Turkish, Pashtu and other languages... including Hafiz, Sadi, Nizami, Rumi, 'Attar, Sana'i, Jahan Khatun, Obeyd Zakani, Nesimi, Kabir, Anvari, Ansari, Jami, Khayyam, Rudaki, Yunus Emre, Baba Farid, Lalla Ded, Rahman Baba, Iqbal, Ghalib and many others, as well as poetry, fiction, plays, biographies, children's books and screenplays amazon.com/author/smithpa Published by New Humanity Books.
Createspace Independent Publishing Platform, 9781500767648, 388pp.
Publication Date: August 8, 2014