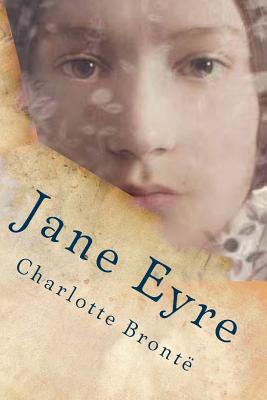 Jane Eyre
Paperback

* Individual store prices may vary.
Other Editions of This Title:
Paperback, Swedish (12/13/2014)
Paperback (3/17/2011)
Paperback (3/4/2014)
Paperback (10/5/2012)
Paperback (3/17/2011)
Paperback (7/3/2012)
Paperback (9/7/2018)
Paperback (2/8/2015)
Paperback (2/16/2011)
Paperback (2/16/2011)
Paperback, French (7/18/2014)
Paperback (5/25/2007)
Paperback (7/26/2013)
Paperback (12/5/2013)
Paperback (4/5/2011)
Hardcover (9/8/2015)
Description
Contexte historique Jane Eyre est le premier roman publie de Charlotte Bronte, dont le livre precedent, The Professor, avait ete refuse par sept editeurs. Charlotte Bronte amorce la redaction de Jane Eyre en aout 1846 et l'acheve un an plus tard. Le livre est accepte par la maison d'edition Smith, Elder and Co. et publie en octobre 1847 sous le pseudonyme de Currer Bell. Le succes est immediat au point de precipiter la parution deja prevue des romans Les Hauts de Hurlevent et Agnes Grey des soeurs de Charlotte, Emily (alias Ellis Bell) et Anne (alias Acton Bell). En decembre 1847, Jane Eyre fait l'objet d'une seconde edition que Charlotte dedie a William Makepeace Thackeray. Jane, orpheline, est d'abord recueillie par sa tante, Mrs. Reed, tenue par une promesse faite a son mari avant sa mort. Jane Eyre est toutefois elevee comme etant inferieure a ses cousins qui n'hesitent pas a la maltraiter, surtout son cousin John. A la suite d'une forte rebellion contre sa tante, precedee par une punition disproportionnee qui la fait tomber en syncope, Jane Eyre, dix ans, est envoyee en internat a Lowood. Elle s'y fait une amie sincere, Helen Burns, qui decede de la tuberculose due aux tres mauvaises conditions de l'internat. Ce passage est fortement inspire de l'experience de l'auteur les deux soeurs ainees de Charlotte Bronte, Maria et Elizabeth, sont en effet mortes en bas age en raison des mauvaises conditions de vie prevalant dans leur ecole de Cowan Bridge. Apres l'epidemie, les conditions de vie de l'internat changent et celui-ci devient un etablissement de qualite. Apres huit annees passees a Lowood - six en tant qu'etudiante et deux en tant que professeur - Jane veut changer de vie et passe une annonce dans un journal pour trouver un poste de preceptrice. Mme Fairfax lui repond afin qu'elle vienne faire l'education d'Adele, la protegee de M. Rochester, 40 ans, riche proprietaire du chateau de Thornfield-Hall.
Createspace Independent Publishing Platform, 9781500791650, 442pp.
Publication Date: August 11, 2014