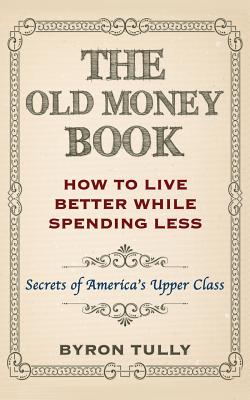 The Old Money Book (Paperback)
How To Live Better While Spending Less: Secrets of America's Upper Class
Createspace Independent Publishing Platform, 9781500883638, 158pp.
Publication Date: October 15, 2014
* Individual store prices may vary.
Description
The Old Money Book details how anyone from any background can adopt the values, priorities, and habits of America's upper class in order to live a richer life. This entertaining and informative work reveals for the first time the Core Values that shape the discreet--but truly affluent--Old Money way of life. Author Byron Tully then details How Old Money Does It, offering time-tested advice on everything from clothes and cars to finances and furnishings. Whether you're just starting out or starting over, The Old Money Book shows you how you really can Live Better While Spending Less.
About the Author
Grandson of a newspaper publisher and son of an oil industry executive, Byron Tully writes for the entertainment industry. He lives in Los Angeles, travels frequently, and is happily married to an Old Money Gal from Boston.