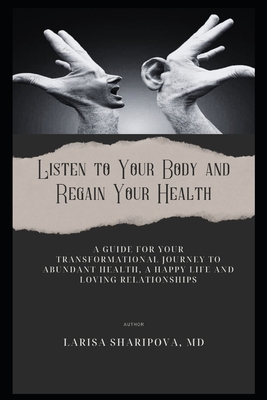 Listen to Your Body and Regain Your Health
A Guide for Your Transformational Journey to Abundant Health, a Happy Life and Loving Relationships
Paperback

* Individual store prices may vary.
Description
As a woman, you try to juggle many things-wear many hats, take care of everything and everybody-but never have time for yourself. Not getting enough sleep and relaxation, not eating well, and not taking care of your own needs and self-expression can lead to burnout, stress, anxiety, and health problems. That's where I was just a few years ago. At that point in my life I felt miserable, unhappy and had multiple health issues. After healing myself and enhancing my own wellbeing, I wanted to share my story and my road to a better life. You will find my own transformational journey to better health and a happier life in this book. Also, by reading this book you will discover: - What internal and external factors play role in your health. - What influence your thinking process. - Why you choose to live your life the way you do. - How to make better choices in your life. - How to recognize your body real needs. - How to reach your full potentials. - How to find love, health and happiness. My purpose in writing this book is to change our world to a place full of love, health and happiness by transforming women's lives. My mission is to reach one million women and give them the power to revolutionize themselves. I believe that feminine power can do anything. Women can empower women and make the world a better place.
Createspace Independent Publishing Platform, 9781500885045, 188pp.
Publication Date: January 6, 2017