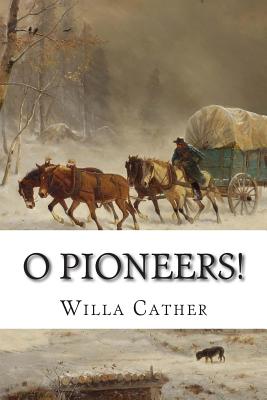 O Pioneers! (Paperback)
Createspace Independent Publishing Platform, 9781501015786, 108pp.
Publication Date: September 1, 2014
Other Editions of This Title:
Paperback (7/8/2008)
Paperback (9/7/2018)
Paperback (1/19/2012)
Paperback (5/6/2010)
Paperback (11/29/2019)
Paperback (9/30/2019)
Paperback (10/17/2010)
Paperback (1/3/2020)
Paperback (12/17/2019)
Paperback (5/1/2007)
Paperback (2/18/2020)
Paperback (12/19/2013)
* Individual store prices may vary.
Description
O Pioneers is a 1913 novel by American author Willa Cather, written while she was living in New York. It is the first novel of her Great Plains trilogy, followed by The Song of the Lark (1915) and My ntonia (1918). O Pioneers is divided into five parts, each of which has numerous chapters. The book tells the story of the Bergsons, a family of Swedish immigrants in the farm country near the fictional town of Hanover, Nebraska, at the turn of the 20th century. The main character, Alexandra Bergson, inherits the family farmland when her father dies.She devotes her life to making the farm a viable enterprise at a time when many other immigrant families are giving up and leaving the prairie. The novel is also concerned with two romantic relationships, one between Alexandra and family friend Carl Linstrum and the other between Alexandra's brother Emil and the married Marie Shabata. About O Pioneers , Willa Cather said in a 1921 interview, "I decided not to 'write' at all, - simply to give myself up to the pleasure of recapturing in memory people and places I'd forgotten." Mogul Classics is proud to offer you the best Kindle edition of this literary classic featuring one of the most acclaimed books of the 20th century.