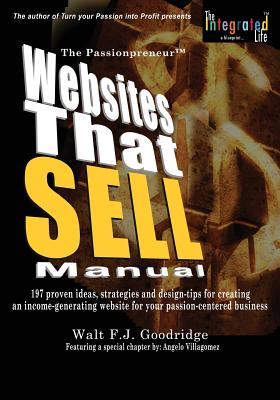 The Passionprofit Websites That Sell Manual (Paperback)
197 Proven Ideas, Strategies and Design Tips for Creating an Income-Generating Website for Your Passion-C
Createspace Independent Publishing Platform, 9781501032165, 142pp.
Publication Date: September 3, 2014
* Individual store prices may vary.
Description
This book is part of The Integrated Life(TM) series.THE CONCEPT: "In the pursuit of economic survival, bodily sustenance and social acceptance, people often (1) disregard their passion in order to focus on a practical career, (2) allow their diet to undermine their health, and (3) deny their sexual and gender wiring in order to conform to societal concepts of relationship. Therein lies the majority of unhappiness in our modern life." The solution is to live the integrated life Take the Integrated Life(TM) online test at www.integratedlifetest.com and discover how integrated these areas of your life are Then, read the book to learn what to do about it In this supplement to his groundbreaking Turn Your Passion into Profit, Goodridge provides a slew of tips for creating a website that inspires customer confidence to help you sell your passion-centered product or service online.
About the Author
SHORT VERSION Walt F.J. Goodridge is a former civil engineer who walked away from an unsatisfying career to pursue his passion. He is now a lifestyle-income coach known as the "Passion Prophet," author of Turn Your Passion Into Profit, as well as over 30 unique books and products based on an original PassionProfit(TM) Philosophy & Formula anyone can use to create passion-centered income doing what they love. Originally from the island of Jamaica, Walt now lives a global nomadpreneur and passionpreneur lifestyle from the island of Saipan! Learn more and download free ebooks at www.passionprofit.com LONG VERSION A graduate of Columbia University with a Bachelor of Science degree in civil engineering, Walt was, like many people, destined for a career in his profession of training. In fact, immediately after graduating, he accepted a job working in the Design Division of the Port Authority Engineering department on the 73rd floor of World Trade Center One. However, within the first fifteen minutes of this his first job in corporate America, Walt, frustrated by the monotony, restrictions of nine-to-five employment, realized beyond the shadow of a doubt, that he absolutely hated it! It was several years until he was able to grow his sideline business in the music industry--a personal passion--and walk away from his career to become a full-time "passionpreneur." He authored several books on the music industry, created a brand of inspiration called "Life Rhymes," and launched dozens of websites, and unique products. As he honed his experience and expertise in website development, internet marketing, creating the life of his dreams, and living true to himself, he developed a unique "Passion Profit Philosophy and Formula" and a coaching practice to help others do the same. In 1999, he published that formula in Turn Your Passion into Profit which, with yearly updates, has consistently sold in the top 50 in home-business books on Amazon.com. Walt currently owns and operates over 50 websites, has written a total of 15 books, over 400 articles and almost 500 motivational poems. Find and "friend" Walt on Facebook at facebook.com/passionprophet; Learn more about the PassionProfit formula and philosophy at waltgoodridge.com, and, if your purchase, please post an honest review of this book here on Amazon's site!