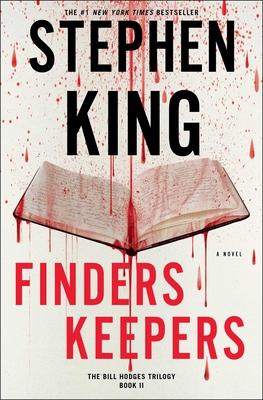 Finders Keepers (Hardcover)
A Novel (The Bill Hodges Trilogy #2)
Scribner, 9781501100079, 448pp.
Publication Date: June 2, 2015
Other Editions of This Title:
Digital Audiobook (6/1/2015)
Mass Market (3/22/2016)
Paperback (8/29/2017)
Paperback, Large Print (3/29/2016)
CD-Audio (6/2/2015)
Prebound (3/22/2016)
Hardcover, Large Print (6/3/2015)
* Individual store prices may vary.
Description
Now an AT&T Audience Original Series

A masterful, intensely suspenseful novel about a reader whose obsession with a reclusive writer goes far too far—a book about the power of storytelling, starring the same trio of unlikely and winning heroes King introduced in Mr. Mercedes.

"Wake up, genius." So begins King's instantly riveting story about a vengeful reader. The genius is John Rothstein, an iconic author who created a famous character, Jimmy Gold, but who hasn't published a book for decades. Morris Bellamy is livid, not just because Rothstein has stopped providing books, but because the nonconformist Jimmy Gold has sold out for a career in advertising. Morris kills Rothstein and empties his safe of cash, yes, but the real treasure is a trove of notebooks containing at least one more Gold novel.

Morris hides the money and the notebooks, and then he is locked away for another crime. Decades later, a boy named Pete Saubers finds the treasure, and now it is Pete and his family that Bill Hodges, Holly Gibney, and Jerome Robinson must rescue from the ever-more deranged and vengeful Morris when he's released from prison after thirty-five years.

Not since Misery has King played with the notion of a reader whose obsession with a writer gets dangerous. Finders Keepers is spectacular, heart-pounding suspense, but it is also King writing about how literature shapes a life—for good, for bad, forever.
About the Author
Stephen King is the author of more than sixty books, all of them worldwide bestsellers. His recent work includes The Institute, Elevation, The Outsider, Sleeping Beauties (cowritten with his son Owen King), and the Bill Hodges trilogy: End of Watch, Finders Keepers, and Mr. Mercedes (an Edgar Award winner for Best Novel and an AT&T Audience Network original television series). His novel 11/22/63 was named a top ten book of 2011 by The New York Times Book Review and won the Los Angeles Times Book Prize for Mystery/Thriller. His epic works The Dark Tower and It are the basis for major motion pictures, with It now the highest grossing horror film of all time. He is the recipient of the 2018 PEN America Literary Service Award, the 2014 National Medal of Arts, and the 2003 National Book Foundation Medal for Distinguished Contribution to American Letters. He lives in Bangor, Maine, with his wife, novelist Tabitha King.
Praise For Finders Keepers: A Novel (The Bill Hodges Trilogy #2)…
Praise for Finders Keepers

"Stephen King's superb new stay-up-all-night thriller, Finders Keepers, is a sly,often poignant tale of literary obsession that recalls the themes of his classic 1987 novel Misery…a love letter to the joys of reading and to American literature… wonderful, scary, moving."
— Elizabeth Hand, The Washington Post

"[A] taut thriller about the thin line separating fandom from fanaticism…Bellamy is one of King's creepiest creations—a literate and intelligent character whom any passionate reader will both identify with and be repelled by. His relentless pursuit of a treasure that his twisted thinking has determined is rightfully his generates the nail biting suspense that's the hallmark of King's best work. A sharp closing twist suggests Hodges will be back."
— Publishers Weekly

"King's many, many fans will want this, especially those who enjoyed Misery, but the second volume in King's projected trilogy will appeal to anyone who enjoys suspense and action, or anyone who finds enlightenment in reading about the internal struggle between right and wrong. It's not necessary to have read the previous book to enjoy this one."
— Library Journal

"As in Misery and TheShining, King swan dives into the looniness lurking at both ends of thewriter-reader transaction…the narrative hums and roars along like ahigh-performance vehicle…a rip-snortingentertainment; one that also works as a sneaky-smart satire of literarycriticism and how even the most attentive readers can often miss the wholepoint."
— Kirkus Reviews, starred review

"The new book is sogood, being at least mildly obsessed with it is understandable. The finest thing about it, however, is thatthe author has another story to tell before the finale of this excellent series."
— USA Today

Praise for Mr. Mercedes

"Classic Stephen King. Creepy, yet realistic characters that get under your skin and stay there, a compelling story that twists and turns at breakneck speed, and delightful prose that, once again, proves that one of America's greatest natural storytellers is also one of its finest writers."
— Associated Press

"On one level, Mr. Mercedes is an expertly crafted example of the classic race-against-the-clock thriller. On another, it is a novel of depth and character enriched throughout by the grace notes King provides in such seemingly effortless profusion. It is a rich, resonant, exceptionally readable accomplishment by a man who can write in whatever genre he chooses."
— Washington Post

"Think of Mr. Mercedes as an AC/DC song: uncluttered, chugging with momentum, and a lot harder to pull off than it looks. . . . King has written a hot rod of a novel,perfect for a few summer days at the pool. Mercedes-Benz commands drivers to demand 'the best or nothing.' In pop-fiction terms, that motto still applies to Stephen King, too. With apologies to AC/DC, the highway to hell never felt so fun."
— Christian Science Monitor

"A taut, suspenseful race-against-time book . . . [King is] in reliably fine form."
— The New York Times

"A taut, calibrated thriller . . . The majority of the book is merciless and unforgiving, and the scariest thing about it is how plausible the whole scenario is."
— Miami Herald

"An oh-so-dark mystery that never shuts the door on love, loss and, possibly, redemption."
— Cleveland Plain Dealer

"No one can create a villain quite like King. . . . [A]ll the elements come together in a very public, potentially explosive finale (with a surprising post script). King fans may find themselves furiously turning pages long into the night."
— Seattle Times

"King excels in his disturbing portrait of Brady, a genuine monster in ordinary human form who gives new meaning to the phrase'the banality of evil."
— Publisher's Weekly

"The most straight-up mystery-thriller of [King's] career…Pretty darn fresh."
— Booklist

"Nicely dark, never predictable and altogether entertaining."
— Kirkus

"King deftly takes elements of hard-boiled mysteries and puts a fresh spin on them."
— USA Today

"A showdown between good and evil that characterizes the best of King's work, regardless of genre."
— Los Angeles Times

"King may have left out the supernatural in Mr. Mercedes, but his gifts for creating thoroughly believable characters and thrumming suspense are in full play. He keeps raising the stakes and ratcheting up the violence, and just when you think everything is settled there's one spine-icing little turn on the very last page."
— Tampa Bay Times

"King creates such vivid characters—people you can picture yourself drinking a beer with or inviting over for lunch. So when he puts them in great peril, and that includes Jerome's family and pet dog and the Mercedes' owner's family, it's a race against time . . ."
— St. Louis Post-Dispatch

"Hartfield is sensitive, sympathetic and one of King's most realistic characters. He is a lot like Norman Bates from Psycho, in the worst ways imaginable.You can add Hartfield to the list of great King villains, alongside the shape-shifting monster Pennywise from It and the hypnotic vampire Kurt Barlow from Salem's Lot."
— Boston Herald

"A fast-paced cat-and-mouse game between Hodges, the motley group of unlikely heroes that he assembles, and the Mercedes Killer."
— Pittsburgh Post-Gazette

"A trimmer-than-usual King, but that doesn't mean he skimps on the suspense and spine-tingling chills."
— People Magazine