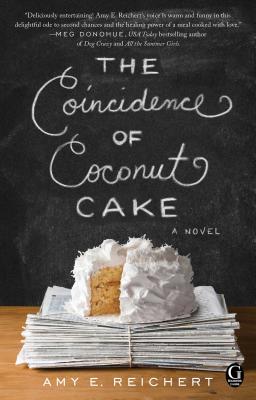 The Coincidence of Coconut Cake
Paperback

* Individual store prices may vary.
Other Editions of This Title:
Digital Audiobook (7/20/2015)
MP3 CD (7/21/2015)
Compact Disc (7/21/2015)
Description
You've Got Mail meets How to Eat a Cupcake in this delightful novel about a talented chef and the food critic who brings down her restaurant—whose chance meeting turns into a delectable romance of mistaken identities.

In downtown Milwaukee, Wisconsin, Lou works tirelessly to build her beloved yet struggling French restaurant, Luella's, into a success. She cheerfully balances her demanding business and even more demanding fiancé…until the morning she discovers him in the buff—with an intern.

Witty yet gruff British transplant Al is keeping himself employed and entertained by writing scathing reviews of local restaurants in the Milwaukee newspaper under a pseudonym. When an anonymous tip sends him to Luella's, little does he know he's arrived on the worst day of the chef's life. The review practically writes itself: underdone fish, scorched sauce, distracted service—he unleashes his worst.

The day that Al's mean-spirited review of Luella's runs, the two cross paths in a pub: Lou drowning her sorrows, and Al celebrating his latest publication. As they chat, Al playfully challenges Lou to show him the best of Milwaukee and she's game—but only if they never discuss work, which Al readily agrees to. As they explore the city's local delicacies and their mutual attraction, Lou's restaurant faces closure, while Al's column gains popularity. It's only a matter of time before the two fall in love…but when the truth comes out, can Lou overlook the past to chase her future?

Set in the lovely, quirky heart of Wisconsin, The Coincidence of Coconut Cake is a charming love story of misunderstandings, mistaken identity, and the power of food to bring two people together.
Praise For The Coincidence of Coconut Cake…
"Deliciously entertaining! Amy E. Reichert's voice is warm and funny in this delightful ode to second chances and the healing power of a meal cooked with love."
— Meg Donohue, USA Today bestselling author of DOG CRAZY and ALL THE SUMMER GIRLS

"Amy E. Reichert writes like your best friend and reading her words is like having that friend whisper them into your ear. The Coincidence of Coconut Cake is a delicious story of food, love, and a wink at what people will do to have their cake and eat it, too."
— Ann Garvin, author of THE DOG YEAR and MAGGIE'S WATCH

"Amy E. Reichert whips up the perfect recipe for a deliciously fun read. Combine humor and romance with a dash of drama, then let it simmer. The sprinkle of Wisconsin pride is icing on an already irresistable cake. Warning: do not read this book hungry!"
— Elizabeth Eulberg, author of THE LONELY HEARTS CLUB and BETTER OFF FRIENDS

"What a wonderful treat! Delicious descriptions of food and love and Milwaukee (I know! Who knew?). A sweet, endearing read."
— Megan Mulry, USA Today Bestselling Author of A ROYAL PAIN

"The Coincidence of Coconut Cake is a smart and delicious debut—a read as satisfying as the last bite of dessert after a lovingly-prepared meal. The novel is as much a celebration of the midwest and regional food as it is a love story between chef Lou and food critic Al. I adored Lou and her quirky makeshift family of restaurant customers and co-workers. Their missteps and milestones kept me racing through the chapters, craving another course."
— Susan Gloss, author of the novel VINTAGE

"Amy Reichert brings sweetness and substance to her delicious debut. Sign me up for second helpings!"
— Lisa Patton, bestselling author of WHISTLIN' DIXIE IN A NOR'EASTER

"Amy E. Reichert takes the cake with this charming tale of food, friendship, and fate."
— Beth Harbison, New York Times bestselling author of IF I COULD TURN BACK TIME

"…Reichert's quirky and endearing debut skillfully and slyly examines identity and community while its characters find love in surprising places. Clever, creative, and sweetly delicious."
— Kirkus Reviews

"A delectable novel."
— Bookreporter

"Highly recommended that you eat before reading this book…a light, fun read that feels a bit like eating dessert for dinner."
— RT Book Reviews

"Well-developed secondary characters and detailed descriptions of the Milwaukee food scene will leave readers hungry for more. Fans of Stacey Ballis and Erica Bauermeister will find lots to love."
— Booklist

"This is a fun read peppered with dashes of humor, dollops of sadness and drizzles of sensuality."
— All You Magazine

"Light, fun, and easily digestible, this sweet romance is worthy of second helpings."
— Real Simple
Gallery Books, 9781501100710, 336pp.
Publication Date: July 21, 2015
About the Author
Amy E. Reichert, author of The Coincidence of Coconut Cake, Luck, Love & Lemon Pie, The Simplicity of Cider, and The Optimist's Guide to Letting Go, loves to write stories that end well with characters you'd invite to dinner. A wife, mom, amateur chef, Fix-It Mistress, and cider enthusiast, she earned her MA in English Literature and serves on her local library's board of directors.