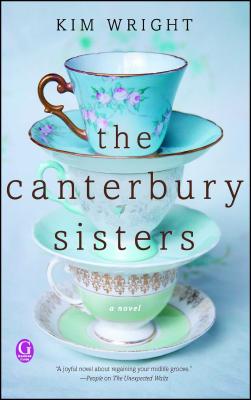 The Canterbury Sisters
Paperback

* Individual store prices may vary.
Other Editions of This Title:
Compact Disc (5/19/2015)
MP3 CD (5/19/2015)
Description
In the vein of Jojo Moyes and Cheryl Strayed's Wild, a warm and touching novel about a woman who embarks on a pilgrimage to Canterbury Cathedral after losing her mother, sharing life lessons—in the best Chaucer tradition—with eight other women along the way, from the author of the upcoming novel Last Ride to Graceland.

Che Milan's life is falling apart. Not only has her longtime lover abruptly dumped her, but her eccentric, demanding mother has recently died. When an urn of ashes arrives, along with a note reminding Che of a half-forgotten promise to take her mother to Canterbury, Che finds herself reluctantly undertaking a pilgrimage.

Within days she joins a group of women who are walking the sixty miles from London to the shrine of Becket in Canterbury Cathedral, reputed to be the site of miracles. In the best Chaucer tradition, the women swap stories as they walk, each vying to see who can best describe true love. Che, who is a perfectionist and workaholic, loses her cell phone at the first stop and is forced to slow down and really notice the world around her, perhaps for the first time in years.

Through her adventures along the trail, Che finds herself opening up to new possibilities in life and discovers that the miracles of Canterbury can take surprising forms.
Praise For The Canterbury Sisters…
Praise for THE CANTERBURY SISTERS

"With originality galore, Wright has crafted a wonderfully entertaining tale with flair… readers looking for something different need look no further."
— RT Book Reviews

"One woman's mid-life crisis turns into a hilarious and touching adventure in Kim Wright's latest heartwarming tale. A book for anyone who needs reminding that sometimes the journey to find answers is more important than the destination."
— Colleen Oakley, author of BEFORE I GO

"Kim Wright understands storytelling through and through and she has written a warm and lovely novel full of its magic. A tale of a diverse group of women and how their tales heal each other, The Canterbury Sisters is funny, wry, wise, and altogether satisfying."
— Holly LeCraw, author of THE HALF BROTHER

"Wright offers a modern-day tale imbued with Canterbury's enduring lore."
— Booklist

"[Wright] gives us another warm and engaging novel."
— Charlotte Observer

"Che de Marin is a terrific traveling companion for more than 300 pages."
— Star News Media

Praise for THE UNEXPECTED WALTZ

"Kim Wright's charming novel chronicles one woman's second chance at happiness and an opportunity to find her authentic self. The writing is pitch perfect -- this is a winner!"
— Elin Hilderbrand, New York Times bestselling author of THE MATCHMAKER

"An insightful novel about the unexpected places where we stumble upon second chances. Kim Wright writes with wisdom and grace."
— Sarah Pekkanen, bestselling author of THE BEST OF US

"Wright…expertly guides us through a moving, layered, and lyrical exploration of transformation."
— Publishers Weekly, Starred Review

"From the author of the overlooked gem Love in Mid Air (check it out in paperback), a joyful novel about regaining your midlife groove through ballroom dancing."
— People, "Great Summer Reads"

"Wright's second novel, after Love in Mid Air (2010), captures our fear of the unknown and the tender joys of coming into one's own."
— Booklist

"The Unexpected Waltz is [as] inspiring as [it is] awakening of oneself. Additionally, it feels genuine, as new beginnings and second chances aren't always prefect and fairy-tale like, even if outward appearances suggest otherwise. With strong characterization and a cast of intriguing secondary characters, the story dances its way through all the right steps as readers watch Kelly Wilder embrace waltzing through her new life,stumbles and all."
— Romantic Times

"The novel has everything I look for in a good read: intrigue, interesting characters at a crossroads and a comfortable authority that allows me to surrender to whatever happens next. What's more, the novel is set in Charlotte."
— Charlotte Observer

"I often read books that eventually pull me in, but it is an all-too-rare experience for me to browse the first page of a new book and become instantly hooked, as I was with The Unexpected Waltz."
— BookReporter.com

Praise for LOVE IN MID AIR

"Wright hits it out of the park in her debut… Wright delivers fresh perspective and sympathetic characters few writers can match."
— Publishers Weekly, Starred Review

"Astute and engrossing...this debut is a treat!"
— People
Gallery Books, 9781501100765, 336pp.
Publication Date: May 19, 2015
About the Author
Kim Wright is the author of Love in Mid Air, The Unexpected Waltz, The Canterbury Sisters, and Last Ride to Graceland. A two-time winner of the Lowell Thomas Award for travel writing, she has been writing about travel, food, and wine for more than twenty years for magazines such as Wine Spectator, Self, Travel & Leisure, and Vogue. She also ballroom dances competitively. Kim lives in Charlotte, North Carolina.