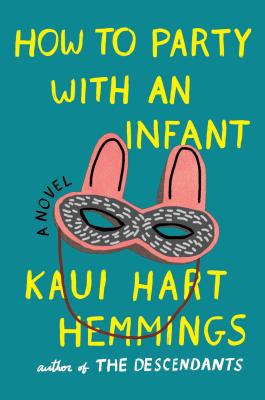 How to Party With an Infant
Hardcover

* Individual store prices may vary.
Other Editions of This Title:
Digital Audiobook (8/8/2016)
Paperback (8/8/2017)
Description
The new novel from the New York Times bestselling author of The Descendants—a hilarious and charming story about a quirky single mom in San Francisco who tiptoes through the minefields of the "Mommy Wars" and manages to find friendship and love.

When Mele Bart told her boyfriend Bobby she was pregnant with his child, he stunned her with an announcement of his own: he was engaged to someone else.

Fast forward two years, Mele's daughter is a toddler, and Bobby and his fiancée want Ellie to be the flower girl at their wedding. Mele, who also has agreed to attend the nuptials, knows she can't continue obsessing about Bobby and his cheese making, Napa-residing, fiancée. She needs something to do. So she answers a questionnaire provided by the San Francisco Mommy Club in elaborate and shocking detail and decides to enter their cookbook writing contest. Even though she joined the group out of desperation, Mele has found her people: Annie, Barrett, Georgia, and Henry (a stay-at-home dad). As the wedding date approaches, Mele uses her friends' stories to inspire recipes and find comfort, both.

How to Party with an Infant is a hilarious and poignant novel from Kaui Hart Hemmings, who has an uncanny ability to make disastrous romances and tragic circumstances not only relatable and funny, but unforgettable.
Praise For How to Party With an Infant…
"An entertaining portrait of an economically comfortable place and people...Hemmings perfectly captures modern parenthood among the privileged and, with moments of concise poignancy, the silent shames of motherhood...The pleasure of Hemmings's levity and wisdom more than sustain the reader. We cheer for her warm, self-deprecating characters and hope they continue to laugh together instead of crying alone."
—New York Times Book Review

"Mommyhood gets hilariously tricky in this novel from the author of The Descendents."
—Cosmopolitan, Cosmo Reads pick

"Meet Mele, a young single mom, a good cook, and an even better eavesdropper. She enters a San Francisco mommy club's cookbook contest and makes recipes based on her cohort's humiliating confessions in this charmer from the author of The Descendents."
—Marie Claire, What We're Reading Now

"In Kaui Hart Hemmings' cheeky yet poignant novel, Mele attempts to navigate parenthood as a single mom. She finds comfort while writing a cookbook filled with recipes inspired by tales of her friends' own parenting disasters."
—Us Weekly ("Hot Summer Stories" select)

"Side-splittingly snark …the novel's characters and settings are rich and resonant…[a] smart, funny send-up of modern motherhood, San Francisco-style."
—San Francisco Chronicle

"The wit is often diabolical — which is to say, delicious — in Kaui Hart Hemmings' new novel… [a] sly takedown of 21st-century parenting…Underneath this wicked wit, though, is a warm heart."
—Seattle Times

"It's not often a reviewer can say that there is absolutely nothing wrong with a book; that a novel is standalone perfection and needs no tweaks or editing. How to Party with an Infant is one of those rare exceptions…incredibly well written and thought out…Best of all: it's funny! Actually, incredibly, tremendously funny! This book will surely put a smile on readers' faces from start to finish… a powerful tale sure to make readers' hearts swell while cracking the biggest grin – i.e. the best kind of story."
—Portland Book Reivew

"The sarcastic, irreverent voice we loved in The Descendants is back in Kaui Hart Hemmings' new novel…a funny, incisive tour de force that takes on the pretensions and foibles of these haute-bourgeois, narcissistic urbanites…Joyful and sexy."
—Honolulu Star-Advertiser

"A satirical but loving look at 'the mommy wars,' helicopter parenting, and all the vicissitudes of modern procreation. As a distracted reader with a new baby, this is first on my list."
—Flavorwire

"This is satire with soul. Hemmings skewers the cottage industries that helicopter motherhood has fostered, while plaintively celebrating the basic joys and frustrations all parents experience. Whip smart, sharp witted, and downright brave, Hemmings' novel of modern parenting is sleek, sly, and sublime."
—Booklist

"Funny and sensitive…Mele's candor, her friends' stories, and some hilariously cringe-worthy interjections from the Mother's Club online message board come together in a layered narrative this is both ruthless and empathetic, satirical and sincere."
—Publishers Weekly

"If you loved the New York Times best-selling The Descendants, you'll be eager to check out Hemmings's latest, which features a free-spirited single mother in San Francisco who manages to survive the Mommy Wars and even find love."
—Library Journal

"Packed…with plenty of humor, heart and true-to-life dialogue."
—Shelf Awareness

"It's a relief to be in the hands of a writer. Not a blogger, not a storyteller, but someone who can bring the reader into the moment-by-moment sensations of an experience, an interaction. Someone who homes in on conflict and character and brings them richly to the page via details, actions, gestures and descriptions that create in the reader a sense of living the story…absorbing…funny."
—The Rumpus

"In How to Party with an Infant, Kaui Hart Hemmings has struck on the perfect recipe for a delicious, hilarious read about motherhood, love, loss, and Lululemon.

"With the irreverent raunch of Amy Schumer, the unsentimental maternal insight of Ayelet Waldman, and the culinary ebullience of Julia Child, protagonist Kali Bart skewers an anxious, overthinking tribe of San Francisco mommies who run in a 'momtourage,' worship at the barre, and subject one another to 'catty scans' daily.

"Anyone who has ever considered jumping from a window during a nursery school tour or longed for a pot brownie during a playdate will feel validated and hugely entertained by this quirky, occasionally bitter, occasionally sweet, and wholly original novel."

—Wednesday Martin, New York Times bestselling author of Primates of Park Avenue

"How to Party With an Infant is about moms—and a few good (and not so good) dads—but parenthood is by no means a prerequisite for loving this funny, honest and occasionally heartbreaking story of friends who earn the privilege of family. Kaui Hart Hemmings reminds us that we all feel like observers on the playground of life; the trick is to find someone fun to sit next to on the park bench. As they get to know each other, her characters endure all the stages of parenthood, from idealism to judgment to surrender. Their journey through competitive, tech-rich San Francisco pre-school scene is as treacherous as a ride down Lombard Street on a skateboard, and every bit as exhilarating."
— Elisabeth Egan, author of A Window Opens

"Kaui Hart Hemmings is the master of heartfelt unsentimentality. Her third novel looks unflinchingly at the rewards and pitfalls of single motherdom in a culture obsessed with sanctimonious parenting. By her first Brazilian wax, you'll be rooting for the unscrupulous heroine to emerge victorious (and bushy!) from the Mommy Wars."
—Courtney Maum, author of I Am Having So Much Fun Here Without You
Simon & Schuster, 9781501100796, 240pp.
Publication Date: August 9, 2016
About the Author
Kaui Hart Hemmings has degrees from Colorado College and Sarah Lawrence, and she was a Stegner Fellow at Stanford University. Her first novel, a New York Times bestseller, The Descendants, has been published in twenty-two other countries and is now an Oscar-winning film directed by Alexander Payne and starring George Clooney. She is also the author of a story collection House of Thieves, the novels How to Party with an Infant and The Possibilities, and the YA novel Juniors. She lives in Hawaii.
or
Not Currently Available for Direct Purchase