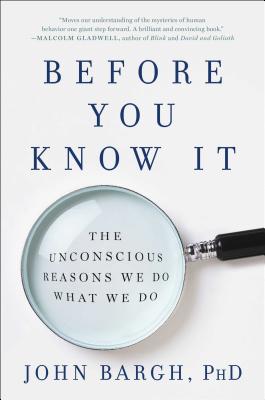 Before You Know It
The Unconscious Reasons We Do What We Do
Hardcover

* Individual store prices may vary.
Other Editions of This Title:
Digital Audiobook (10/16/2017)
Paperback (7/10/2018)
Description
Financial Times: One of the Best Books of 2017
Business Insider: One of the Best Science Books of 2017

Dr. John Bargh, the world's leading expert on the unconscious mind, presents a groundbreaking book, twenty years in the making, which gives us an entirely new understanding of the hidden mental processes that secretly govern every aspect of our behavior.

For more than three decades, Dr. John Bargh has been responsible for the revolutionary research into the unconscious mind, research that informed bestsellers like Blink and Thinking Fast and Slow. Now, in what Dr. John Gottman said "will be the most important and exciting book in psychology that has been written in the past twenty years," Dr. Bargh takes us on an entertaining and enlightening tour of the forces that affect everyday behavior while transforming our understanding of ourselves in profound ways.

Telling personal anecdotes with infectious enthusiasm and disclosing startling and delightful discoveries, Dr. Bargh takes the reader into his labs at New York University and Yale where he and his colleagues have discovered how the unconscious guides our behavior, goals, and motivations in areas like race relations, parenting, business, consumer behavior, and addiction. He reveals what science now knows about the pervasive influence of the unconscious mind in who we choose to date or vote for, what we buy, where we live, how we perform on tests and in job interviews, and much more. Because the unconscious works in ways we are completely unaware of, Before You Know It is full of surprising and entertaining revelations as well as tricks to help you remember to-do items, shop smarter, and sleep better.

Destined to be a bestseller, Before You Know It is an intimate introduction to a fabulous world only recently discovered, the world that exists below the surface of your awareness and yet is the key to knowing yourself and unlocking new ways of thinking, feeling, and behaving.
Praise For Before You Know It: The Unconscious Reasons We Do What We Do…
"John Bargh's Before You Know It moves our understanding of the mysteries of human behavior one giant step forward. A brilliant and convincing book."
— Malcolm Gladwell, author of Blink and David and Goliath

"A fascinating and provocative new book by the world's foremost authority on the science of the unconscious mind."
— Daniel Gilbert, author of Stumbling on Happiness

"This fascinating journey through the inner workings of the human mind reveals how our conscious thoughts and unconscious motives intertwine to shape who we are. An entertaining and intelligent book will change the way you see yourself and the world around you."
— Jonah Berger, author of Contagious and Invisible Influence

"This book is a 'must read,' not only because it is about a fascinating topic—the nature of the unconscious mind--but because it is an engaging and accessible book by the scientist who did the groundbreaking research. Everyone should read it."
— Timothy D. Wilson, author of Strangers to Ourselves

"Before You Know It is a fascinating volume with clear and understandable explanations of the ubiquitous role our subconscious plays in our daily actions, and why this is so. It is one of the best books on psychology to have come on the market for many years. It is serious yet humorful, a joy to read, and a volume that makes us reflect on our own actions. This book will be of great interest to both scientists and the general public."
— Ernst Fehr, Professor of Economics, University of Zurich, and Director of the UBS International Center of Economics in Society

"Although the work is girded with years of studies and research, humor and use of personal anecdotes keep the writing accessible. Readers will finish the final chapter...with new understanding of the authority of the unconscious but also armed with practical tips, based on that knowledge, to use free will to change themselves. Readers of Angela Duckworth's Grit: The Power of Passion and Perseverance or Malcolm Gladwell's Blink: The Power of Thinking Without Thinking will definitely want to read this, as will anyone seriously interested in psychology and self-improvement. Highly recommended."
— Library Journal, starred review

"Impressive….a fascinating compendium of landmark social-psychology research, both by himself and his colleagues. Bargh's clear, accessible style will appeal to general readers and specialists alike."
— Publishers Weekly

"Backed by interesting science and experimental findings, all ably reported. Pop and academic science with a dose of self-help, all rolled up into a satisfying package."
— Kirkus Reviews

"One of the most interesting books I read this year was John Bargh's Before You Know It: The Unconscious Reasons We Do What We Do. It . . . has profound implications for anyone involved in influencing others, or who wants to understand themselves better."
— Financial Times

"About the eye-opening extent to which our actions are dictated by forces within us to which we are almost entirely oblivious."
— The Guardian
Atria Books, 9781501101212, 352pp.
Publication Date: October 17, 2017
About the Author
John Bargh, PhD, is an award-winning social psychologist and the world's leading expert on the unconscious mind. His research has appeared in over 190 publications. He is currently the James Rowland Angell Professor of Psychology at Yale University and director of the ACME (Automaticity in Cognition, Motivation, and Evaluation) laboratory. Before You Know It is his first book.
or
Not Currently Available for Direct Purchase