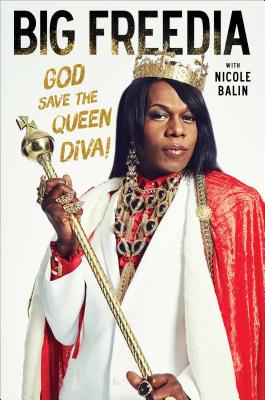 Big Freedia (Hardcover)
God Save the Queen Diva!
Gallery Books, 9781501101243, 272pp.
Publication Date: July 7, 2015
* Individual store prices may vary.
Description
From the eponymous star of the most popular reality show in Fuse TV's history, this no-holds-barred memoir tells the story of a gay, self-proclaimed mama's boy who exploded onto the formerly underground Bounce music scene—a hip-hop subgenre—and found acceptance, healing, self-expression, and stardom!

As the "undisputed ambassador" of the energetic, New Orleans-based Bounce movement, Big Freedia isn't afraid to twerk, wiggle, and shake her way to self-confidence, and is encouraging her fans to do the same. In her engrossing memoir, Big Freedia tells the inside story of her path to fame, the peaks and valleys of her personal life, and the liberation that Bounce music brings to herself and every one of her fans who is searching for freedom.

Big Freedia immediately pulls us into the relationship between her personal life and her career as an artist; being a "twerking sissy" is not just a job, she says, but a salvation. A place to find solace. To escape from the battles she faced growing up in the worst neighborhood in New Orleans. To deal with losing loved ones to the violence on the streets, drug overdoses, and jail. To survive hurricane Katrina by living on her roof for two days with three adults and a child. To grapple with the difficulties and celebrate the joys of living.

In this eye-opening memoir that bursts with energy, you'll learn the history of the Bounce movement and meet all of the colorful characters that pepper its music scene. With her own unique voice and unabashed enthusiasm, Big Freedia tells how she arrived at this defining moment in music, and how Bounce ultimately has allowed her to become her own version of diva, one booty-pop at a time.
About the Author
Big Freedia, born Freddie Ross, is a New Orleans hip-hop musician known for bringing "bounce" from the underground music scene to the forefront of the industry. Known for her supreme star power and charismatic charm, Big Freedia has performed alongside such artists as pop duo Matt and Kim, Wiz Khalifa, and Snoop Dogg. Big Freedia's music success is complemented by her television stardom in the reality show Big Freedia: Queen of Bounce, airing on the Fuse network. Big Freedia: God Save the Queen Diva! is her first book.

Nicole Balin was an editor at Parenting magazine and The Source, as well as a freelance writer for the Los Angeles Times, The Source Sports, Rap Pages, Huffington Post, and Blaze. Subsequently, she founded Ballin PR, which has represented artists including Linkin Park, Kool Keith, and Big Freedia.
Praise For Big Freedia: God Save the Queen Diva!…
"On her show, Freedia comes off as affable and grateful — belying her diva persona — and these traits are only solidified and expanded in the book."

"Whether detailing the highs or the lows, Freedia's tales pop as much as the booty that made her famous."

"God Save the Queen Diva is a snappily dictated story of inverted cultural norms in the wards of New Orleans."

"In Big Freedia: God Save the Queen Diva (Gallery Books) the rapper goes deeper, with a tale that is as much a capsule history of the bounce-music world as it is his own story."