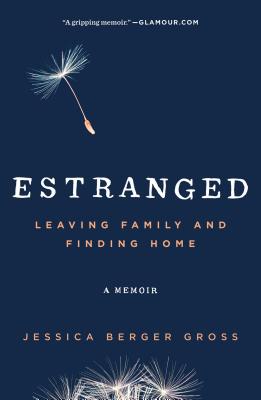 Estranged
Leaving Family and Finding Home
Hardcover

* Individual store prices may vary.
Other Editions of This Title:
Digital Audiobook (8/28/2017)
MP3 CD (8/29/2017)
Compact Disc (8/29/2017)
Paperback (7/10/2018)
Description
A powerful, haunting memoir about one woman's childhood of abuse and her harrowing decision to leave it all behind that redefines our understanding of estrangement and the ability to triumph over adversity.

To outsiders, Jessica Berger Gross's childhood—growing up in a "nice" Jewish family in middle class Long Island—seemed as wholesomely American as any other. But behind closed doors, Jessica suffered years of physical and emotional abuse at the hands of her father, whose mood would veer unexpectedly from loving to violent.

At the age of twenty-eight, still reeling from the trauma but emotionally dependent on her dysfunctional family, Jessica made the anguished decision to cut ties with them entirely. Years later, living in Maine with a loving husband and young son, having finally found happiness, Jessica is convinced the decision saved her life.

In her powerful memoir reminiscent of Jeannette Walls's bestseller The Glass Castle, Jessica breaks through common social taboos and bravely recounts the painful, self-defeating ways in which she internalized her abusive childhood, how she came to the monumental decision to break free from her family, and how she endured the difficult road that followed. Ultimately, by extracting herself from the damaging patterns and relationships of the past, Jessica has managed to carve an inspiring path to happiness—one she has created on her own terms. Her story, told here in a careful, unflinching, and forthright way, completely reframes how we think about family and the past.
Praise For Estranged: Leaving Family and Finding Home…
One of Elle's Best Books of the Summer

"An unsentimentally courageous memoir."
—Kirkus

"A gripping memoir."
—Glamour.com

"Riveting."
—Newsday

"Moving, fearless."
—Longreads

"Gripping yet hopeful."
—Salon

"[A] memoir of love, abuse, despair, and hope . . . a reminder that any family can hide a secret and that many victims of abuse go their entire lives without speaking out about it."
—Booklist

"Excellent memoir . . . I couldn't put it down."
—The Rumpus

"What is most striking about Estranged is that Gross chose to share her story at all. She is brave and unshaken . . . Straightforward, unsentimental and matter-of-fact while still a lyrical storyteller."
—Portland Press Herald

"In a world that celebrates the bonds of mothers and children, and surrounds us with images of happy families celebrating their love, Jessica Berger Gross has made a brave and lonely choice to cut ties with her family and their abuse—and braver still she has chosen to tell us about it. That she survived with the strength to get away is a testimony to her courage. Many readers will recognize their own story, or a piece of it, in this one, and when they do, find comfort."
—Joyce Maynard, author of At Home in the World and The Best of Us

"Estranged captures the sorrow of a hurt child with stunning intimacy. Berger Gross weaves a tale of heartbreak and triumph from the sticky, knotted threads of family, trauma, and identity. A tender and beautiful read."
—Leah Vincent, author of Cut Me Loose: Sin and Salvation After My Ultra-Orthodox Girlhood

"A memoir of painstaking clarity, Estranged illuminates the isolation of childhood misery and the grown heart's hungry quest for a safe home. For the many of us hell-bent on reality in spite of crazy origins, Berger Gross proves a sane and indispensable friend who understands in her bones that this hunt is a dire matter of survival."
—Susanna Sonnenberg, author of Her Last Death and She Matters: A Life in Friendships

"In this brave, gripping memoir, Jessica Berger Gross recounts her traumatic childhood in a 'nice' Jewish home on Long Island and her bold decision to break away for good. Estranged is at turns haunting, infuriating, and inspiring. . . an unforgettable story for our time."
—Eric Klinenberg, author of Going Solo and co-author of Modern Romance
Scribner, 9781501101601, 288pp.
Publication Date: July 11, 2017
About the Author
Jessica Berger Gross is the author of the bestselling book, Estranged, and the editor of the anthology About What Was Lost: 20 Writers on Miscarriage, Healing, and Hope. Her essays have appeared in The New York Times Magazine, Salon, and The Globe and Mail. She lives with her family in Maine.
or
Not Currently Available for Direct Purchase