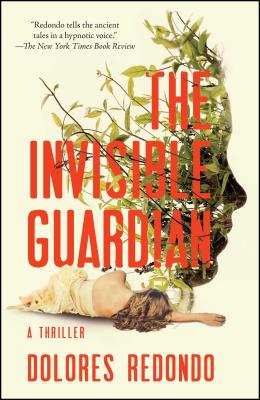 The Invisible Guardian
A Thriller
Paperback

* Individual store prices may vary.
Other Editions of This Title:
Hardcover (3/8/2016)
MP3 CD (3/8/2016)
Compact Disc (3/8/2016)
Compact Disc (3/8/2016)
Description
Already a #1 international bestseller, this taut, gripping psychological thriller follows a police inspector who reluctantly returns to her hometown in Spain's Basque Country—a place shrouded in mythology and superstition—to solve a series of eerie murders.

When the body of a teenaged girl is found on a riverbank in a remote area, the crime appears all too similar to a murder committed only months prior, igniting the worst fears of the small community of Elizondo. Homicide inspector Amaia Salazar, a strong, borderline-obsessive investigator, is assigned to the case. After all, this beautiful, peculiar backwater steeped in the blood of the Spanish Inquisition, where pagan beliefs still flourish under a thin veneer of modernity, is a space she knows better than anyone. Forced to return to Elizondo, a town she has always sought to escape, Amaia is tasked with finding a serial killer on the loose.

As the murders in the area grow increasingly violent, the locals come to believe only one creature could possibly be responsible: a creature of Basque mythology known as the basajaun, or Invisible Guardian. But Amaia is logical—a professional—and she refuses to let local superstitions distract her from her careful detective work. As the investigation deepens, a troubling secret from Amaia's past plagues her with nightmares and soon her findings seem to transform myth into reality. Everything she believes to be rational and verifiable is called into question. Now Amaia must fight her demons and determine if these murders are the work of a ritualistic killer or something even darker.
Praise For The Invisible Guardian: A Thriller…
"Redondo tells the ancient tales in a hypnotic voice."
— New York Times Book Review

"Myth and reality blend and blur in this sophisticated and razor-sharp thriller. All of the skeletons are banging on the closet doors to be set free, and free they are in this gritty, fascinating, and compelling story. Already #1 in other countries, this one will be making its way up our bestseller lists too."
— Steve Berry, New York Times best selling author

"I really loved it. I strongly recommend it."
— María Dueñas

"The Basque backdrop gives this thriller an especially intriguing layer of depth; the superstitions and mythologies passed down from the days of Spanish Inquisition penetrate the mystery to such an extent that the reader is easily transported."
— Library Journal, Starred Review

"Already an international bestseller, this engrossing psychological thriller will impress American readers as well."
— Publishers Weekly

"Fans of thrillers with the hint of the supernatural will enjoy reading Redondo and will be on the eager lookout for the next in the trilogy."
— New York Journal of Books

"...An international bestseller, combining singular characters and an eerily atmospheric setting."
— The Sunday Times Magazine, Book of the Month

"Dolores Redondo has set a landmark in the history of Spanish novel."
— El Mundo

"A more sophisticated kind of book...than the conventional crime novel.... Exciting, attractive, competent, well structured, full of temperance, different and fresh."
— El Periodico
Atria Books, 9781501102141, 384pp.
Publication Date: September 19, 2017
About the Author
Dolores Redondo was born in Donostia-San Sebastián in 1969. She studied law and gastronomy, but began writing short stories and in 2009 she published her first novel, The Privileges of the Angel. The Invisible Guardian was published in Spain in 2013 and is being translated into thirty languages. She currently lives and writes in the Ribera Navarra.