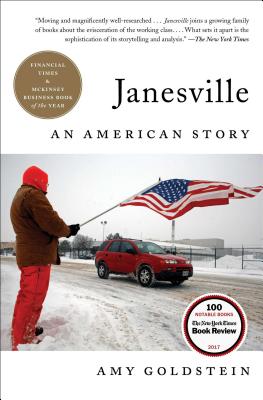 Janesville
An American Story
Paperback

* Individual store prices may vary.
Other Editions of This Title:
Digital Audiobook (4/17/2017)
Compact Disc (2/19/2019)
Hardcover (4/18/2017)
Description
* Financial Times and McKinsey Business Book of the Year * Winner of the J. Anthony Lukas Book Prize​ * 800-CEO-READ Business Book of the Year * A New York Times Notable Book * A Washington Post Notable Book * An NPR Best Book of 2017 * A Wall Street Journal Best Book of 2017 * An Economist Best Book of 2017 * A Business Insider Best Book of 2017 *

"A gripping story of psychological defeat and resilience" (Bob Woodward, The Washington Post)—an intimate account of the fallout from the closing of a General Motors assembly plant in Janesville, Wisconsin, and a larger story of the hollowing of the American middle class.

This is the story of what happens to an industrial town in the American heartland when its main factory shuts down—but it's not the familiar tale. Most observers record the immediate shock of vanished jobs, but few stay around long enough to notice what happens next when a community with a can-do spirit tries to pick itself up.

Pulitzer Prize–winning reporter Amy Goldstein spent years immersed in Janesville, Wisconsin, where the nation's oldest operating General Motors assembly plant shut down in the midst of the Great Recession. Now, with intelligence, sympathy, and insight into what connects and divides people in an era of economic upheaval, Goldstein shows the consequences of one of America's biggest political issues. Her reporting takes the reader deep into the lives of autoworkers, educators, bankers, politicians, and job re-trainers to show why it's so hard in the twenty-first century to recreate a healthy, prosperous working class.

"Moving and magnificently well-researched...Janesville joins a growing family of books about the evisceration of the working class in the United States. What sets it apart is the sophistication of its storytelling and analysis" (Jennifer Senior, The New York Times).

"Anyone tempted to generalize about the American working class ought to meet the people in Janesville. The reporting behind this book is extraordinary and the story—a stark, heartbreaking reminder that political ideologies have real consequences—is told with rare sympathy and insight" (Tracy Kidder, Pulitzer Prize–winning author of The Soul of a New Machine).
Praise For Janesville: An American Story…
"Goldstein is a gifted storyteller, and Janesville is a raw, beautiful story, one that sheds needed light on a country searching for some pathway to the future."
—J.D. Vance, author of Hillbilly Elegy

"The most illuminating business book of the year.... If you really want to understand what's going on in today's real economy — beyond the headlines about new stock-market highs, tax policy or the latest list of billionaires — spend some time with this true tale."
—Andrew Ross Sorkin, The New York Times

"Janesville is haunting in part because it's a success story.... One is awed by the dignity and levelheadedness of its protagonists, who seem to represent the best of America.... Goldstein is a talented storyteller, and we root for her characters as, moment by moment, they try their hardest."
—The New Yorker

"A superb feat of reportage, Janesville combines a heart-rending account of the implications of the closing on GM workers and their families with a sobering analysis of the response of the public and private sectors. The book is a must-read for anyone who wants to understand the economy of the Rust Belt — and its implications for America's once-proud middle class."
—The Philadelphia Inquirer

"We've been hearing a lot since the November 2016 election about the press missing The Story of a middle class losing ground, hope, and heart. But it turns out that Amy Goldstein, one of our finest reporters, was on it all along. Her vivid portrait of a quintessential American town in distress affirms Eudora Welty's claim that 'one place understood helps us understand all places better.'"
—Diane McWhorter, Pulitzer Prize–winning author of Carry Me Home

"Ms. Goldstein's book takes its place alongside those other essential tomes of the Trump era, J.D. Vance's Hillbilly Elegy: A Memoir of a Family and Culture in Crisis and Joan Williams' White Working Class: Overcoming Class Cluelessness in America."
—Financial Times

"Energetically reported and sympathetically narrated.... The story of ordinary people, how they cope or don't cope with a largely, though not entirely, unexpected economic disaster."
—The Wall Street Journal

"Goldstein gives the reader a gripping account of the GM layoff, the real loss it caused and the victims' heroic resilience in adapting to that loss. By the end of this moving book, I wanted her to write a sequel on what might have been done to prevent the damage in the first place."
—The Washington Post

"Reflecting on the state of the white working class, J.D. Vance's Hillbilly Elegy focuses on cultural decay and the individual, whereas Amy Goldstein's Janesville emphasizes economic collapse and the community. To understand how we have gotten to America's current malaise, both are essential reading."
—Robert D. Putnam, New York Times bestselling author of Bowling Alone and Our Kids

"Goldstein provides a welcome addition to the conversation on the broken social contract. Janesville is a town like countless others, and this book offers a useful cautionary tale for public officials, sociologists, economists, and engaged citizens alike."
—The Boston Globe

"Janesville is as relevant to the moment as a breaking news bulletin. It should be required reading for anyone who wants to understand how the Great Recession and deindustrialization have disrupted social, economic and political life in the American heartland. If you want to know why 2016 happened, read this book."
—E.J. Dionne, New York Times bestselling author of Why the Right Went Wrong

"The 2008 financial crisis is frequently reduced to a matter of statistics and graphs, which makes Goldstein's extensive reporting so valuable and, at times, moving.... By emphasizing the effects of economic collapse on family life, Goldstein's narrative doubles as a sort of generational saga: It humanizes the worst economic crisis of contemporary times by chronicling the enormous pressures it placed on several generations of Janesville residents."
—The Nation

"Fair-minded and empathetic.... While it highlights many moments of resilience and acts of compassion, Amy Goldstein's Janesville: An American Story also has a tragic feel. It depicts the noble striving of men and women against overpowering forces — in this case, economic ones."
—Milwaukee Journal Sentinel

"Amy Goldstein was in the right place at the right time to help us understand why we no longer 'just get along.' Having immersed herself in Paul Ryan's idyllic hometown after its GM plant closed forever, she illuminates disrupted lives, marriages, and childhoods as the manufacturing and strong unions that built our modern middle class fade—fracturing the community and breeding the political polarization that helped give rise to Donald Trump."
—Sheldon Danziger, President of the Russell Sage Foundation and coauthor of America Unequal

"Meticulously reported and researched... filled with startling—and disturbing—facts and figures."
—The Denver Post

"[Goldstein] shatters a lot of conventional wisdom."
—Minneapolis Star Tribune

"Based on three years of probing interviews, Pulitzer Prize-winning Washington Post journalist Goldstein makes her literary debut with an engrossing investigation.... A simultaneously enlightening and disturbing look at working-class lives in America's heartland."
—Kirkus Reviews (starred review)

"Goldstein's exhaustive, evenhanded study of the plight of America's working class through the lens of one emblematic community is deeply humane and deeply disturbing, timely and essential."
—Library Journal (starred review)

"Eminently accessible, instantly absorbable, Janesville is a story of economics lived."
—The Keen Thinker (800-CEO-READS newsletter)
Simon & Schuster, 9781501102264, 368pp.
Publication Date: January 2, 2018
About the Author
Amy Goldstein has been a staff writer for thirty years at The Washington Post, where much of her work has focused on social policy. Among her awards, she shared the 2002 Pulitzer Prize for national reporting. She has been a fellow at Harvard University at the Nieman Foundation for Journalism and the Radcliffe Institute for Advanced Study. Janesville: An American Story is her first book. She lives in Washington, DC.