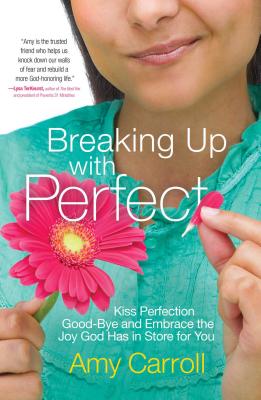 Breaking Up with Perfect (Paperback)
Kiss Perfection Good-Bye and Embrace the Joy God Has in Store for You
Howard Books, 9781501102950, 240pp.
Publication Date: July 7, 2015
* Individual store prices may vary.
Description
"Perfection is exhausting at best, defeating at worst. In Breaking Up with Perfect, Amy is the trusted friend who comes to help us knock down our walls of fear to rebuild a more doable, sustainable, God-honoring life." —Lysa TerKeurst, New York Times bestselling author of The Best Yes and president of Proverbs 31 Ministries

An inspiring and thought-provoking guide to help you abandon the pursuit of perfection and become comfortable and more confident in your own skin.

We've all been in relationships that were bad for us...whether with a catty girlfriend, a selfish boyfriend, or a coworker who undermines our best efforts.

But there is one relationship that steals the potential of all other relationships—including our relationship with ourselves and, ultimately, our relationship with God. And that's our relationship with Perfect.

Perfect is a bad friend. No matter what we do or say or give or bake or create...it's never enough. Perfect always demands more, but it's never satisfied. Never.

Whether you are a "good girl," who always tries to be what you think everyone else wants you to be, or a "never good enough" girl, who's desperately hiding your past and shame behind attempts to measure up—this book will help you find the beautiful, loving, fulfilled woman God created you to be. Imperfections and all.

Breaking Up with Perfect will help you:

• Experience authenticity as the antidote for isolation

• Trade the Lies of Perfection for the Truths of God's Love

• End the pursuit of perfection, so God can begin His powerful perfecting work in you

After reading this book, you'll be able to end the never-ending stress that chasing Perfect brings and live a life filled with joy, peace, and spiritual fulfillment.
About the Author
Amy Carroll is a popular, nationwide speaker with Proverbs 31 Ministries. She is a regular contributor to Encouragement for Today devotions, which are distributed to over 750,000 subscribers daily. A graduate from the University of North Carolina at Chapel Hill, Amy, her husband, and their two boys live in Holly Springs, NC.
Praise For Breaking Up with Perfect: Kiss Perfection Good-Bye and Embrace the Joy God Has in Store for You…
"Perfection is exhausting at best, defeating at worst. In
Breaking Up with Perfect
, Amy is the trusted friend who comes to help us knock down our walls of fear to rebuild a more doable, sustainable, God-honoring life."
— Lysa TerKeurst
"If you're still holding on to your relationship with "Perfect," Amy helps you face the truth about Perfect's lyin', cheatin', soul-stealin' ways. And as she walks alongside you, Amy leads you back to the One and only perfect Love of your life."
— Cheri Gregory
"With wit, warmth, and wisdom, Amy Carroll shows us how to break up with perfection so we can
live
our lives rather than manage them. What a gift!"
— Suzanne Eller
"Whether you play the "good girl" who tries so hard to please God and impress others, or you fear that no matter what you do, you'll never be good enough--you'll be encouraged by this insightful book. Amy's presence on the pages provides a warm and honest voice that will enable you to stop performing and start forging an authentic and intimate walk with Christ."
— Karen Ehman
"What a wonderfully relevant and truth-filled book! Amy does an excellent job of weaving authentic personal stories with great Bible content, as well as thought-provoking, reflective questions. Whether you view yourself as a perfect "good girl" or an insecure "never good enough" girl, this book is for you. Highly recommend!"
— Cindy Bultema
"As a "good girl" all my life, I've had a serious love affair with Perfect. It's hurt my family, compromised my health, and been a major barrier in my relationship with God. Amy sets "good girls" like me free by exposing the lies we believe, the pride that isolates us, and the misguided priorities that often drive us. She also guides the girls who wear a mask of perfection because they think they're never "good enough," and she points us all to a Savior who fills our longing to be loved--
perfectly
."
— Melinda Means
"If you've ever secretly considered a trial separation from perfect, this is your chance.
Breaking Up with Perfect
is the essential remedy for women who wrestle with any degree of perfectionism and long for authentic freedom. Amy Carroll shares poignant stories and insightful truths that will help women slam the door on perfect and never look back."
— Julie K. Gillies
"
Before
I read
Breaking Up with Perfect
I didn't think I struggled with perfectionism. But I was convicted—in a good way--on every page. I do blame others when they buck my perfect plan. I do try to impress people and fit in at all costs. Not only was I convicted by Amy's words, I was encouraged with God's truth and equipped to leave this façade behind once and for all. Thank you, Amy, for freeing us from lies of perfectionism and setting us on the crooked, rambling path that is real life."
— Amy Lively