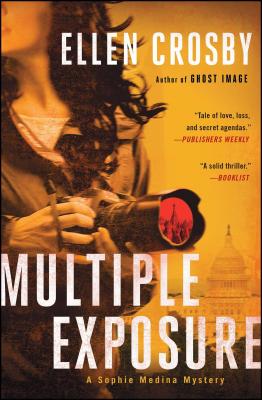 Multiple Exposure (Paperback)
A Sophie Medina Mystery
Scribner, 9781501103667, 336pp.
Publication Date: March 17, 2015
* Individual store prices may vary.
Description
This globe-trotting mystery featuring intrepid photojournalist Sophie Medina is an "assured tale of love, loss, and secret agendas, the first in a new series, which... offers a complex portrait of our nation's capital, with its historic beauty and roiling underbelly of deceit and danger" (Publishers Weekly).

When photojournalist Sophie Medina returns to London from an overseas assignment, she discovers that her husband, Nick, a geologist and covert CIA operative, has been abducted and assumed dead. Three months later, a friend in the British government relays that Nick has been spotted in Moscow, but Sophie is allowed little joy before the news turns dark—Nick is accused as a suspect in his boss's murder and rumors circulate that he's involved in illicit Russian oil deals. With her every step closely watched, Sophie moves to Washington, DC, to be with her family and friends.

There, Sophie is drawn deeper into Nick's shadowy world. While photographing an exhibit of two never-before-seen Fabergé imperial eggs at the National Gallery of Art, Sophie is confronted by a Russian oil tycoon, implicating her husband in an international energy scheme. On the run from Nick's enemies, Sophie plays a high-stakes game of Russian roulette as she tries to determine friend from foe and prove her husband's innocence.

Weaving together political intrigue, art history, and international espionage, the fast-paced Multiple Exposure is the thrilling first novel of an exciting new series.
About the Author
Ellen Crosby
is the author of
Multiple Exposure
, the first book in a series featuring photojournalist Sophie Medina. She has also written six books in the Virginia wine country mystery series. A former freelance reporter for
The Washington Post,
Moscow correspondent for ABC Radio News, and an economist at the US Senate, Crosby lives in Virginia with her family. Learn more about her at
EllenCrosby.com
.
Praise For Multiple Exposure: A Sophie Medina Mystery…
"Crosby introduces photojournalist Sophie Medina in this assured tale of love, loss, and secret agendas, the first in a new series, [which]...offers a complex portrait of our nation's capital, with its historic beauty and roiling underbelly of deceit and danger."
— Publishers Weekly

"Multiple Exposure is a terrific, fast-paced mystery featuring a savvy photo-journalist, international intrigue, and the captivating world of D.C. wheeling and dealing. Ellen Crosby's depiction of our nation's capital is pitch perfect. Heroine Sophie Medina's determination to solve the mystery her husband's disappearance will captivate you from the first pages."
— Allison Leotta

"Multiple Exposure is a gem of a novel. It's got everything you want from a thriller: Characters you love, a plot that is at once fascinating and startling, and settings that are so real you can smell them. This is Ellen Crosby at her very best!"
— John Gilstrap

"After her husband is kidnapped, intrepid photojournalist Sophie Medina finds the focus zoomed in on her personal life. Multiple Exposure kicks off a cracking new series where high society meets high-stakes international intrigue."
— Erin Hart

"Ellen Crosby has segued from wine to international espionage without missing a beat. Her new book combines old-fashioned deduction with up-to-the-minute spycraft and gives us, in Sophie Medina, a doughty heroine who will be charming readers for years to come."
— Louis Bayard

"Ellen Crosby, author of the popular Virginia wine country mysteries, serves up a potent cocktail of suspense and international intrigue in her newest novel. Multiple Exposure will delight the author's many fans, and draw many new readers into an absorbing world of shadows and deceit."
— Daniel Stashower

"This one is right up my alley --- Faberge eggs, Russians, and political intrigue --- all of which keeps you absolutely intrigued, ready for the gut punch. Ellen Crosby certainly has a talent for making the conventional wholly unconventional. You're going to enjoy this one."
— Steve Berry

"A solid thriller."

"Fantastic! You are sucked in from the very beginning. With a globe-trotting mystery, a great heroine and a possible international scandal, the story will have you eagerly anticipating the next book." (4.5 stars)
— Jennifer Wilson

"Crosby seamlessly blends fact with fiction to establish a fast-paced mystery that is as creative as it is well researched. Readers looking for a lively, alluring mystery teeming with intellectual takeaways that become instant conversation starters will enjoy Multiple Exposure, as well as its spirited female lead, elements of Russian art history and international conspiracy."

"Can we say perfect timing? President Obama and Vladimir Putin seem to lurch from one confrontation to the next—Snowden, Syria, the Olympics—reminding us that detente is a thing of the past. Crosby manages to craft a mystery that, in some ways, is a throwback to those Cold War standoffs, yet is perfectly modern incorporating into the plot the battle for the earth's resources, as well as independence for Russian territories. Along the way we learn Russian history, particularly about those fabulous Fabergé eggs whose workmanship remains a marvel."