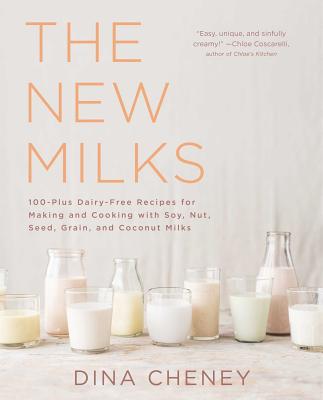 The New Milks (Paperback)
100-Plus Dairy-Free Recipes for Making and Cooking with Soy, Nut, Seed, Grain, and Coconut Milks
Atria Books, 9781501103940, 192pp.
Publication Date: May 3, 2016
* Individual store prices may vary.
Description
The definitive guide to nondairy milks—the first comprehensive cookbook demystifying milk alternatives—here's how to make and customize all types of vegan milks, with one hundred delicious recipes and handy comparison charts, tips, and guidance for choosing the right dairy-free milks for cooking and baking.

Got (non-dairy) milk? Whether you're paleo, vegan, lactose intolerant, kosher, or just plain adventurous in the kitchen, your non-dairy options now encompass far more than soy, coconut, and almond milks. Consider grain milks, such as oat and amaranth; nut milks, such as cashew and hazelnut; and seed milks, such as sunflower and hemp. Which ones bake the best biscuits? Complement your coffee? Make your mashed potatoes as creamy as mom's? The New Milks has the answers.

The New Milks is the first bible of milk alternatives, helping you prepare, select, and cook with all varieties. With helpful charts comparing the texture, nutritional content, taste, and best uses for each milk, plus one hundred flavorful recipes, cooking and baking with non-dairy milks has never been easier!

The first section of the book provides instructions for making an incredible range of non-dairy milks, followed by suggestions for use. Then, dive into recipes for breakfast, lunch, and dinner; sweets and breads; and smoothies and drinks. Each recipe calls for the ideal type of non-dairy milk, and most list alternates, so you can tweak them for your dietary needs and taste preferences. From "Buttermilk" Almond Waffles with Warm Berry Agave Sauce, to Mexican Chocolate Pudding, to Avocado-Basil Smoothies, every recipe is dairy-free, all but two are kosher, the vast majority are vegan, and most are gluten-free.

Who needs the milkman when the alternatives are so much fun?
Praise For The New Milks: 100-Plus Dairy-Free Recipes for Making and Cooking with Soy, Nut, Seed, Grain, and Coconut Milks…
"Dina Cheney has done it! Everything you need to make your own dairy-free milk and scrumptious recipes too! Cheney demystifies a process for the home cook that even some of the best chefs have not been able to master ...until now! Easy, unique, and sinfully creamy!"

"The New Milks arrives at just the right time, as dairy's unwarranted health halo is fading. Scientific research continues to link dairy consumption to prostate, testicular, ovarian, and breast cancers. This book is an excellent resource for those looking to cut out dairy but keep the milk."

"Got a hankering for creamy, smooth milk but want a healthier, more humane option? Dina Cheney has the recipe for it! I love this book because it just goes to prove that there's no food or drink you get from animals that you can't get better from plants!"

"This book is a must have resource to learn how easy, delicious & nutritious DIY non-dairy milk options are for all!"

"The New Milks is an excellent resource for those seeking healthy alternatives to cow's milk. The book contains advice on selecting packaged plant-based milks as well as extensive guidance on how to make them at home. The possible combinations of plant materials and flavorings are almost endless. One very extensive table lists the flavors and uses of 28 non-dairy milks. Another lists key nutritional information. All of this is followed by 100 creative recipes developed specifically for non-dairy milks. Each recipe is clearly marked if it is vegan, vegetarian, nut-free, gluten-free, kosher, or paleo. The New Milks is an essential book for those seeking to add healthy, nutritious plant-based milks to their diet."

"Creamy and dairy-free sounds like an oxymoron, but food genius Dina Cheney has it all figured out in this winner of a book. The recipes are unique, easy to follow and—this is key—delicious."

"Plant-based milks are ideal for a healthful lifestyle. Not only are they free of cholesterol, hormones, and lactose. They're also lower in sugar than dairy milk. Also, few realize how prevalent lactose intolerance is. I'm excited about this book because it introduces us to the incredible range of nutritious, delicious, and easy to make and cook with dairy-free milks."

"Thanks to Dina Cheney for writing the first comprehensive resource about plant-based milks! These dairy-free milk alternatives are free of cholesterol, hormones, and lactose, plus are lower in sugar than dairy milk! They're also delicious and easy to make!"

"The New Milks is a wonderful resource for both novices and those experienced with non-dairy milks. Dina makes the concept of non-dairy milks so approachable and provides a roadmap for using these new milks in everything from classic to exciting new dishes."

"Choosing plant-based milks over dairy is an easy way to improve your health. In this ultimate resource, Cheney shows you how easy it is to prepare dairy-free milks from scratch using basic ingredients you already have on hand. From basic plain to spiced chocolate and cardamom pudding—a wonderful world of dairy-free drinks are waiting for you."

"Anyone trying to cut down on dairy should pick up a copy of this information-packed, user-friendly cookbook! It demystifies the process of making plant-based milks and provides lots of nourishing recipes for cooking and baking with them."

"For anyone trying to lower their cholesterol or sugar intake—not to mention those with lactose intolerance or dairy allergies--unsweetened plant-based milks are a terrific option. The New Milks is a must-have resource on the subject."

"Whether you're dairy-free or just like variety in your life, The New Milks is an essential kitchen companion. Both a comprehensive guide to non-dairy milks and a collection of mouth-watering recipes, this beautiful book will inspire you to eat healthfully and deliciously."

"Over recent years, dairy has evolved from an icon of nutritional virtue, to a topic of rather constant debate. Milk, in turn, has evolved from a beverage to a category, with at times bewildering diversity. In 'The New Milks,' Dina Cheney provides timely, thorough guidance through that confusion, directing readers through that confusion to the right choice for every palate, dietary practice, and recipe."

"We're huge fans of the magic of plant-based milks at Candle 79! In this invaluable resource, Cheney shows readers how easy it is to make all types of these incredible milks. The New Milks is an awesome resource and must-have for your cookbook collection!"

"Who knew that you could make milk from soy, nuts, seeds, grains, and coconuts! In this comprehensive book, Cheney gives us the lowdown on making our own plant-based milks—then provides 113 delicious recipes for cooking and baking with them!"