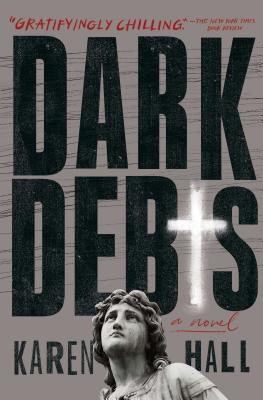 Dark Debts (Hardcover)
Simon & Schuster, 9781501104114, 416pp.
Publication Date: March 15, 2016
Other Editions of This Title:
Digital Audiobook (3/14/2016)
Paperback (9/19/2017)
* Individual store prices may vary.
Description
In Dark Debts, Karen Hall masterfully combines southern gothic, romantic comedy, and mystery in a wildly original theological thriller that has become a cult favorite since being published twenty years ago. In this new anniversary edition, the author has reimagined her work. The result is a suspenseful, irreverent, and deeply spiritual novel that captivates from the very beginning and doesn't let go.

When Randa, a reporter for an alternative newspaper in Los Angeles, receives an urgent phone call from her estranged lover, Cam, she rushes to his apartment. She arrives to discover that he's leapt from the building to his death. Police believe that before committing suicide, Cam also murdered someone in a convenience store, but Randa does not believe Cam is capable of such an act. She seeks out Cam's brother, Jack, who is living off the grid, somewhere near Atlanta, in hope of figuring out what really happened.

Meanwhile, a Jesuit priest named Michael Kinney has been exiled from New York City to the boondocks of Georgia after making controversial public statements. He has said things that educated people of faith are not supposed to express. Even more problematically, he has fallen in love with a woman, and the last surviving member of his family has kept a shocking family secret from him.

How these characters converge is part of the thrilling mystery of Dark Debts, a cult favorite first published twenty years ago. In this new edition, author Karen Hall has re-imaged her southern gothic tale and the result is a work of even greater power—a brilliantly realized and suspenseful evocation of the conflict between good and evil.
About the Author
In her career as writer, producer and creative consultant, Karen Hall has worked on numerous series, including M*A*S*H, Hill Street Blues, Moonlighting, Roseanne, and Grace Under Fire. She has received seven Emmy Award nominations, as well as the Humanitas Prize, the Women in Film Luminas Award, and the Writers Guild of America Award. Her novel, Dark Debts, was a Book of the Month Club main selection when first published in 1996 and has been translated into French, German, and Japanese. She and her husband own Black Bear Books, an independent bookstore in Boone, North Carolina.
Praise For Dark Debts…
"As gratifyingly chilling as an old-fashioned horror movie."

"A terrifically ambitious book."

"Dark Debts is a beautiful slice of supernatural gothic with characters you'd like to know and a well-drawn Southern backdrop."

"Hall should be applauded for writing genuinely entertaining commercial fiction grounded in serious thought instead of wasting paper on more pulp nonsense.''

"Truly frightening."

"Hard to put down."
or
Not Currently Available for Direct Purchase