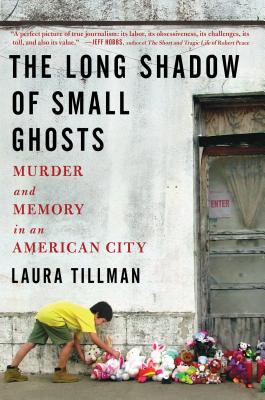 The Long Shadow of Small Ghosts
Murder and Memory in an American City
Hardcover

* Individual store prices may vary.
Other Editions of This Title:
Digital Audiobook (4/4/2016)
Paperback (4/11/2017)
Description
In Cold Blood meets Adrian Nicole LeBlanc's Random Family: A harrowing, profoundly personal investigation of the causes, effects, and communal toll of a deeply troubling crime—the brutal murder of three young children by their parents in the border city of Brownsville, Texas.

On March 11, 2003, in Brownsville, Texas—one of America's poorest cities—John Allen Rubio and Angela Camacho murdered their three young children. The apartment building in which the brutal crimes took place was already rundown, and in their aftermath a consensus developed in the community that it should be destroyed. It was a place, neighbors felt, that was plagued by spiritual cancer.

In 2008, journalist Laura Tillman covered the story for The Brownsville Herald. The questions it raised haunted her, particularly one asked by the sole member of the city's Heritage Council to oppose demolition: is there any such thing as an evil building? Her investigation took her far beyond that question, revealing the nature of the toll that the crime exacted on a city already wracked with poverty. It sprawled into a six-year inquiry into the larger significance of such acts, ones so difficult to imagine or explain that their perpetrators are often dismissed as monsters alien to humanity.

With meticulous attention and stunning compassion, Tillman surveyed those surrounding the crimes, speaking with the lawyers who tried the case, the family's neighbors and relatives and teachers, even one of the murderers: John Allen Rubio himself, whom she corresponded with for years and ultimately met in person. The result is a brilliant exploration of some of our age's most important social issues, from poverty to mental illness to the death penalty, and a beautiful, profound meditation on the truly human forces that drive them. It is disturbing, insightful, and mesmerizing in equal measure.
Praise For The Long Shadow of Small Ghosts: Murder and Memory in an American City…
"Laura Tillman has undertaken the kind of work that only the rarest of reporters actively seeks: she has shown us that even in the darkest corners of society -- and of the human soul -- there is beauty and hope to be found, and there are no absolutes despite how eager we might be to ascribe them. In the process, she paints a perfect picture of true journalism: its labor, its obsessiveness, its challenges, its toll, and also its value. I can't fathom how difficult this story was to tell, nor can I measure its greater meaning now that it has been told."
— Jeff Hobbs, author of The Short and Tragic Life of Robert Peace

"The Long Shadow of Small Ghosts takes as its subject the long shadow of an unthinkable crime—suggesting that thinking about the unthinkable might be a necessary part of the human enterprise. This remarkable book is built of diligent reporting and sensitive reckoning; its questions haunted me long after I finished reading it. The invisible root system of social injustice that dwells beneath our justice system is made more visible here, thanks to Laura Tillman's passionate work and her willing heart."
— Leslie Jamison, author of The Empathy Exams

"All the issues that plague those living in poverty are in evidence in this story of love and loss in Brownsville, Texas. Laura Tillman delicately excavates the lives at the center of this tragic tale, providing insights into the people and the place that made them. She plumbs the American class divide so astutely and so sensitively, it's near impossible not to see the humanity even in those we would have previously called monsters. To better understand the social issues at play here and across the country, please, read this book!"
— Jesmyn Ward, author of Men We Reaped and Salvage the Bones

"The Long Shadow of Small Ghosts is as tragic as it is ultimately tender. With stirringly poetic prose, Laura Tillman has written a story that will haunt you with the despair it reveals. Painstakingly researched and told with an unflinching eye for detail, she knows this world of the border."
— Oscar Cásares, Author of Brownsville

"Extraordinary… It is so exciting to see a young writer of such high intelligence and passionate unremitting commitment to a subject engage on this risky plane of investigation. The resulting book is a small masterpiece, contributing something very new, profound, and badly needed to our culture."
— Suzannah Lessard, author of The Architect of Desire

"A haunted, haunting examination of mental illness and murder in a more or less ordinary American city… Mature and thoughtful… A Helter Skelter for our time, though without a hint of sensationalism—unsettling in the extreme but written with confidence and deep empathy."
— Kirkus, starred review

"This thought-provoking portrait of a murder implicates the community at large and forces the reader to grapple with the death penalty, which Rubio is sentenced to. Tillman's book exemplifies provocative long-form journalism that does not settle for easy answers."
— Publishers Weekly, starred review

"Intense, well-written... At once heartbreaking and disturbing... The murders may not have been widely known outside of Brownsville, but this book will be."
— Library Journal, starred review

"A dogged attempt to understand what happened, a review of the psychological, sociological and spiritual explanations for the crime . . . a meditation on the death penalty and on the city of Brownsville. . . . The short lives of these "small ghosts" are given lasting meaning in this book."
— Marion Winik, Minneapolis Star Tribune

"As disturbing as it is insightful and mesmerizing."
— Texas Standard

"A devastating tale of true crime and the sociology of the dirt-poor border town where it took place... Even in the horror, there are glints of hope."
— The Dallas Morning News

"Rather than focus on the gory details, Tillman instead is interested in how Brownsville itself has been wounded, and how it sets about to recover. As a good reporter must, she talks to everyone from lawyers and psychiatrists who consulted on the case to local people who still regard the building as a site housing evil... There is strength in her rejection of a single narrative."
— Kate Tuttle, Boston Globe

"A true story that reads like a mesmerizing novel. The Long Shadow of Small Ghosts is equally the story of a young reporter struggles to uncover truth. Every aspiring and young reporter should read it to know how a reporter should work. You will not be able to put it down."
— Washington Book Review

"A diligent and sensitive meditation on how we reconcile ourselves to human acts that surpass human comprehension."
— Brooklyn Rail
Scribner, 9781501104251, 256pp.
Publication Date: April 5, 2016
About the Author
Laura Tillman is an award-winning journalist whose work has appeared in The New York Times, The Wall Street Journal, The Nation, and Pacific Standard, among other publications. Originally from Maplewood, New Jersey, she began her career at The Brownsville Herald in South Texas. She holds a BA in International Studies from Vassar College and an MFA in Creative Nonfiction from Goucher College. The Long Shadow of Small Ghosts is her first book.
or
Not Currently Available for Direct Purchase