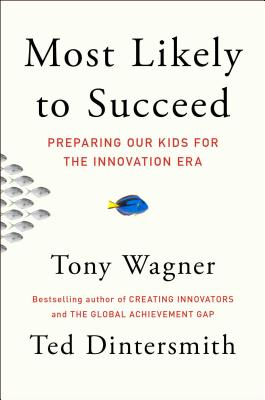 Most Likely to Succeed (Hardcover)
Preparing Our Kids for the Innovation Era
Scribner, 9781501104312, 304pp.
Publication Date: August 18, 2015
Other Editions of This Title:
Digital Audiobook (8/17/2015)
Paperback (8/16/2016)
* Individual store prices may vary.
Description
From two leading experts in education and entrepreneurship, an urgent call for the radical re-imagining of American education so that we better equip students for the realities of the twenty-first century economy.

Today more than ever, we prize academic achievement, pressuring our children to get into the "right" colleges, have the highest GPAs, and pursue advanced degrees. But while students may graduate with credentials, by and large they lack the competencies needed to be thoughtful, engaged citizens and to get good jobs in our rapidly evolving economy. Our school system was engineered a century ago to produce a work force for a world that no longer exists. Alarmingly, our methods of schooling crush the creativity and initiative young people need to thrive in the twenty-first century.

In Most Likely to Succeed, bestselling author and education expert Tony Wagner and venture capitalist Ted Dintersmith call for a complete overhaul of the function and focus of American schools, sharing insights and stories from the front lines, including profiles of successful students, teachers, parents, and business leaders.

Most Likely to Succeed presents a new vision of American education, one that puts wonder, creativity, and initiative at the very heart of the learning process and prepares students for today's economy. This book offers parents and educators a crucial guide to getting the best for their children and a roadmap for policymakers and opinion leaders.
About the Author
Tony Wagner currently serves as an Expert In Residence at Harvard University's Innovation Lab. Previously he has worked as a high school teacher, K-8 principal, university professor, and founding executive director of Educators for Social Responsibility. Tony is a frequent speaker at national and international conferences and the author of Creating Innovators and The Global Achievement Gap.

Ted Dintersmith is a partner emeritus with Charles River Ventures, a leading early-stage venture capital firm. Ted has twenty-five years of venture experience, focusing on software, information services, direct- and web-based marketing, and publishing companies. He is a frequent speaker at conferences on innovation and entrepreneurship.
Praise For Most Likely to Succeed: Preparing Our Kids for the Innovation Era…
"Tony Wagner and Ted Dintersmith want us to stop thinking about success for our children in terms of test scores, and start concentrating on real learning, creative problem-solving, and the joy of discovery. And instead of just diagnosing the ills of our education system, they also offer a remedy in the form of a complete re-imagining of what high-quality education for all could and should be. Most Likely to Succeed is a book for everyone interested in seeing our children thrive in the 21st century."
— Daniel H. Pink, author of DRIVE and A WHOLE NEW MIND

"Bracing, revelatory, and always backed up with hard facts, Most Likely to Succeed should top the reading list for any teacher, parent, citizen, or high school or college student. Wagner and Dintersmith's incisive prose slices through the politics to show—without pointing fingers—how schools can refocus to prepare our children for the jobs of the future."
— Laszlo Bock, SVP of People at Google and author of WORK RULES!

"This is an urgently needed and inspiring book, with two authors who have the first-hand experience to blueprint a bridge from the schools we have to the future we need."
— Anya Kamenetz, author of THE TEST and DIY U

"A searing and urgent indictment of the damaging priorities of American education and a fully grounded, practical vision of how to re-imagine it for the world we live in now. In plain language, Ted Dintersmith and Tony Wagner tell it like it is and how it really must be if America's students, economy and civil democracy are to survive and flourish in the 21st century. A compelling and important book."
— Sir Ken Robinson PhD, author of "Creative Schools: The Grassroots Revolution That's Transforming Education"

"If you read one book about education this decade, make it this one. I couldn't put it down, and neither will you."
— Adam Braun, "New York Times" bestselling author and Founder of Pencils of Promise

"Wagner and Dintersmith cut through the noise to demonstrate how our education system must move from a myopic focus on high-stakes testing to an emphasis on preparing students more holistically for life, career, college and citizenship. They call for systemic changes to ensure that teachers have the time, tools and trust they need to empower kids with a passion for learning and to teach the critical skills students will need in the 21st century economy."
— Randi Weingarten, President, American Federation of Teachers

"In this excellent book...Wagner and Dintersmith argue...that success and happiness will depend increasingly on having the ability to innovate."
— Chicago Tribune