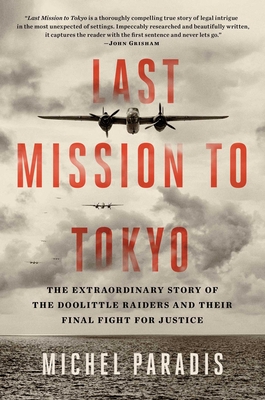 Last Mission to Tokyo
The Extraordinary Story of the Doolittle Raiders and Their Final Fight for Justice
Hardcover

* Individual store prices may vary.
Other Editions of This Title:
Digital Audiobook (7/27/2020)
Paperback (6/8/2021)
Compact Disc (7/28/2020)
Description
"Superb...[Paradis] writes history with ease and authority." —The Wall Street Journal

"[An] engrossing procedural...Richly researched." —The New York Times Book Review

A thrilling narrative that introduces a key but underreported moment in World War II: The Doolitte Raids and the international war crimes trial in 1945 that defined Japanese-American relations and changed legal history.

In 1942, freshly humiliated from the attack on Pearl Harbor, the United States was in search of a plan. President Roosevelt, determined to show the world that our nation would not be intimidated or defeated by enemy powers, he demanded recommendations for a show of strength. Jimmy Doolittle, a stunt pilot with a doctorate from MIT, came forward, and led eighty young men, gathered together from the far-flung corners of Depression-era America, on a seemingly impossible mission across the Pacific. Sixteen planes in all, they only had enough fuel for a one-way trip. Together, the Raiders, as they were called, did what no one had successfully done for more than a thousand years. They struck the mainland of Japan and permanently turned the tide of the war in the Pacific.

Almost immediately, The Doolittle Raid captured the public imagination, and has remained a seminal moment in World War II history, but the heroism and bravery of the mission is only half the story. In Last Mission to Tokyo, Michel Paradis reveals the dramatic aftermath of the mission, which involved two lost crews captured, tried, and tortured at the hands of the Japanese, a dramatic rescue of the survivors in the last weeks of World War II, and an international manhunt and trial led by two dynamic and opposing young lawyers—in which both the United States and Japan accused the other of war crimes—that would change the face of our legal and military history. Perfect for fans of Lucky 666 and Nuremberg: Infamy on Trial, Last Mission to Tokyo is a thrilling war story-meets-courtroom-drama that explores a key moment in World War II.
Praise For Last Mission to Tokyo: The Extraordinary Story of the Doolittle Raiders and Their Final Fight for Justice…
"Superb . . . [Paradis] writes history with ease and authority." —Daniel Ford, The Wall Street Journal

"[An] engrossing procedural . . . Richly researched." —Gary J. Bass, The New York Times Book Review

"Last Mission to Tokyo is a thoroughly compelling true story of legal intrigue in the most unexpected of settings. Impeccably researched and beautifully written, it captures the reader with the first sentence and never lets go." —John Grisham

"Those who say all the stories about World War II have been told are wrong because Michel Paradis has found one and it's a doozy -- the fates of the Doolittle Raid survivors and the Nuremburg-like efforts to bring their captors and killers to justice. Last Mission to Tokyo is both a narrative of wartime heroism and a courtroom thriller that grabs readers to the very last page." —Tom Clavin and Bob Drury, New York Times bestselling authors of The Heart of Everything That Is

"A deeply researched and hauntingly intimate case study of war, law, revenge, and responsibility on both sides in the tragic clash between Japan and the United States in World War Two. An excellent book." —John Dower, Pulitzer Prize-winning author of Embracing Defeat

"Last Mission to Tokyo tells the previously neglected but fascinating afterstory of the famous 1942 Doolittle Air Raid on Japan by sixteen American bombers. Paradis writes with the precision of a lawyer but the narrative flair of a novelist in telling this extraordinary tale of heroism, suffering, and justice. What an amazing story." —Jack Goldsmith, New York Times bestselling author of The Terror Presidency

"Michel Paradis beautifully chronicles the impassioned search for justice in the aftermath of war. Novelistic and engrossing, this true tale takes you inside the minds and hearts of those who sought redemption for war crimes in the face of crushing realities. Whether you are drawn to military strategy, courtroom drama, or just a great yarn, Last Mission to Tokyo will keep you on the edge of your seat until its final climactic scene." —Karen Greenberg, author of Rogue Justice

"No matter how much research and scholarship we think has been done to illuminate the past, there are always additional facts to uncover, and in some cases overturn. In Michel Paradis' Last Mission to Tokyo, we get both. This is a carefully crafted and detailed accounting of the Doolittle Raid and the lasting legacy of the efforts to achieve justice for those U.S. service members executed and tortured after the raid. An important book about ideals, accountability, and justice during the most difficult of times." —Daniel Jones, author of The Senate Intelligence Committee Report on Torture

"Last Mission to Tokyo is a wonderfully written, and researched, historical legal account concerning one of the most gripping tales from World War II. . . I was mesmerized by Michel Paradis extraordinary ability to capture the immense difficulty—and importance—of upholding the Rule of Law in the chaos of warfare. This book is a must-read for anyone who not only loves a great story, but is also interested in exploring the uneasy balance that exists between holding war criminals accountable and a victorious Nation's desire for retribution." —Colonel Shane Reeves, U.S. Army, Director of the Lieber Institute for Law & Land Warfare, U.S. Military Academy (West Point)

"This brilliantly written account a critical moment in WWII reads like a novel and recalls a period of history that should serve to remind us all of the sacrifice and heroism that defines the American spirit." —George Fletcher, author of Defending Humanity

"The Doolittle Raid over Tokyo four months after Pearl Harbor has received plenty of attention, but this captivating account of the lesser-known aftermath deserves attention. . . . Paradis writes engagingly, delivering clear explanations of the legal issues, the onerous preparations, and the trial itself." —Kirkus Reviews

"[A] deeply sourced account of the aftermath of one of WWII's most famous air raids. . . . This finely wrought history rescues a dramatic WWII episode from obscurity." —Publishers Weekly

"Based on extensive archival research, this narrative by Paradis expertly renders the complexities and nuances of war crimes trials into readable prose, as well as fleshing out the backstories and personalities of the major protagonists. . . . Will appeal to readers of military and World War II history and legal thrillers." —Library Journal (Starred Review)
Simon & Schuster, 9781501104718, 480pp.
Publication Date: July 28, 2020
About the Author
Michel Paradis is a leading scholar and lawyer of international law and human rights. He has won high-profile cases in courts around the globe and worked for over a decade with the US Department of Defense, Military Commissions Defense Organization, where he led many of the landmark court cases to arise out of Guantanamo Bay. He also holds the position of Lecturer at Columbia Law School, where he teaches on the military, the constitution, and the law of war. He has appeared on or written for NPR, MSNBC, The New York Times, The Washington Post, The Wall Street Journal, Foreign Policy, Lawfare, America, The Intercept, and the late Weekly Standard. He lives with his wife, daughters, and yorkie in Manhattan.