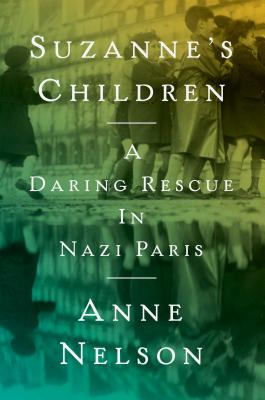 Suzanne's Children
A Daring Rescue in Nazi Paris
Hardcover

* Individual store prices may vary.
Other Editions of This Title:
Digital Audiobook (10/16/2017)
Paperback (10/30/2018)
MP3 CD (10/17/2017)
Compact Disc (10/17/2017)
MP3 CD (10/17/2017)
Compact Disc (10/17/2017)
Description
"Immersive...Suzanne's Children vividly dramatizes the stakes of acting morally in a time of brutality."—The Wall Street Journal

A story of courage in the face of evil. The tense drama of Suzanne Spaak who risked and gave her life to save hundreds of Jewish children from deportation from Nazi Paris to Auschwitz. This is one of the untold stories of the Holocaust.

Suzanne Spaak was born into the Belgian Catholic elite and married into the country's leading political family. Her brother-in-law was the Foreign Minister and her husband Claude was a playwright and patron of the painter Renée Magritte. In Paris in the late 1930s her friendship with a Polish Jewish refugee led her to her life's purpose. When France fell and the Nazis occupied Paris, she joined the Resistance. She used her fortune and social status to enlist allies among wealthy Parisians and church groups.

Under the eyes of the Gestapo, Suzanne and women from the Jewish and Christian resistance groups "kidnapped" hundreds of Jewish children to save them from the gas chambers.

In the final year of the Occupation Suzanne was caught in the Gestapo dragnet that was pursuing a Soviet agent she had aided. She was executed shortly before the liberation of Paris. Suzanne Spaak is honored in Israel as one of the Righteous Among Nations.
Praise For Suzanne's Children: A Daring Rescue in Nazi Paris…
"Immersive . . . by placing Spaak's singular story in the broader context of the occupation, Suzanne's Children vividly dramatizes the stakes of acting morally in a time of brutality. Ms. Nelson's exhaustive research reveals in chilling detail the gruesome methods with which the Nazis nearly succeeded in ridding France of its Jews, and exposes the easy complicity with which too many French aided them in that goal… [Suzanne Spaak's] is a legacy worth reading about."
— The Wall Street Journal

"A riveting book about a truly heroic woman in a Paris of resignation and shame. A must read !"—
— Diane von Furstenberg, New York Times bestselling author of The Woman I Wanted to Be

"At a time when we most need heroes, Anne Nelson gives us Suzanne Spaak, an undiscovered heroine of the French Resistance . Brave and enterprising, Suzanne defies Vichy and Nazi authorities and rescues hundreds of Jewish children. Impressively researched , Suzanne's Children is vivid proof that much more might have been done had others followed Spaak's mantra in the face of evil, "it faut faire quelque chose."
— Kati Marton, New York Times bestselling author of True Believer and Enemies of the People

"During the German occupation of France, Suzanne Spaak displayed almost super-human courage, setting up an elaborate network to save Jewish children while working with numerous resistance groups. She knew full well the risks involved but never let them slow her down. Anne Nelson has written an extraordinary book that finally does justice to Spaak's story of heroism and sacrifice."
— Andrew Nagorski, author of The Nazi Hunters

"One person of courage can make a difference. Anne Nelson tells the story of Suzanne Spaak, an elegant Belgian aristocrat who risked her life to save Jewish children in Nazi-occupied France. Her conscience told her someone had to do something. But, as Nelson's gripping book shows, doing the right thing can also come at a price."
— Alan Riding, author of And the Show Went On: Cultural Life in Nazi-Occupied Paris

"In a dogged work of research, Nelson illuminates the brave and tragically short life of Suzanne Spaak, nee Lorge, whose dangerous work hiding and finding shelter for Jewish orphans during the war in Paris brought imprisonment and death in 1944. . . . Nelson does a valiant job of bringing together the complex threads of this story. A page-turning account of the courageous actions of a woman recognized in 1985 by Yad Vashem as Righteous Among the Nations."
— Kirkus Reviews

"Nelson is superb at showing the upheavals in Europe since WWI through vivid, illuminating details . . . Nelson also masterfully describes the incremental changes in the Jews' plight under the Occupation . . . an important history about a heroine of the Holocaust."
— Booklist

"This heartfelt story is almost a model for how popular history should be written; it will satisfy lovers of history, Jewish history in particular."
— Library Journal

"Largely forgotten over the years is the story of Suzanne Spaak whose efforts resulted not only in the survival of Jewish children but also through a network of like-minded individuals, including aid from her own young children, was able to do so right under the noses of the Germans and French police. . . . In spite of the tragedy of this story, one must admire the fact that so many more lives were spared an unthinkable end for the opportunity to live their lives thanks to the humanity of just one individual. It is additional reinforcement of the idea that personal sacrifice should always be recognized and honored."
— New York Journal of Books
Simon & Schuster, 9781501105326, 336pp.
Publication Date: October 17, 2017
About the Author
Anne Nelson is an award-winning author and playwright. She is the author of Suzanne's Children; Red Orchestra: The Story of the Berlin Underground and the Circle of Friends Who Resisted Hitler; Murder Under Two Flags: The US, Puerto Rico, and the Cerro Maravilla Cover-up; and The Guys: A Play. Her work has appeared in The New York Times, Los Angeles Times, Harper's, BBC, CBC, NPR, and PBS. Nelson is a graduate of Yale University and a member of the Council on Foreign Relations. She teaches at the Columbia School of International and Public Affairs in New York City.
or
Not Currently Available for Direct Purchase