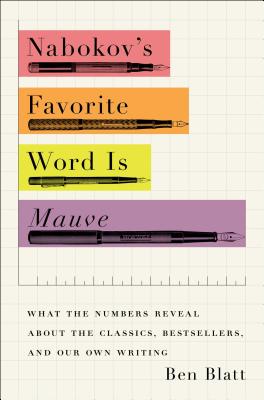 Nabokov's Favorite Word Is Mauve
What the Numbers Reveal About the Classics, Bestsellers, and Our Own Writing
Hardcover

* Individual store prices may vary.
Other Editions of This Title:
Paperback (3/20/2018)
MP3 CD (9/12/2017)
MP3 CD (9/12/2017)
Compact Disc (9/12/2017)
Compact Disc (9/12/2017)
Compact Disc (9/12/2017)
Description
An NPR Best Book of 2017: "A hell of a lot of fun." —NPR
One of Lit Hub's "The Best Books About Books"
"Enlightening." —The Wall Street Journal

Data meets literature in this brilliant new look at our favorite authors and their masterpieces: Do literary titans follow their own writing advice (and is it any good)? Do men and women write their characters differently? What are each author's favorite words and clichés?

There's a famous piece of writing advice—offered by Ernest Hemingway, Stephen King, and myriad writers in between—not to use -ly adverbs like "quickly" or "fitfully." It sounds like solid advice, but can we actually test it? If we were to count all the -ly adverbs these authors used in their careers, do they follow their own advice compared to other celebrated authors? And do great books in general—the classics and the bestsellers—use fewer adverbs?

In Nabokov's Favorite Word Is Mauve, statistician and journalist Ben Blatt brings big data to the literary canon, exploring the wealth of fun findings that remain hidden in the works of the world's greatest writers. He assembles a database of thousands of books and hundreds of millions of words, and starts asking the questions that have intrigued curious word nerds and book lovers for generations: What are our favorite authors' favorite words? Do men and women write differently? Are bestsellers getting dumber over time? Which bestselling writer uses the most clichés? What makes a great opening sentence? How can we judge a book by its cover? And which writerly advice is worth following or ignoring?

Blatt draws upon existing analysis techniques and invents some of his own. All of his investigations and experiments are original, conducted himself, and no math knowledge is needed to understand the results. Blatt breaks his findings down into lucid, humorous language and clear and compelling visuals. This eye-opening book offers a new appreciation of our favorite authors and a fresh perspective on our own writing, illuminating both the patterns that hold great prose together and the brilliant flourishes that make it unforgettable.
Praise For Nabokov's Favorite Word Is Mauve: What the Numbers Reveal About the Classics, Bestsellers, and Our Own Writing…
"A hell of a lot of fun … There's something cheeky in the way Blatt throws genre best-sellers into his statistical blender alongside literary lions and hits puree, looking for patterns of style shared by, say, James Joyce and James Patterson."
—NPR

"Enlightening"
—Wall Street Journal

"Brilliant"
—The Boston Globe

"Nate Silver-esque number crunching meets the canon in this quirky, arresting deconstruction of literature's greatest hits."
—O, The Oprah Magazine

"Fascinating … the book had me humming with pleasure."
—The Sunday Times

"A super fun book for lit nerds … [a] wonderful addition to any book-lovers' TBR pile."
—Literary Hub, One of the Lit Hub's "Best Books About Books"

"Terrific. I recommend it heartily."
—Forbes

"Blatt doesn't just shine a light on writing, he lets in a whole new area of the electromagnetic spectrum. … [Blatt] has achieved something impressive with this book. I've read a lot of books about words, but none like this. … Anyone interested in literature or becoming a better writer will find something to like here."
—Mark Peters, Dog Eared blog

"This is really the most delicious kind of rabbit hole ... If you're a writer, you won't be able to resist it. If you know a writer, give this as a gift and find yourself adored. … It can be dipped into like a squirrel's nut hoard, enjoyed a quick nibble at a time, or dived into headfirst, one fascinating tidbit leading to the next to the next to the next. "
—Publishers Weekly, Shelf Talker column

"Book-lovers will delight in Nabokov's Favorite Word Is Mauve ... accessible, entertaining, and enlightening."
—Bustle

"Delivers a statistical study of literature in the vein of Freakonomics … [Blatt] approaches the subject with the right mix of humor, hand-holding and literary love … yield[s] insights which would be impossible to recognize on their own."
—Paste Magazine

"Lively … worthwhile … Read this book thoughtfully. It's fun. And, I think, the shape of some very interesting things to come."
—The Times (London)

"Blatt's new book reveals surprising literary secrets … and unexpected anomalies in classic works ranging from James Joyce and Jane Austen to Chuck Palahniuk and E.L. James."
—Entertainment Weekly

"Blatt takes a by-the-numbers look at literary classics and finds some fascinating patterns … makes a strong argument."
—Smithsonian.com

"Illuminating entertainment … Literary criticism by the numbers."
—Kirkus Reviews

"Amiable and intelligent … literature enthusiasts will enjoy the hypotheses [Blatt] poses and his imaginative methods."
—Publishers Weekly

"A statistician uses curiosity and big data to uncover answers to persistent literary questions. … The result is a lighthearted numerical examination of words that is informative, surprising and funny."
—Shelf Awareness

"[A] fun and interesting book … his breezy and engaging volume fulfills its promise to provide the reader with an appreciation or deeper understanding of an author or favorite writer … and alerts the writer to the trends, patterns and uses of grammar, vocabulary and punctuation in one's own writing."
—New Romanticist

"What fun this is! Ben Blatt's charming book applies numerical know-how to questions of literary style, teasing out insights about cliffhangers, adverbs, and whether Americans write 'more loudly' than the British. (Spoiler: WE DO!!!)"
—Jordan Ellenberg, author of How Not to Be Wrong

"It was statisticians, rather than historians, who cracked the centuries-old mystery of the Federalist Papers—and they did it with mere paper and pencil. Operating in the same investigative spirit—and with the benefit of vastly more powerful tools—Ben Blatt probes the literary canon for unexpected revelations and insights. The result is a literary detective story: fast-paced, thought-provoking, and intriguing."
—Brian Christian, co-author of Algorithms to Live By

"Ben Blatt's delightful book gives us an original big data perspective on great writers' work. Its humor, insights, and statistical displays are fasci­nating to behold, even as it helps us develop our own writing."
—Carl N. Morris, Professor Emeritus of Statistics, Harvard University
Simon & Schuster, 9781501105388, 288pp.
Publication Date: March 14, 2017
About the Author
Ben Blatt is a former staff writer for Slate and The Harvard Lampoon who has taken his fun approach to data journalism to topics such as Seinfeld, mapmaking, The Beatles, and Jeopardy! He is the author of Nabokov's Favorite Word Is Mauve and, with Eric Brewster, the coauthor of I Don't Care if We Never Get Back, which follows the duo's quest to go on the mathematically optimal baseball road trip, traveling 20,000 miles to a game in all thirty ballparks in thirty days without planes. Blatt's work has also been published in The Wall Street Journal, The Boston Globe, and Deadspin.
or
Not Currently Available for Direct Purchase