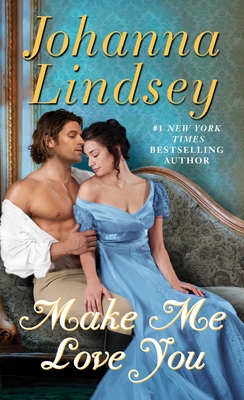 Make Me Love You (Mass Market)
A Novel
Pocket Books, 9781501105470, 432pp.
Publication Date: January 24, 2017
* Individual store prices may vary.
Description
#1 New York Times bestselling author Johanna Lindsey delivers "first rate romance" (Daily News) in this sparkling, passionate tale of an earl's daughter who must convince a mysterious viscount to marry her and end his vendetta against her brother.

One duel could be considered a matter of honor, but three duels are attempted murder! With enlightened society outraged at such reckless behavior among young noblemen, the Prince Regent orders Robert Whitworth, the earl of Tamdon's heir, and Lord Dominic Wolfe to end their dispute by allying their families through marriage. Whichever party refuses to comply will forfeit his lands and title.

Whitworth relishes the idea of sending his younger sister Brooke to his enemy's remote estate. He knows the Wolf will reject her as a bride, thereby losing his wealth and status. The Wolf, however, is determined to scare away the Whitworth chit. With dueling no longer an available means of destroying the man he abhors, he will be satisfied to see him lose his lands and title. But he hadn't expected his enemy's sister to be so resourceful or resilient.

Brooke Whitworth has been dreaming of her first season in London because she intends to win a husband who will take her far away from her unloving family. Instead, she is being sent to the Yorkshire moors to wed a mysterious nobleman whose family is cursed and who has thrice tried to kill her brother. But there's no room in her heart for fear; this man is her means of escape. She will make him love her!
About the Author
Johanna Lindsey is world-renowned for her "mastery of historical romance" (Entertainment Weekly), with more than sixty million copies of her novels sold. She is the author of fifty-five previous national bestselling novels, many of which reached the #1 spot on the New York Times bestseller list. Lindsey lives in New Hampshire with her family.
Praise For Make Me Love You: A Novel…
"Lindsey adds a generous soupcon of swashbuckling action and adventure to the latest captivating addition to her wickedly, witty, lusciously sensual Malory series."

"Johanna Lindsey...once again gives her fans a hero to fall in love with."

"The fun of this costume drama is not in guessing what happens next but in knowing what will and savoring the anticipation. Lindsey stirs it up with so much energy and spirit that it's hard not to find it delicious."

"First rate romance."

''This is the story Malory pirate fans have been waiting for, and this consummate storyteller doesn't disappoint. There's adventure, sensuality, battles, storms, family high jinks and rapier wit. Best of all are the father-daughter relationships that add humor and pathos—and if that isn't enough, there's a slew of Malory family members to satisfy everyone who wants to see their old friends in new adventures as a new generation makes waves. Lindsey delivers!''

"For her 50th romance Lindsey creates a memorable western, complete with a clan feud, ranchers, miners, and a pair of stubborn lovers who discover the value of family and trust. The secondary plot lines of old loves and dark secrets will keep readers turning the pages along with the joy of watching a young, impulsive heroine mature into a strong western woman. With that special touch of Lindsey humor and sexual tension, she wins her fans' hearts.

"A perfect way to spend a lazy summer afternoon."

"Best-selling Lindsey returns to her Malory family series after a 13-year hiatus with a terrific tale about a wickedly seductive hero and a wonderfully unconventional heroine, infusing this fairy-tale-like love story with a dash of danger in a successful bid to please readers who like witty and sinfully sensual Regency romances."

"[Lindsey's] signature blend of witty writing, charmingly unique characters, and a sexy love story continues to be irresistible."