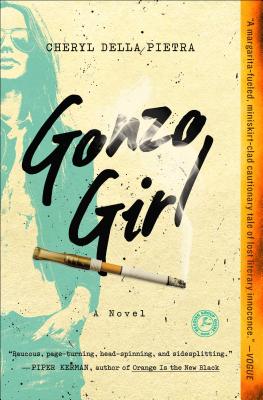 Gonzo Girl
A Novel
Paperback

* Individual store prices may vary.
Other Editions of This Title:
Digital Audiobook (7/27/2015)
Description
The road to hell is paved with good intentions…and tequila, guns, and cocaine in this "rambunctiously entertaining" (Teddy Wayne) debut novel inspired by the author's time as Hunter S. Thompson's assistant.

Alley Russo is a recent college grad desperately trying to make it in the grueling world of New York publishing, but like so many who have come before her, she has no connections and has settled for an unpaid magazine internship while slinging drinks on Bleecker Street just to make ends meet. That's when she hears the infamous Walker Reade is looking for an assistant to replace the eight others who have recently quit. Hungry for a chance to get her manuscript onto the desk of an experienced editor, Alley jumps at the opportunity to help Reade finish his latest novel.

After surviving an absurd three-day "trial period" involving a .44 magnum, purple-pyramid acid, violent verbal outbursts, brushes with fame and the law, a bevy of peacocks, and a whole lot of cocaine, Alley is invited to stay at the compound where Reade works. For months Alley attempts to coax the novel out of Walker page-by-page, all while battling his endless procrastination, vampiric schedule, Herculean substance abuse, mounting debt, and casual gunplay. But as the job begins to take a toll on her psyche, Alley realizes she's alone in the Colorado Rockies at the mercy of a drug-addicted literary icon who may never produce another novel—and her fate may already be sealed.

"A margarita-fueled, miniskirt-clad cautionary tale of lost literary innocence" (Vogue), Gonzo Girl is a loving fictional portrait of a larger-than-life literary icon.
Praise For Gonzo Girl: A Novel…
"Gonzo Girl is a thrilling fictionalized (just barely) account of working with a true genius—until the celebrity-filled, drug-fueled partying becomes too much."
— Entertainment Weekly (Must List selection)

"A margarita-fueled, miniskirt-clad cautionary tale of lost literary innocence."
— Vogue

"Gonzo Girl is good, fast fun, like a thrill ride in a red convertible. A 1973 Chevy Caprice Classic, to be exact. You know the one."
— Newsday

"Full throttle from page one, this bildungsroman is a unique and mesmerizing tale about a young woman who must test her own limits and find her own voice to actualize a certain version of the American dream."
— Elle.com

"Gonzo Girl shares an LSD-like flashback of the margarita-infused chaos of working with an unpredictable literary genius—without the hangover."
— Self.com

"A lighthearted page turner that has the reader constantly trying to differentiate between fact and fiction . . . Gonzo Girl offers a glimpse into the wonderful and weird world of Thompson—or something like it."
— The A. V. Club

"Fascinating."
— Kirkus Reviews

"Pietra blends amusing imagery, outrageous pranks, and snappy dialog into a lively read. . . . For readers curious about Thompson's lifestyle and fans of eccentric characters and meandering journeys featuring copious amounts of illegal substances."
— Library Journal

"While the novel dishes out plenty of illicit good times, Della Pietra also manages to bring moments of poignancy to the narrative. . . . Della Pietra ultimately steers her story to a believable, satisfying, and moving conclusion."
— Publishers Weekly

"Long after the last drink is poured and the final gunshot fired, Cheryl Della Pietra's novel inspired by her time as Hunter S. Thompson's assistant will linger in your mind. This debut novel is raucous, page-turning, head-spinning, and side-splitting as it depicts a boss and mentor who is both devil and angel, and a young heroine who finds herself tested in the chaos that surrounds him. An intense story, Della Pietra's tale about writing, firearms, psychotropics, and the pros and cons of hot tubs will suck you in and take you on ride. Gonzo Girl is a ticket you want to buy."
— Piper Kerman, author of Orange Is the New Black

"Gonzo Girl is as rambunctiously entertaining as the badly behaved famous journalist who inspired the creation of Walker Reade. Cheryl Della Pietra writes with wit and an eye for the bizarre detail worthy of her former employer, and her debut novel spins, at a cocaine-fueled pace, a moving and insightful coming-of-literary-age story."
— Teddy Wayne, author of The Love Song of Jonny Valentine
Gallery Books, 9781501105593, 288pp.
Publication Date: April 19, 2016
About the Author
Cheryl Della Pietra is a longtime New York City magazine editor, writer, and copy editor. She has published numerous stories in such magazines as Marie Claire, Redbook, and POV Magazine. After graduating from the University of Pennsylvania, she lived with Hunter S. Thompson in Woody Creek, Colorado, for several months in 1992, where she worked as his assistant. She currently lives in Branford, Connecticut, with her husband and son.