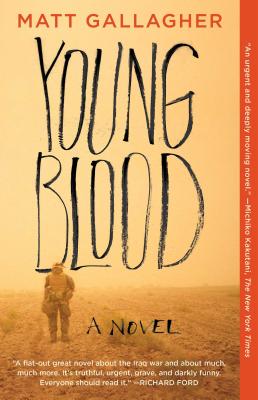 Youngblood (Paperback)
A Novel
Washington Square Press, 9781501105753, 352pp.
Publication Date: September 6, 2016
Other Editions of This Title:
Digital Audiobook (2/1/2016)
Pre-Recorded Audio Player (3/2/2016)
Hardcover (2/2/2016)
Paperback (9/8/2016)
* Individual store prices may vary.
Description
"An urgent and deeply moving novel" (Michiko Kakutani, The New York Times) about a young American soldier struggling to find meaning during the final, dark days of the War in Iraq.

The US military is preparing to withdraw from Iraq, and newly minted lieutenant Jack Porter struggles to accept how it's happening—through alliances with warlords who have Arab and American blood on their hands. Day after day, Jack tries to assert his leadership in the sweltering, dreary atmosphere of Ashuriyah. But his world is disrupted by the arrival of veteran Sergeant Daniel Chambers, whose aggressive style threatens to undermine the fragile peace that the troops have worked hard to establish.

As Iraq plunges back into chaos and bloodshed and Chambers's influence over the men grows stronger, Jack becomes obsessed with a strange, tragic tale of reckless love between a lost American soldier and Rana, a local sheikh's daughter. In search of the truth and buoyed by the knowledge that what he finds may implicate Sergeant Chambers, Jack seeks answers from the enigmatic Rana, and soon their fates become intertwined. Determined to secure a better future for Rana and a legitimate and lasting peace for her country, Jack will defy American command, putting his own future in grave peril.

For fans of Phil Klay's Redeployment or Ben Fountain's Billy Lynn's Long Halftime Walk, Youngblood provides startling new dimension to both the moral complexity of war and its psychological toll.
About the Author
Matt Gallagher is a Wake Forest graduate and US Army veteran. He's the author of the novels Youngblood and the memoir Kaboom: Embracing the Suck in a Savage Little War. He holds an MFA in fiction from Columbia and has written for The New York Times, The Atlantic, Esquire, and The Paris Review. He lives with his wife and son in Brooklyn.


Praise For Youngblood: A Novel…
"On one level, the novel is a parable -- with overtones of Graham Greene's The Quiet American...On another, it's a story about how we tell stories to friends and strangers, trying to convey experiences they will never know firsthand, and how we tell ourselves stories to reckon with the past...Mr. Gallagher has a keen reportorial eye, a distinctive voice and an instinctive sympathy for the people he is writing about, and he uses those gifts here to immerse us in his characters's lives...With Youngblood, he has written an urgent and deeply moving novel."
— The New York Times

"While [Gallagher's] nonfiction was visceral, immediate and reportorial, his fiction transforms direct experience into something more layered and complex. Gallagher's voice is vital, literary and sometimes lyrical...smart, fierce and important."
— The Washington Post

"A timely and moving story of the realities and psychological consequences of war."
— Harper's Bazaar

"[Gallagher] writes about war like you've never read before ... in its emotional nuance, Youngblood codifies the fact that this is a voice to be reckoned with."

— Esquire

"Smart and riveting."
— Vogue

"What's needed in modern war lit is not more politics, but more humanity; less kill, and more consequence. Youngblood has both in spades."

— Foreign Policy

"The Iraq Novel We've Been Waiting For. [A] dark, suspenseful meditation on [the] impact abroad ... America's first great work of reckoning."

— The Daily Beast

"Gallagher's riveting combination of gritty military jargon, sharply drawn characters, and suspenseful story line adds up to one of the best modern war novels since Tim O'Brien's Vietnam classic, The Things They Carried (1990). Highly recommended."
— Booklist, starred review

"A powerful fiction debut…a gritty, tragic, realistic look inside the failures of America's invasion and occupation of Iraq told by someone who lived it."
— The Huffington Post

"A complex tale about the Iraq War, intrigue, love, and survival. Gallagher follows up on his successful first book, the memoir Kaboom: Embracing the Suck in a Savage Little War (2010), with a smart Iraq War novel that adds something new to the genre—new genres. Gallagher subtly weaves throughout this excellent, brutal tale intrigue, a mystery, and two compelling love stories… A fresh twist on the Iraq War novel adds depth to this burgeoning genre."
— Kirkus, starred review

"The despair of the Iraqis and the dead-pan wit of the boys who wear the lightning bolt. The spikes of adrenaline in the firefights. The brutal exchange rate of blood and blood money. The tyranny of the sun. Gallagher nails them all, with a voice that is both confident and illuminating."
— Oregonian Review

"A flat-out great novel about the Iraq war and about much, much more. It's truthful, urgent, grave and darkly funny. Everyone should read it."
— Richard Ford

"Youngblood is not only a 'war novel,' it is a rich, fully formed, and beautifully executed novel-novel, way beyond the chicken coops of genre, a novel about the human heart in contest with itself, a novel about memory and longing and grief and hope and guilt and late-night ironies that raise a chuckle to the lips of the dead. Yes, the people and events in this fine novel are certainly 'tangled up' with war, as the author puts it on page one,but it is the same sort of entanglement that Lord Jim has with the ocean, or the sort of entanglement that Huck Finn has with the river."
— Tim O'Brien, author of The Things They Carried

"Thrilling, tragic, and darkly funny, Matt Gallagher's Youngblood is a brilliant portrait of command in the modern, morally bruising battlefield."
— Phil Klay, New York Times bestselling author of Redeployment

"Not only does Youngblood rank among the very best books of our seemingly endless Iraq war, it's one of the best novels I've ever read of war, period. A mystery as taut as that of any thriller lies at the heart of the story, and as the layers peel away and the mystery coils tighter and tighter, grim truths are revealed about love, loyalty, violence, power--about life in a very hard place made so much harder by years of war. Matt Gallagher's fierce, brilliant novel should serve as a slap in the face to a culture that's grown all too comfortable with the notion of endless war."
— Ben Fountain, New York Times bestselling author of Billy Lynn's Long Halftime Walk

"Youngblood airlifts readers into the Iraq War, and through Matt Gallagher's eyes we find the place unsettlingly intimate, sublimely corporeal, ribald and gripping. With the promise of withdrawal shimmering on the horizon, Gallagher's LT Jack is a mesmerizing narrator, the Charles Marlow of Iraq, urging our vessel deeper into a land of secrets and veils, deeper into the anarchic and ambivalent psyches of the men both occupying and being occupied. This muscular novel cements Gallagher's role as our essential biographer of the forever war."

— Claire Vaye Watkins, award-winning author of Gold Fame Citrus

"'iCasualties', 'electricity recons', and 'Mesopotamian Cadillacs';'finding out on Facebook that your fiance's dead. Gallagher humanizes these—war's—alien and extraordinary elements. Youngblood is a beautiful book. It will break your heart."
— Lea Carpenter, critically-acclaimed author of Eleven Days

"In 1926 Ernest Hemingway's first novel, The Sun Also Rises, portrayed the generation of men and women living in the wake of World War I, an unflinching portrait of their weaknesses and strengths. Matt Gallagher writes with much the same artistry and intent, this time illuminating the lives of men and women and children--American and Iraqi--trying to survive the war in Iraq. Youngblood is so good I couldn't help but think of old Hemingway's debut. Let this novel serve as your introduction to a bold, brilliant talent."
— Victor LaValle, author of The Devil in Silver

"A gripping, compelling novel about war and country by an exceedingly talented veteran of Iraq who writes with a soldier's eye and a poet's soul. Youngblood is a captivating story of hope and loss, love and ruin that transports readers to the war as it was felt and lived - by Americans and Iraqis alike. It clearly deserves a place on the top shelf of American war literature."
— General (Ret.) David H. Petraeus, commander of the 101st Airborne Division in Iraq (2003-2004), Multinational Security Transition Command-Iraq (2004-2005), Multinational Force-Iraq (2007-2008), and U.S. Central Command (2008-2010)
or
Not Currently Available for Direct Purchase