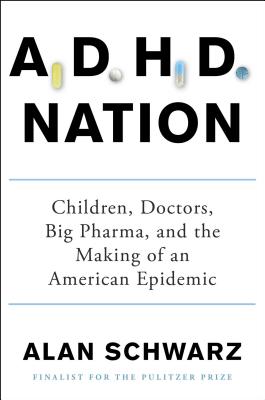 ADHD Nation
Children, Doctors, Big Pharma, and the Making of an American Epidemic
Hardcover

* Individual store prices may vary.
Other Editions of This Title:
Digital Audiobook (9/5/2016)
Paperback (9/5/2017)
Description
A Kirkus Reviews Best Nonfiction Book of the Year

The groundbreaking and definitive account of the widespread misdiagnosis of attention deficit hyperactivity disorder—and how its unchecked growth over half a century has made ADHD one of the most controversial conditions in medicine, with serious effects on children, adults, and society.

More than 1 in 7 American children get diagnosed with ADHD—three times what experts have said is appropriate—meaning that millions of kids are misdiagnosed and taking medications such as Adderall or Concerta for a psychiatric condition they probably do not have. The numbers rise every year. And still, many experts and drug companies deny any cause for concern. In fact, they say that adults and the rest of the world should embrace ADHD and that its medications will transform their lives.

In ADHD Nation, Alan Schwarz examines the roots and the rise of this cultural and medical phenomenon: The father of ADHD, Dr. Keith Conners, spends fifty years advocating drugs like Ritalin before realizing his role in what he now calls "a national disaster of dangerous proportions"; a troubled young girl and a studious teenage boy get entangled in the growing ADHD machine and take medications that backfire horribly; and big Pharma egregiously over-promotes the disorder and earns billions from the mishandling of children (and now adults).

While demonstrating that ADHD is real and can be medicated when appropriate, Schwarz sounds a long-overdue alarm and urges America to address this growing national health crisis.
Praise For ADHD Nation: Children, Doctors, Big Pharma, and the Making of an American Epidemic…
"An illuminating exploration of ADHD, brimming with intelligence and insight. Schwarz reveals the powerful cultural and economic forces fueling its widespread diagnosis and drug treatment. Those with the disorder will hear a voice of compassion. And those who may be misdiagnosed, a clarion note of caution."
—Jerome Groopman, M.D., Professor of Medicine, Harvard Medical School, staff writer, New Yorker

"ADHD Nation is a true rarity – a book that confronts an important subject with the authority of an expert, makes its case with the urgency of a red alert, and moves at the pace of a thriller."
—Daniel Okrent, New York Times bestselling author of Last Call

"In this powerful, necessary book, Schwarz exposes the dirty secrets of the growing ADHD epidemic."
—Kirkus Reviews (starred review)

"ADHD Nation should be required reading for those who seek to understand how a field that once aimed to ameliorate the behavioral problems of children in a broad therapeutic context abdicated its mission to the stockholders of corporations like Shire and Lilly. Schwarz is sounding an alarm for a fire that looks nowhere near abating."
—The New York Times Book Review

"This eye-opening book should be a hit with drug-industry skeptics and worried parents who want to read a well-reported, definitive guide to this misunderstood and overly medicated disorder."
—Booklist

"Mr. Schwarz's disciplined focus gives his book clarity and even utility."
—The Wall Street Journal

"ADHD Nation is a necessary book. Schwarz has done a fine job on a maddening topic, and everyone who's interested in hyperactivity, attention spans, stimulants, and the current state of American health care should grab a copy."
—New York Magazine

"A dazzling piece of journalism, based on extensive research and an enormous number of interviews...an outstanding exposé."
—New Republic

"[Schwarz's] nimble investigation interweaves the narratives of pharmaceutical companies with those of child psychologist Keith Conners, who led ADHD's 'Manhattan Project', and young people grappling with the medical fallout. An intriguing sidelight is the misuse of ADHD drugs as performance enhancers."
—Nature
Scribner, 9781501105913, 352pp.
Publication Date: September 6, 2016
About the Author
Alan Schwarz is a former Pulitzer Prize–nominated investigative reporter for The New York Times whose acclaimed series of more than one hundred articles exposed the seriousness of concussions in the NFL and led to safety reforms for young athletes nationwide. His work was profiled in The New Yorker and honored with a George Polk Award, the Associated Press Sports Editors Award for Project Reporting (three times), and the 2013 Excellence in Statistical Reporting Award from the American Statistical Association. He and his family live in New York City.
or
Not Currently Available for Direct Purchase