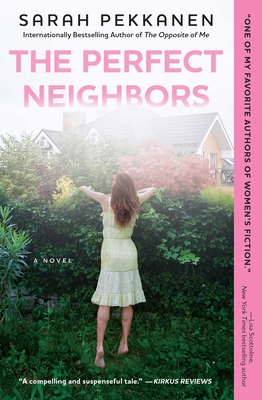 The Perfect Neighbors (Paperback)
A Novel
Washington Square Press, 9781501106491, 352pp.
Publication Date: July 5, 2016
Other Editions of This Title:
Digital Audiobook (7/4/2016)
Library Binding, Large Print (8/1/2016)
* Individual store prices may vary.
Description
One of Glamour's Best Books of Summer * An Us Weekly Trending Title
"A delicious beach read." –People
"Relatable characters round out a fun, fast read." –Good Housekeeping
"A compelling, suspenseful tale." –Kirkus Reviews
"The perfect summer read." –Booklist

How well do you ever really know the family next door?

Bucolic Newport Cove, where spontaneous block parties occur on balmy nights and all of the streets are named for flowers, is proud of its distinction of being named one the top twenty safest neighborhoods in the US. It's also one of the most secret-filled.

Kellie Scott has just returned to work after a decade of being a stay-at-home mom. She's adjusting to high heels, scrambling to cook dinner for her family after a day at the office—and soaking in the dangerous attention of a very handsome, very married male colleague. Kellie's neighbor Susan Barrett begins every day with fresh resolutions: she won't eat any carbs, she'll go to bed at a reasonable hour, and she'll stop stalking her ex-husband and his new girlfriend. Gigi Kennedy seems to have it all together—except her teenage daughter has turned into a hostile stranger and her husband is running for Congress, which means her old skeletons are in danger of being brought into the light.

Then a new family moves to this quiet, tree-lined cul-de-sac. Tessa Campbell seems friendly enough to the other mothers, if a bit reserved. Then the neighbors notice that no one is ever invited to Tessa's house. And soon, it becomes clear that Tessa is hiding the biggest secret of all.
About the Author
Sarah Pekkanen is the bestselling author of The Ever After, The Opposite of Me, Skipping a Beat, These Girls, The Best of Us, Catching Air, Things You Won't Say, and The Perfect Neighbors. Her work has been published in People, The Washington Post, and USA TODAY, among other publications. She lives with her family in Chevy Chase, Maryland.
Praise For The Perfect Neighbors: A Novel…
Praise for The Perfect Neighbors:
"Pekkanen deftly intertwines four stories into a tapestry depicting the frayed seams underlying small-town American domesticity. A mistress of women's fiction, Pekkanen transforms clichéd suburban troubles—from adolescent drama to infidelity—into a compelling, suspenseful tale."

"A gossipy page-turner."

"Pekkanen uncovers the hopes, heartbreaks, and indiscretions that lurk behind a community's carefully maintained façade in this engrossing novel reminiscent of Liane Moriarty's suburban-set mysteries. Women's fiction star Pekkanen's latest novel will be energetically promoted as the perfect summer read."

Praise for Things You Won't Say:
"Gripping reading"

"A standout among standouts."

"A gripping story of racial profiling, PTSD, and the threads that hold people together. You'll forget it's fiction."

"Fantastic and realistic."

"Pekkanen tackles a timely topic."

"Pekkanen reliably builds strong, interesting characters."

Praise for Sarah Pekkanen:
"Sarah Pekkanen writes with wit and warmth and a deep understanding of the way women—mothers, daughters, sisters, friends—make a place for themselves in the world."
— Jennifer Weiner

"Ultimately, Pekkanen shows that relationships of any kind take work, expression of love, and the willingness to take risks in order to save them."

"Smart and soulful, Pekkanen explores the place where self and sisterhood intersect."

"Pekkanen's wry voice and engaging characters keeps things fresh."

"Pekkanen offers a conversational writing style and a knack for making readers care about her characters."

"Sarah Pekkanen is one of my favorite authors of women's fiction."
— Lisa Scottoline

"Internationally best-selling Pekkanen writes novels that offer thoughtful examinations of how the past shapes adult relationships and the differences between men and women."