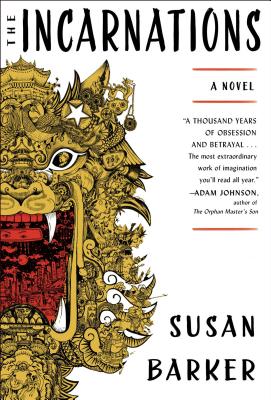 The Incarnations (Hardcover)
A Novel
Touchstone, 9781501106781, 384pp.
Publication Date: August 18, 2015
Other Editions of This Title:
Digital Audiobook (8/17/2015)
Paperback (5/3/2016)
* Individual store prices may vary.
Description
New York Times Notable Book of 2015
Kirkus Reviews Best Fiction Book of 2015
Finalist for the 2015 Kirkus Prize for Fiction
Winner of a Jerwood Fiction Uncovered Prize

Hailed by The New York Times for its "wildly ambitious...dazzling use of language" and "mesmerizing storytelling," The Incarnations is a "brilliant, mind-expanding, and wildly original novel" (Chris Cleave) about a Beijing taxi driver whose past incarnations over one thousand years haunt him through searing letters sent by his mysterious soulmate.

Who are you? you must be wondering. I am your soulmate, your old friend, and I have come back to this city of sixteen million in search of you.

So begins the first letter that falls into Wang's lap as he flips down the visor in his taxi. The letters that follow are filled with the stories of Wang's previous lives—from escaping a marriage to a spirit bride, to being a slave on the run from Genghis Khan, to living as a fisherman during the Opium Wars, and being a teenager on the Red Guard during the cultural revolution—bound to his mysterious "soulmate," spanning one thousand years of betrayal and intrigue.

As the letters continue to appear seemingly out of thin air, Wang becomes convinced that someone is watching him—someone who claims to have known him for over one thousand years. And with each letter, Wang feels the watcher growing closer and closer…

Seamlessly weaving Chinese folklore, history, and literary classics, The Incarnations is a taut and gripping novel that sheds light on the cyclical nature of history as it hints that the past is never truly settled.
About the Author
Susan Barker is the author of Sayonara Bar and The Orientalist and the Ghost, both longlisted for the Dylan Thomas Prize. She grew up in East London with a Chinese-Malyasian mother and a British father, and studied creative writing at the University of Manchester. She spent several years living in Beijing while working on The Incarnations, and currently lives in the UK.
Praise For The Incarnations: A Novel…
"Wildly ambitious . . . [Barker's] dazzling use of language and natural storytelling gifts shine from every paragraph. As with David Mitchell, whose books can similarly hopscotch through times and places, each episode stands alone as a terrific tale in itself. You can become so immersed in one story that you have to almost physically drag yourself away to commit to the next. . . . Mesmerizing storytelling."
— Sarah Lyall

"Astonishing, amazing . . . It's the small sagas of Chinese history contained in the letters, together with Barker's vivid descriptions of today's China, that set this book apart as a work of considerable, if unnerving, importance. . . . Tightly wound, intensely wrought, fantastically exciting . . . Beguiling, readable, intense . . . The book's stellar narrative carries us briskly along."
— Simon Winchester

"A sinuous tale of soul mates."

"A perfect conclusion brings home the writer's warning: 'History is coming for you.'"—New York Magazine ("7 Books You Need to Read This August")

"Perfect fodder for summer's waning, Barker's novel is grim and gripping, a yarn for the ages."—Interview Magazine

"A dazzling tapestry of epic scope . . . [An] ambitious, enthralling tale, a deft melding of past and present, myth and reality, longing and torment."

"[Barker] has smartly structured this intricate tale, and its mystery pulls us forward. . . . The novel gains in power and polish as it progresses. . . . Close to the end, I found myself stalling--prolonging suspense."

"Barker makes Wang and his city as vividly real--and disturbing--as any of the other versions of China. . . . One of the novel's many structural pleasures is watching Barker slowly reveal the connections between Wang's seemingly simple life and the other lives the letter writer reveals."

"Barker's fluid prose makes of their tragic stories irresistible reading….The stories come alive via a veritable catalog of dark and desperate details. This ambitious novel traffics in intrigue and betrayal yet never loses its hypnotic grip."—Booklist (starred review)

"Barker has that rare contortionistic imagination possessed only by the finest Chinese literary legends such as Wu Cheng'en and Yu Hua, and this book is soaked deep in the vintage mysticism of Nobel Prize winner Mo Yan. It's a rare feat that a China-themed book could be this universally abiding. My favorite part being its setting: China is alive and deeply soulful under Barker's knowing pen, making me want to revisit this mystic land of much enchantment." —Da Chen, author of Colors of the Mountain and Brothers

"A page-turning reincarnation fantasy . . . Lush historical detail . . . A very memorable read." —Publishers Weekly (starred review)

"[A] stunning epic . . . Barker's historical tour de force is simultaneously sweeping and precise. . . . Effortlessly blends the past with the present, dark humor with profound sadness. A deeply human masterpiece." —Kirkus Reviews (starred review)

"Barker's remarkable new novel is ambitious in scope, scholarly in depth and absolutely riveting. The Incarnations works on a number of levels, pulling together so many strands of history and perspectives and drawing them into a compelling and convincing tale. Part history, part love story, with good doses of horror, comedy and philosophy, it is ultimately a thriller and a page-turner…. The effect is explosive." —South China Morning Post

"Reads as China's Midnight's Children. An utterly remarkable novel, it is certainly a very different book from Rushdie's but just as important in its historical and cultural sweep....Barker's storytelling is lively and addictive....She has an eye for the absurd and darkly comic." —The Independent (UK)

"Not since Jung Chang's Wild Swans has been such a visceral re-telling of the old days." —Open Magazine (India)

"Suspend your disbelief, flow along with this wonderful book, like the crazy traffic flowing around Beijing's six ring roads...The book moves effortlessly from past to present and back again....Masterful." —The Guardian (UK)

"Barker resembles David Mitchell in the ability to weave together past and present in a convincing, and ultimately intriguing, manner."—Sydney Morning Herald

"A thrilling journey through a thousand years of obsession and betrayal and a vivid tapestry of the individual's struggle against the tyranny of history, this is the most extraordinary work of imagination you'll read all year."
—Adam Johnson, author of The Orphan Master's Son (Winner of the Pulitzer Prize for Fiction, 2013)

"A brilliant, mind-expanding and wildly original novel."
—Chris Cleave, author of Little Bee

"An extraordinary novel. Erudite, intriguing and compulsively readable, The Incarnations takes the reader on an intimate and mesmerizing journey through Chinese history. Susan Barker, a born story-teller, has written one of the most remarkable novels of recent years."
—John Boyne, author of The Boy in the Striped Pajamas

"Invigorating. To recreate convincingly a single historical period is an achievement. To recreate six is to approach virtuosity....Deft, smart, various and warm: a very good book indeed." —Sunday Business Post (UK)

"What a ferociously talented writer Susan Barker is. The Incarnations is a hallucinatory ride. Highly recommended"
—Anna Hope, author of Wake

"Remarkable…Ambitious in scope, painstakingly researched and most importantly, a gripping read."
—Publishing Perspectives

"Light and often witty...There is tragedy, though perhaps not where the reader expects it, but there is also hope."
—Thatsmags.com (China)

Highly successful as art and craft…THE INCARNATIONS uses its unique premise to combine a series of short stories based in history with a realistic account of a difficult modern life, for much more than the sum of the parts.

"Daring . . . The novel's shifts from the distant past to the present are seamless, and the bittersweet twist at the book's finale will have readers searching back through the novel for clues to the ending. . . . Skillfully combines history, the supernatural and the everyday in a novel that suggests that the past is never really past, while providing a cracking good read."

"A hypnotic journey through 1,500 years of China's history. . . . Culminates in a shocking and violent conclusion that will haunt you for weeks."–Paste Magazine

"A jackpot. This sprawling, time-bending epic somehow manages to span a thousand years while still remaining grounded and intimate. It's a monumental feat of writing; the sort of wildly engaging creativity that can never be predicted, but only embraced upon its discovery. . . . A hypnotically brilliant, emotionally powerful piece of fiction that denied classification and demanded contemplation. It is indisputably one of the best books of the year."--The Maine Edge

"The Incarnations works perfectly as a collection of studied, precise short stories unified by simple but powerful themes and a bevy of stylistic strengths."
Coverage from NPR