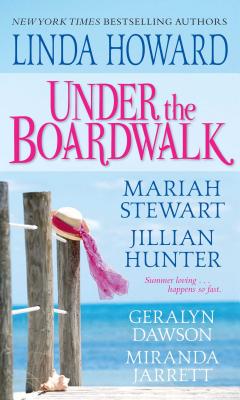 Under The Boardwalk
A Dazzling Collection Of All New Summertime Love Stories
Paperback

* Individual store prices may vary.
Description
Today's hottest romance stars make it a summer to remember -- with a sizzling story collection for sunny days and steamy nights....
Under the Boardwalk
New York Times bestselling author Linda Howard lures a sheriff into a scorching murder mystery -- and into the arms of a lover from the heart of the South: the wet and wild bayou. Geralyn Dawson traces a precious heirloom -- and heats up a past marriage -- on a a secluded Texas island. Jillian Hunter sparks romance off the English coast, when a London beauty in distress is rescued by the very man who could ruin her reputation. Miranda Jarrett ships a rogue pirate back to shore to rekindle a summertime romance. But did his sweetheart wait for him? Mariah Stewart crosses a successful oceanside chef with the man of her dreams -- a P.I. with secrets of his own -- at a vacation spot packed with memories for them both.
Gallery Books, 9781501107337, 480pp.
Publication Date: November 8, 2014
About the Author
Linda S. Howington is a bestselling romance author writing under the pseudonym Linda Howard. She has written many New York Times bestsellers, including Up Close and Dangerous, Drop Dead Gorgeous, Cover of Night, Killing Time, To Die For, Kiss Me While I Sleep, Cry No More, and Dying to Please. She is a charter member of Romance Writers of America and in 2005 was awarded their Career Achievement Award. Linda lives in Gadsden, Alabama, with her husband and two golden retrievers. She has three grown stepchildren and three grandchildren.

Geralyn Dawson is the critically acclaimed author of more than a dozen novels, including My Big Old Texas Heartache and My Long Tall Texas Heartthrob (both available from Pocket Star Books). A three-time RITA finalist, Geralyn has won numerous awards, including the National Readers' Choice Award and a Career Achievement Award from Romantic Times. She is an active volunteer for the Making Memories Foundation and lives in Forth Worth, Texas, with her family. Visit her website at www.GeralynDawson.com and watch for the first novel in her Bad Luck Brides series, Her Bodyguard.

Jillian Hunter has received several awards in the Romance Community, including Romantic Times Career Achievement Award. She lives in Southern California with her husband and three daughters.

Like most writers, I was a reader first, but I've also enjoyed writing and story-telling since I was a child. After working many years in public relations (which was a great background for fiction), I decided to stop talking about that book I was always going to write and actually do it. In 1990, when I was on maternity leave, I wrote my first book, Steal the Stars (now out of print.)
This was not as felicitous as it sounds. I was as fried as every other new mother, but at least while I was staying up all night, I was also writing. I didn't know how my book was going to end, I wandered around through the viewpoints of every single character, and my opening was so full of setting and backstory that I'm surprised any editor could stay awake to read it. Fortunately, one did, and with her help and understanding, I trimmed my manuscript by a third, tightened the plot, and pruned the extra characters, and duh-duh, on Valentine's Day, 1992 my first book was published and my writing career born.
Born, yes, but not totally prospering. I dutifully went back to my day job, writing at night, for another four years before I was earning enough to be able to write full time. I sold my first Fairbourne Family book, The Captain's Bride, to Pocket Books in 1996, and I've been happily writing for them ever since. My twentieth book, Star Bright, will be published by Sonnet Books in November, 2000, and I still can't believe I've come so far in eight years!
One of the things that has set my books apart from most of the other historical romances today has been the setting: colonial America. I'm not sure why this isn't a more popular setting among writers -- it's certainly one brimming with romantic possibilities! -- but it's a time and place I already knew something about, and an era that I especially enjoy. I went to college in Rhode Island, a place where the colonial past is still very much a part of modern life, and I'm sure that influenced me, too. I was especially fascinated by how fluid society was in New England at the time, with fabulous family fortunes made (and lost) in record time. It's a time of bold, daring, larger-than-life men and women, and that makes it a wonderful source for a writer.
With Starlight and Star Bright, I'm venturing back across the ocean to Georgian England, seeing the old country" through my colonial characters' eyes. This has been a new challenge for me, and a great deal of fun as well. This is, after all, the time and place that virtually invented the rake and the rogue! Visiting the London of Hogarth and Tom Jones, dancing at the pleasure gardens on the Thames and being presented at King George's court, wearing powder and paint and silk gowns and finding love with the most dashing of swashbuckling heroes -- what better vicarious fun could an author -- and, I hope, readers! -- possibly wish for?
And I do love research, and finding the exact little-known fact to bring a scene or event to life is one of the real joys of writing for me. As much as possible, I depend on original sources -- books written at the time, diaries, log-books, journals -- rather than later historical interpretations.
One of the advantages of writing books all set more or less in the same time and place means that, by now, I have a pretty good sense of the details of everyday colonial life. For example, I don't have to stop writing to look up what kind of underwear the heroine should have under her gown; I already know she's got a shift, stays, maybe a quilted petticoat or two, but nary a pair of knickers or bloomers no matter how cold the winter!
I also volunteer at a local living history museum, an eighteenth-century working farm and farmhouse. Dressed in period clothing, hauling water from a well and cooking over an open hearth has helped with the sorts of things books don't convey. Yes, the water in the wash-bowl does freeze in your bedchamber in January, and there's nothing like hefting an oak bucket full of water to build up those colonial biceps.
As you can doubtless tell, I love to write, and each morning I wake grateful for having such a wonderful way to spend my day (and night), and such wonderful readers to share my story-telling adventures with me and my characters. History and happy endings -- it doesn't get any better than this!
Please visit my website, www.mirandajarrett.com, or write me:
email: MJarrett21@aol.com
snail: PO Box 1102, Paoli, PA 19301-0792

Mariah Stewart is the award-winning New York Times and USA TODAY bestselling author of numerous novels and several novellas and short stories. A native of Hightstown, New Jersey, she lives with her husband and two rambunctious rescue dogs amid the rolling hills of Chester County, Pennsylvania, where she savors country life and tends her gardens while she works on her next novel. Visit her website at MariahStewart.com, like her on Facebook at Facebook.com/AuthorMariahStewart, and follow her on Instagram @Mariah_Stewart_Books.