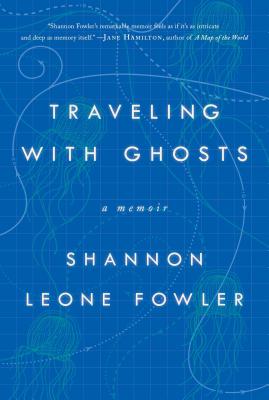 Traveling with Ghosts
A Memoir
Hardcover

* Individual store prices may vary.
Other Editions of This Title:
Paperback (2/27/2018)
MP3 CD (2/21/2017)
Compact Disc (2/21/2017)
MP3 CD (2/21/2017)
Compact Disc (2/21/2017)
Description
From grief to reckoning to reflection to solace, a marine biologist shares the solo journey she took—through war-ravaged Eastern Europe, Israel, and beyond—to find peace after her fiancé suffered a fatal attack by a box jellyfish in Thailand.

In the summer of 2002, Shannon Leone Fowler, a twenty-eight-year-old marine biologist, was backpacking with her fiancé and love of her life, Sean. Sean was a tall, blue-eyed, warmhearted Australian, and he and Shannon planned to return to Australia after their excursion to Koh Pha Ngan, Thailand. Their plans, however, were devastatingly derailed when a box jellyfish—the most venomous animal in the world—wrapped around Sean's leg, stinging and killing him in a matter of minutes as Shannon helplessly watched. Rejecting the Thai authorities attempt to label Sean's death a "drunk drowning," Shannon ferried his body home to his stunned family—a family to which she suddenly no longer belonged.

Shattered and untethered, Shannon's life paused indefinitely so that she could travel around the world to find healing. Travel had forged her relationship with Sean, and she hoped it could also aid in processing his death. Though Sean wasn't with Shannon, he was everywhere she went—among the places she visited were Oświęcim, Poland (the site of Auschwitz); war-torn Israel; shelled-out Bosnia; poverty-stricken Romania; and finally to Barcelona, where she first met Sean years before. Ultimately, Shannon had to confront the ocean after her life's first great love took her second great love away.

Cheryl Strayed's Wild meets Helen Macdonald's H Is for Hawk in this beautiful, profoundly moving memorial to those we have lost on our journeys and the unexpected ways their presence echoes in all places—and voyages—big and small.
Praise For Traveling with Ghosts: A Memoir…
ADVANCE PRAISE FOR TRAVELING WITH GHOSTS BY SHANNON LEONE FOWLER

"Fowler shows none of the self-aggrandizement that saturates many memoirs, and she lived a far more interesting life — before and after Sean's death — than do many who write about theirs. Her story — rich, unblinking and adroitly told — is one of strength, of getting past but not getting over. Few would choose the approach Fowler took to kick-start healing. But hers is a thought-provoking journey that she generously shares."
—USA Today

"Fowler has turned her devastating, beautiful, honest, and personal story into something universal. Akin to Cheryl Strayed's Wild, her book will appeal to globetrotters and readers of hopeful stories chronicling grief and recovery."
—Booklist (starred review)

"Fowler's moving account traces her grief. … [A] nicely written and informative journey on the path to healing."
—Publishers Weekly

"A courageous and finely crafted account soaked in tears of love and loss."
—Kirkus Reviews

"[An] intensely personal and appealing memoir. ... Bring along a world map, set aside everything you know about healing from heartbreaking loss, and have yourself an unforgettable read."
—Bookpage

"Raw. ... Powerful. ... Redemptive."
—Book Riot

"In her deft and lovely debut, the memoir Traveling with Ghosts, Fowler tells [this] wrenching story with grace and fortitude. Just as Fowler's difficult path after Sean's death yields lessons about survival and resilience, her friendship with Anat and Talia, which continues to this day, yields its own lessons, of a kindness so extraordinary that it's nearly as affecting as the tragedy at the book's center."

—Christian Science Monitor

"Set against an exotic backdrop of distant lands, Shannon Leone Fowler's memoir, Traveling with Ghosts, is a heartbreaking story about the randomness of tragedy told with great courage and tenacity."
—Ruth Ozeki, New York Times bestselling author of A Tale for the Time Being

"A soul-searching journey to reclaim the heart, Traveling with Ghosts is one of the best travel memoirs this year!"
—Andrew X. Pham, author of Catfish and Mandala and The Eaves of Heaven

"Traveling with Ghosts is a beautiful, haunting, heartbreaking memoir, made luminous by Shannon Fowler's obvious love of the natural world, her amazing eye for detail in exotic locales, and her depth and courage in the face of loss. I recommend this with all my heart."
—Dan Chaon, bestselling author of Await Your Reply and Ill Will

"Shannon Fowler's vivid tale of love and loss moved me deeply. She is a traveler who seeks healing in the most unlikely destinations, and who tells her remarkable story with camera-like precision rather than platitudes. Her book is a stirring tribute to a beloved fellow traveler, and a reflection of her own abundant courage."
—Nancy Horan, New York Times bestselling author of Loving Frank

"Shannon Leone Fowler journeys courageously behind the clichés to explore how nations, cultures, and above all, individuals, grapple with loss; a vivid, compelling and deeply affecting memoir."
—Manil Suri, New York Times bestselling author of The Age of Shiva and The Death of Vishnu

"Shannon Fowler's restlessness in the face of her unimaginable loss makes the reader feel her battered Lonely Planet travel guide was aptly named. Like Cheryl Strayed's Wild, Fowler makes us feel that a hero's journey is our only hope for surviving grief. Traveling with Ghosts is a brave and necessary record of love, as beautiful as it is heartbreaking."
--Ann Patchett, New York Times bestselling author of Bel Canto and State of Wonder

"In this vital and compelling memoir, Shannon Fowler documents the sudden death of her fiancé and the year of flight that follows. Traveling with Ghosts teaches us how to reconcile ourselves with the world once the person we love is no longer in it. This is a book about the kindness of strangers, the consolation of unknown places, and the way that the world can be bright and dark, wide and narrow, all at the same time."
––Kelly Link, Pulitzer Prize-nominated author of Get in Trouble

"This beautifully written, wonderfully engrossing book makes real the stubborn process by which we come to accept loss. Shannon Leone Fowler has made a wonderful gift of her hard won insights, and comes to a place of compassion that resonates deeply for me. I am grateful for this book. I cannot wait to give it to people I love."
––Dorothy Allison, critically-acclaimed author of Bastard out of Carolina

"Powerful and heartbreaking, Traveling with Ghosts, is beautifully written and emotionally compelling. It is Shannon Leone Fowler's journey of survival and healing after the tragic and unexpected death of her fiancé. Battling grief with grief, she travels alone through devastated Eastern European countries, only to find her life held together by the rawness of place and the unexpected kindness of strangers. A gorgeous book to be read and savored."
—Gail Tsukiyama, bestselling author of The Samurai's Garden and A Hundred Flowers

"After witnessing the senseless death of her fiancé, Shannon Fowler sets out on an unforgettable journey of reckoning, paying tribute to her young man's adventurous soul while trying to make sense of the rest of her life without him. Fowler's voice is powerful and searching, and the book left me deeply moved, not only by her courage, but by that of all the citizens of the devastated landscapes to which she so beautifully bears witness."
—Elizabeth McKenzie, bestselling author of The Portable Veblen

"In Traveling with Ghosts Shannon Leone Fowler has created a searing memoir that recounts the moment her life was shattered by the death of her fiancé, young Australian Sean Reilly, and the months afterward as she stumbles around the war torn and poverty stricken countries of Eastern Europe trying to find a nonexistent balm to ease her grief. Coping as best she can with the terrible knowledge that Sean was just one of a number of people who swam in the Thailand ocean having never been warned that the most venomous creature on earth was there, Shannon celebrates in Traveling with Ghosts the life she had with Sean, the love they shared, and the future they planned. Rich with descriptions of place,beautifully constructed with a chronology that allows the reader to know the Sean that she knew, portrayed with honesty and dignity, Traveling with Ghosts celebrates a life cut short, a love never given a chance to grow, and a process of recovery bravely illustrating that while life after tragedy goes on, the chilly fingers of grief touch us in a way that mark us forever."
—Elizabeth George, New York Times bestselling author of A Banquet of Consequences and A Great Deliverance

"Shannon Fowler's remarkable memoir feels as if it's as intricate and deep as memory itself. It's a privilege to be in her company as she travels to harrowing cities the world over, and more harrowing, to the mysterious interior realm, the country of grief. The comforts she finds there are without sentiment and profoundly moving."
––Jane Hamilton, New York Times bestselling author of A Map of the World and The Excellent Lombards

"A stunningly wise, thoughtful, and thought-provoking 'survival map' of a memoir…Drawing from journals of her travels before and after the sudden death of her fiancé, Shannon Leone Fowler shares insights into life, love, and grieving in prose that is raw and unsentimental, and yet spills over with love. Put it on the shelf somewhere between Eat, Pray, Love and The Year of Magical Thinking. Traveling with Ghosts made me laugh out loud, and it broke my heart. In its unforgettable final pages, it did both at once, and, as only the very finest books do, its power over me grows rather than fades."
––Meg Waite Clayton, bestselling author of The Wednesday Sisters
Simon & Schuster, 9781501107795, 304pp.
Publication Date: February 21, 2017
About the Author
Shannon Leone Fowler is a marine biologist, writer, and single mother of three young children. Since her doctorate on Australian sea lions, she's taught marine ecology in the Bahamas and Galápagos, led a university course on killer whales in the San Juan islands, spent a number of seasons as the marine mammal biologist on board ships in both the Arctic and Antarctic, taught graduate students field techniques while studying Weddell seals on the Ross Ice Shelf, and worked as a science writer at National Public Radio in Washington, DC. Originally from California, she currently lives in London. Traveling with Ghosts is her first book.
or
Not Currently Available for Direct Purchase