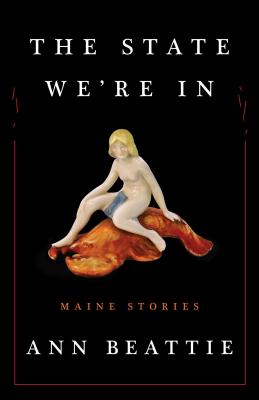 The State We're In
Maine Stories
Hardcover

* Individual store prices may vary.
Other Editions of This Title:
Digital Audiobook (8/10/2015)
Paperback (7/5/2016)
Description
A magnificent new collection of linked stories from a multiple prize-winning master of the short form. The State We're In, Ann Beattie's first collection of new stories in a decade, is about how we live in the places we have chosen—or have been chosen by. It is about the stories we tell our families, our friends, and ourselves; the truths we may or may not see; how our affinities unite or repel us; and where we look for love.

Told through the voices of vivid and engaging women of all ages, The State We're In explores their doubts and desires and reveals the unexpected moments and glancing epiphanies of daily life. Some of Beattie's idiosyncratic and compelling characters have arrived in the coastal state by accident, while others are trying to escape. The collection is woven around Jocelyn, a wry, disaffected teenager living with her aunt and uncle for the summer, forging new friendships, avoiding her mother's calls, taking writing classes, and encountering mortality for the first time. As in life, the narratives of other characters interrupt Jocelyn's, sometimes challenging and sometimes embellishing her view.

Riveting, witty, sly, and bold, these stories describe a state of mind, a manner of being. A Beattie story, says Margaret Atwood, is "like a fresh bulletin from the front: we snatch it up, eager to know what's happening out there on the edge of that shifting and dubious no-man's-land known as interpersonal relations." Beattie's sentences, her insights, and her inimitable voice are mesmerizing.
Praise For The State We're In: Maine Stories…
"The collection demonstrates Beattie's craftsmanship, precise language, and her knack for revealing psychological truths."
— Publishers Weekly, STARRED review

"Beattie is a master at depicting the peculiarly painful valor necessary for contending with troubled family members,spouses, lovers, neighbors, even pets. She is also that rarest of beings, a brilliantly comic literary writer… Most often, it's her skirmishing dialogue that makes us laugh out loud… [a] stellar collection by Beattie, a writer revered and honored for her keen insights and wit."
— Donna Seaman

"Short-story queen Beattie is back with her first new collection in 10 years... These tales explore the range of emotional states the author is famous for: longing, disaffection, ambivalence, love, regret. It's nice to hear her voice again."
— People Magazine

"Beattie's signature gifts – her finely tuned language, droll wit, unerring feel for popular culture– are on rich display here…vivid…More than a paean to the Pine Tree State, The State We're In underscores the indelible contribution Beattie has made to American short fiction."
— Hamilton Cain

"Ann Beattie's gorgeous The State We're In makes a strong case for the significance of place."
— W magazine

"A real keeper…[these stories] give voice to teens in turmoil, bad parents, tête-à-têtes of all sorts, and so much more."
— Steph Optiz

"Interconnected stories from a master of the form."
— Elle

"One of America's finest authors—and arguably best living short-story writer."
— Heidi Julavits

"Set in New England, New York, and California, Ann Beattie's winning new collection shines with local detail."
— Megan O'Grady

"The veteran short story master explores the peculiarities of summer life…What unifies these stories outside of their setting is Beattie's nuanced understanding of relationships…An engaging collection of varied characters."
— Kirkus Reviews

"Sparkling.... [her stories] finish with a quiet flourish, throwing a sudden subtle twist at us... In the end, these carefully drawn, minutely illustrated portraits of women-- and men-- depict slices of life in all its complexity."
— Tom Lavoie

"Splendid... memorable... Beattie's sociological wit and probity are truly unsurpassed in our literature... though I didn't think this was possible, I experienced an even more heightened awe of Beattie's skills... The dexterity of tone, fearless honesty, and close mapping of lives that may lead to ghastly revelations or even redemption are sheer gifts of reading... this collection has many, many moments of utter surprise. In fact, every page is fitted out with the blessed finery of hypnotic storytelling."
— Howard Norman

"Moving fluidly between adolescents and septuagenarians, it leaves us with the sense that uncertainty, disconnection, is not a matter of chronology but rather of being alive."
— David Ulin

"A peerless, contemplative page-turner."
— Nicole Jones

"Edgy, funny and dark... Beattie's unerring dialogue exposes each story's truths... effortless grace."
— Carol Memmott

"Slyly funny, still exhibiting the author's nonlinear narrative style and unique gift of reflecting our inner angst with our surroundings... With a few deft strokes and not a little humor, Beattie paints the nuances... A sense of discomfort pervades The State We're In, but thanks to the Beattie's trademark sleek prose and perfectly calibrated authorial distance, it makes for weirdly entertaining reading."
— Ellen Kanner

"What has always set Beattie's stories apart is their open-ended capaciousness, so unlike the deterministic, epiphany-shaped prose that has defined the short form... THE STATE WE'RE IN is a revelation, and is shaded by the perspective of an author who now understands both sides of a generational divide... In a Beattie story, perspective is preeminent, and it's never one you expect. The unwieldiness of human nature, the strangeness of time and circumstance, inevitably shine through."
— Megan O'Grady

"Call her the American Alice Munro, call her a New Yorker darling,call this the perfect summer read."
— The Millions

"A delicious new collection… Funny and consistently surprising,the stories of The State We're In have the precision and softness of watercolor sketches... masterfully executed, each contributing to a portrait of a place... Imbued with clear-eyed compassion…These stories are also rife with the secret rituals and intimacies of marriage, with all its warfare and devotion."
— Laura Collins Hughes

"The incomparable Ann Beattie's cunning new story collection... remarkable (and witty)... finding meaning in the mundane and using the small to define the large... Beattie's Maine can be another's New York, Tennessee or Montana-- so distinct and so quotidian are her characters."
— Karen Brady

"Cause for readers to celebrate… edgy, unfiltered."
— Joan Silverman

"Beattie's stories are about life at its most basic and genuine. But her special gift of language and insight raise them above the ordinary."
— Dale Singer

"No one writes a short story quite like Beattie does…what unifies these gems is the author's droll, off-kilter perspective on the human race."
— Tom Beer

"As always, she illuminates the outskirts of interpersonal apocalypse, a 'state' more material than geographical, riddled with cultural paraphernalia."
— Carolyn Cooke

"Marvelous… all part of a masterful narrative structure in which seeds planted early bloom powerfully near the end, never quite as we expect. It happens in every story, and the effect is even more pleasurable across the span of this linked collection… a book packed with emotional errors and lines that will take your breath away."
— Katherine Hill

"Some things never change, but that can be a good thing — as in the subtlety and wit of Ann Beattie's fiction… Beattie's sharp, funny dialogue is evident throughout…The State We're In is a strong collection, offering Beattie's sly insights into marriage, family,home, friendship, and much more."
— Carmela Ciuraru

"The epiphany-resistant nature of Beattie's stories demands much of her readers, and ultimately is a gift. For without easy closure or false resolutions, we leave these pages with her characters still acting in an unpredictable world that looks very much like our own."
— Natalie Serber
Scribner, 9781501107818, 224pp.
Publication Date: August 11, 2015
About the Author
Ann Beattie has been included in four O. Henry Award Collections, in John Updike's The Best American Short Stories of the Century, and in Jennifer Egan's The Best American Short Stories 2014. In 2000, she received the PEN/Malamud Award for achievement in the short story. In 2005, she received the Rea Award for the Short Story. She was the Edgar Allan Poe Professor of Literature and Creative Writing at the University of Virginia. She is a member of The American Academy of Arts and Letters and of the American Academy of Arts and Sciences. She and her husband, Lincoln Perry, live in Maine and Key West, Florida.
or
Not Currently Available for Direct Purchase