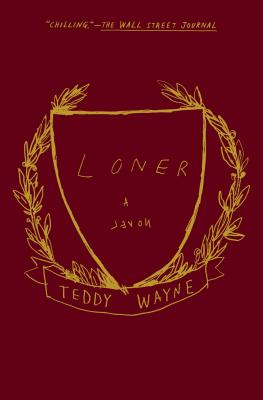 Loner
A Novel
Paperback

* Individual store prices may vary.
Other Editions of This Title:
Hardcover (9/13/2016)
MP3 CD (9/13/2016)
Compact Disc (9/13/2016)
Description
"Powerful." —Maureen Corrigan, NPR's Fresh Air

Named a best book of the year by NPR, Kirkus Reviews, and BookPage

David Federman has never felt appreciated. An academically gifted yet painfully forgettable member of his New Jersey high school class, the withdrawn, mild-mannered freshman arrives at Harvard fully expecting to be embraced by a new tribe of high-achieving peers. Initially, however, his social prospects seem unlikely to change, sentencing him to a lifetime of anonymity.

Then he meets Veronica Morgan Wells. Struck by her beauty, wit, and sophisticated Manhattan upbringing, David becomes instantly infatuated. Determined to win her attention and an invite into her glamorous world, he begins compromising his moral standards for this one, great shot at happiness. But both Veronica and David, it turns out, are not exactly as they seem.

Loner turns the traditional campus novel on its head as it explores ambition, class, and gender politics. It is a stunning and timely literary achievement from one of the rising stars of American fiction.
Praise For Loner: A Novel…
PRAISE FOR LONER:


"Engrossing… highlights hot-button issues on today's campuses, making it seem all too real." —People, "The Best Books of the Fall"

"Teddy Wayne has an uncanny ability to teleport to another location and inhabit the people who live there...Dark and compulsively readable...Wayne skillfully shows us every disturbing and obsessive moment...a tightly written, tensely memorable short novel." —Meg Wolitzer, NPR's Best Books of the Year

"An impressively creepy novel of first love...At a moment when so many young writers want to join the ranks of the angels, Wayne's unfashionable wit, bitterness, and tight focus are a gift." —Lorin Stein, The Paris Review

"Wayne has created a uniquely terrifying and compelling protagonist for such a funny book... the best second-person novel I've read since Sam Lipsyte's Homeland... a great, lethal little book." —The Boston Globe

"Like all transgressive works of fiction, Loner is bound to be controversial. In some ways, the novel resembles a hyper-timely update to the psychological portrait of Humbert Humbert in Lolita. Similarly, Loner also asks the reader for a certain kind of bravery to stomach—and it rewards such risks." —GQ

"Wildly inventive and disturbing" —Esquire

"Harrowing... complex [and] necessary." —Salon

"A chilling commentary on gender politics... Teddy Wayne holds up the Ivy White Male card as the ultimate trump. He means to slap awake a country that glorifies wealth; deifies men; objectifies women; and treats victims of sexual assault like sluts, kooks, and gold-diggers. The story barely qualifies as fiction, and it arrives on our shelves just in time." —The Millions

"Engrossing, sometimes disturbing... 'Loner' is a fresh look at an old topic — longing, love and lust on campus. Read it, and appreciate what Wayne has accomplished. You won't be alone." —The St. Louis Post-Dispatch

"Loner is a campus novel for our times...The novel's brilliance lies in the way Wayne toys with the reader's sympathies while allowing his narrator to pursue his dreadful end...Loner is one prickly piece of work, but the genius is hard to miss." —Los Angeles Review of Books

"Brilliantly terrifying... Teddy Wayne has written a masterclass on the privilege found in white male narcissism." —Electric Literature

"Wayne...writes with sly grace about the seemingly unsympathetic plight of being a white American man, albeit by using ironic extremes rather than domestic realism. His bemusement is real, and often funny." —Bookforum

"Loner moves ahead to its climax (and a superbly executed plot twist) with the sickening momentum of a horror movie... It stands in stark contrast to Mr. Wayne's previous novel, The Love Song of Jonny Valentine (2013), a funny, sympathetic portrait of a teenybopper pop star. The range shown in these two books, which move from the ridiculous to the chilling, is evidence of a rising talent." —The Wall Street Journal

"With wit and style, Whiting Award-winner Teddy Wayne strips away the elite veneer of the overachieving denizens of Harvard. . . Loner is comic and chilling campus coming-of-age at its best." —Shelf Awareness

"A frightening portrayal of privilege." —Marie Claire

"Deft, involving...There is comic brio, but also an insider's precision, to Wayne's depiction...what is most frightening about Wayne's antihero protagonist (and narrator) is not how different he is from us--but how porous a border separates his monstrousness from our normalcy." —Chicago Tribune

"The reader is...compelled to frantically turn the pages."—Publishers Weekly

"Wayne's writing is spiky and electric...it reminded me of the early work of Jeffrey Eugenides...But if Loner at first appears to be a comedy of manners, it quickly veers into something far creepier...the reader may go from enjoying Loner to finding the experience not just uncomfortable but excruciating." —The New York Times Book Review

"Magnetic...incredibly compelling." —BookPage

"Stunning—and profoundly disconcerting…the pleasure of the book is not in its ultratimely plot but in its complicated—and unsettlingly familiar—cast. These people are nuanced even when they're disturbing, human even when they're horrendous. A spectacular stylist, Wayne is deeply empathetic toward his characters, but—brutally and brilliantly—he refuses to either defend or excuse them. A startlingly sharp study of not just collegiate culture, but of social forces at large; a novel as absorbing as it is devastating." —Kirkus Reviews (starred review)

"An enthralling portrait of male narcissism and voyeuristic obsession." —Library Journal (starred review)

"Like a novel of manners distorted by a twisted funhouse mirror, Teddy Wayne's Loner moves with wit and stealth and merciless deliberation towards increasingly brutal psychic terrain. Reading it, I found myself amused and then—with creeping force—afraid, repulsed, and ultimately unwilling to put it down." —Leslie Jamison, New York Times bestselling author of The Empathy Exams and The Gin Closet

"Loner is a brave book that takes up the calling of literature to unsettle the reader into new understanding of the world. Wayne employs extraordinarily fine psychological brushwork to produce something rare in our desensitized era: a genuinely disturbing portrait, not just of a fundamentally unreliable narrator but of a culture that prizes class, achievement, and beauty over nourishing human connection. David Federman is one of the most authentically menacing characters to come around in a novel in a long time. There is no cartoon bogeyman here, only a chaser after that external proof of value that our pragmatic culture demands of eighteen-year-olds. Wayne holds a mirror up to an America in which self-esteem is paramount, parents enable inhumanity in the name of advancement, and unchecked ego combines with social failure to yield monstrous ends. It behooves us all to take a careful look in the mirror Wayne offers, because the monster depicted here is the one next door. The twists in the plot keep the reader's heart racing, even as the protagonist's blood runs cold." —Matthew Thomas, New York Times bestselling author of We Are Not Ourselves

"Teddy Wayne perfectly conjures the mind of a keenly observant, socially ambitious, and utterly heartless college student. Yet no matter what outlandish things David does, I couldn't help but root for him—until the book's gut-punch ending." —Adelle Waldman, bestselling author of The Love Affairs of Nathaniel P.

"Teddy Wayne's captivating and increasingly disturbing Loner features a character that you'd like to hug if you could be assured that he wouldn't try to stab you. It's a wonderfully unnerving and unreliable first-person account of a dangerous stalker who is also a shy teenager just trying to get a date with the popular girl in school. This impossible-to-reconcile character, mixed with Wayne's wry charm, makes Loner as thrilling as it is cautionary."—Jesse Eisenberg, author of Bream Gives Me Hiccups

Simon & Schuster, 9781501107900, 224pp.
Publication Date: August 1, 2017
About the Author
Teddy Wayne, the author of Loner, The Love Song of Jonny Valentine, and Kapitoil, is the winner of a Whiting Writers' Award and an NEA Fellowship as well as a finalist for the Young Lions Fiction Award, PEN/Bingham Prize, and Dayton Literary Peace Prize. He writes regularly for The New Yorker, The New York Times, Vanity Fair, McSweeney's, and elsewhere. He lives in New York.