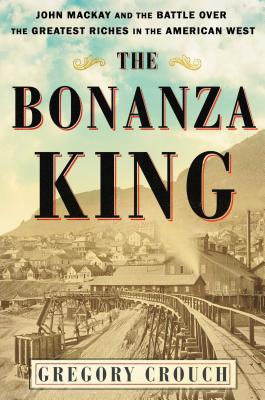 The Bonanza King
John Mackay and the Battle over the Greatest Riches in the American West
Hardcover

* Individual store prices may vary.
Other Editions of This Title:
Digital Audiobook (6/18/2018)
Paperback (6/4/2019)
Compact Disc (6/19/2018)
Description
"A monumentally researched biography of one of the nineteenth century's wealthiest self-made Americans…Well-written and worthwhile" (The Wall Street Journal) it's the rags-to-riches frontier tale of an Irish immigrant who outwits, outworks, and outmaneuvers thousands of rivals to take control of Nevada's Comstock Lode.

Born in 1831, John W. Mackay was a penniless Irish immigrant who came of age in New York City, went to California during the Gold Rush, and mined without much luck for eight years. When he heard of riches found on the other side of the Sierra Nevada Mountains in 1859, Mackay abandoned his claim and walked a hundred miles to the Comstock Lode in Nevada.

Over the course of the next dozen years, Mackay worked his way up from nothing, thwarting the pernicious "Bank Ring" monopoly to seize control of the most concentrated cache of precious metals ever found on earth, the legendary "Big Bonanza," a stupendously rich body of gold and silver ore discovered 1,500 feet beneath the streets of Virginia City, the ultimate Old West boomtown. But for the ore to be worth anything it had to be found, claimed, and successfully extracted, each step requiring enormous risk and the creation of an entirely new industry.

Now Gregory Crouch tells Mackay's amazing story—how he extracted the ore from deep underground and used his vast mining fortune to crush the transatlantic telegraph monopoly of the notorious Jay Gould. "No one does a better job than Crouch when he explores the subject of mining, and no one does a better job than he when he describes the hardscrabble lives of miners" (San Francisco Chronicle). Featuring great period photographs and maps, The Bonanza King is a dazzling tour de force, a riveting history of Virginia City, Nevada, the Comstock Lode, and America itself.
Praise For The Bonanza King: John Mackay and the Battle over the Greatest Riches in the American West…
"A compelling, multifaceted story rich in detail, texture, and history…a wonderful contribution to our understanding of the events and characters that reshaped a continent and a nation." —Santa Barbara Independent

"Crouch excels in documenting the life of a 19th-century capitalist who wished to find success, treat his workers fairly, and make advancements in science and technology. Fans of American history, the American West, or business will find Mackay's life story inspiring." —Library Journal

"Crouch presents a well-written and laudatory biography of a remarkable and admirable man." —Booklist

"A thorough tribute to the life and work of an honest man who earned his fortune and kept his good name in an era of fierce competition and astounding corruption." —Publishers Weekly

"Admirers of scrupulous entrepreneurship will find much of value in this book…full of useful pointers on how to treat people and build an enduring legacy and fortune." —Kirkus Reviews

"In the annals of American capitalism, there is probably no crazier, wilder, more chaotic, boom-to-bust-and-back-again phenomenon than the Comstock Lode. Gregory Crouch has given us the definitive story of the man who clawed his way to the top of all that madness, and he has done it in a way that makes for irresistible reading." —S.C. Gwynne, author of Empire of the Summer Moon and Rebel Yell

"The cattle towns of Dodge City and Cheyenne have lodged in American memory as epitomizing the "wild West," but they were sedate as 1950s Scarsdale in comparison with the silver Golconda of Washoe, which contained the Comstock Lode—in the 1860s, the richest couple of square miles on earth. In the struggle to extract the metal from Nevada's impervious rock, and to own it once it was out, Gregory Crouch finds a story of violence and high color and national significance, a tale of industrial genius and breathtaking rascality that is engrossing from start to finish. Crouch's swift, strong, lucid prose makes problems of metallurgy and mineshaft framing seem as lively as a gunfight, and the rise of his Irish immigrant hero, John Mackay, from the mire of a New York City slum to become one of the wealthiest men in the world has all the elements of a preposterous fantasy—save that it is entirely true. Moreover, in a brass-knuckles era of peril and general scurrility, Mackay was always as honest as he was tough, and so among its many other pleasures The Bonanza King offers a heartening saga of virtue rewarded." —Richard Snow, author of Iron Dawn and I Invented the Modern Age

"There are plenty of marvelous legends that surround the gold rushes of California and Alaska, the copper mines of Arizona, and the silver deposits of Deadwood and Leadville. But in the end, there was only one Comstock Lode—and like the men who hacked out the ore chambers more than a thousand feet beneath Virginia City, Gregory Crouch has brought to the surface a glittering, grit-encrusted, and utterly glorious tribute to the greatest trove of precious metals ever discovered in the United States. The Bonanza King drills unerringly through the human themes that cut across the heart of this narrative, from ambition and corruption to ingenuity and greed, braiding together a saga whose jaw-dropping scope and monumental history are worthy of the American West itself." —Kevin Fedarko, author of The Emerald Mile
Scribner, 9781501108198, 480pp.
Publication Date: June 19, 2018
About the Author
Gregory Crouch grew up in Goleta, California, and graduated from the United States Military Academy at West Point, with a military history field of study. He completed US Army Airborne and Ranger schools and served as an infantry officer. For five years, he was a senior contributing editor at Climbing, where he focused on writing personality profiles of famous climbers. The author of The Bonanza King, he lives in the San Francisco Bay Area.
or
Not Currently Available for Direct Purchase