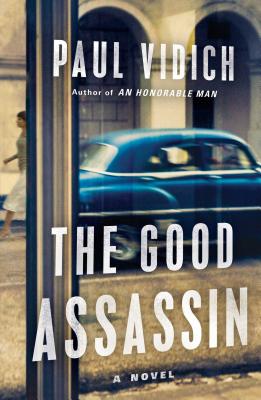 The Good Assassin (Hardcover)
A Novel
Atria/Emily Bestler Books, 9781501110429, 288pp.
Publication Date: April 18, 2017
Other Editions of This Title:
Digital Audiobook (4/17/2017)
Paperback (3/27/2018)
* Individual store prices may vary.
Description
"Paul Vidich's likable and reluctant spy, George Mueller, will keep readers guessing in this eerily real Cuba of 1958. The Good Assassin is a keen historical adventure from the best noir tradition."—Elizabeth Kostova, #1 New York Times bestselling author

"The Good Assassin opens up Hemingway's Cuba. Possessing Alan Furst's attention for period detail and the deft character touches of John Le Carré, Vidich has quickly carved out a place for himself among the very first rank of espionage writers. It's a masterful effort and the author's best work to date."—Michael Harvey, New York Times bestselling author of The Chicago Way

"The Good Assassin is first-rate literary espionage . . . Author Paul Vidich has evoked not only the intrigue and brutality of Batista's Cuba, but the island itself . . . a masterful work of noir fiction."—Susan Isaacs, New York Times bestselling author of A Hint of Strangeness

Paul Vidich follows up his acclaimed debut spy thriller with a suspenseful tale of Cold War espionage set in 1950s Cuba, as foreign powers compete to influence the outcome of a revolution.

Former CIA Agent George Mueller arrives in Havana in August 1958—the last months before the fall of Cuban dictator Fulgencio Batista—to look into the activities of Toby Graham, a CIA officer suspected of harboring sympathies for the rebel forces fighting the unpopular Batista regime. Mueller knew Graham as an undergraduate and later they were colleagues in Berlin fighting the Soviet NKVD. Under the guise of their long acquaintance Mueller is recruited to vet rumors that Graham is putting weapons, covertly provided by the CIA to Batista, into the hands of Castro's forces. Public exposure of the CIA weapons mission, and the activity of one rogue agent, threaten to embarrass the agency.

Mueller uncovers a world of deceit as the FBI, CIA, and State Department compete to influence the outcome of the revolution in the face of the brutal dictatorship's imminent collapse. Graham, meanwhile, is troubled by the hypocrisy of a bankrupt US foreign policy, and has fallen in love with a married American woman, Liz Malone.

Paul Vidich has written a powerful story of ideals, passions, betrayals, and corrupting political rivalries in the months before Castro's triumphant march into Havana on New Year's Day 1959. This sequel showcases the widely praised talents of Paul Vidich, who Booklist says, "writes with an economy of style that acclaimed novelists might do well to emulate."
About the Author
Paul Vidich has had a distinguished career in music and media. Most recently, he served as Special Advisor to AOL, Inc. and was Executive Vice President at the Warner Music Group, in charge of technology and global strategy. He serves on the Board of Directors of Poets & Writers and The New School for Social Research. A founder and publisher of the Storyville App, Vidich is also an award-winning author of short fiction. He is the author of An Honorable Man and The Good Assassin.
Praise For The Good Assassin: A Novel…
"Vidich spins a tale of moral and psychological complexity, recalling Graham Greene . . . . rich, rewarding."
— Booklist

"Fascinating...Vidich brings the reader into a country on the brink of revolution. The fear and danger are palpable."
— Historical Novel Society

Paul Vidich's tense, muscular thriller delivers suspense and intelligence circa 1953: Korea, Stalin,the cold war, rage brilliantly, and the hall of mirrors confronting reluctant agent George Mueller reflects myriad questions. Just how personal is the political? Is the past ever past? An Honorable Man asks universal questions whose shadows linger even now. Paul Vidich's immensely assured debut, a requiem to a time, is intensely alive, dark, silken with facts, replete with promise.
— Jayne Anne Phillips, New York Times bestselling author of Quiet Dell and Machine Dreams

"A cool, knowing, and quietly devastating thriller that vaults Paul Vidich into the ranks of such thinking-man's spy novelists as Joseph Kanon and Alan Furst. Like them, Vidich conjures not only a riveting mystery but a poignant cast of characters, a vibrant evocation of time and place, and a rich excavation of human paradox."
— Stephen Schiff, writer and co-executive producer of the hit FX series, THE AMERICANS

"An Honorable Man is an unputdownable mole hunt written in terse, noirish prose, driving us inexorably forward. In George Mueller, Paul Vidich has created a perfectly stoic companion to guide us through the intrigues of the red-baiting Fifties. And the story itself has the comforting feel of a classic of the genre, rediscovered in some dusty attic, a wonderful gift from the past."
— Olen Steinhauer, New York Times bestselling author of ALL THE OLD KNIVES

"Cold War spy fiction in the grand tradition--neatly plotted betrayals in that shadow world where no one can be trusted and agents are haunted by their own moral compromises."
— Joseph Kanon, New York Times bestselling author of Istanbul Passage and The Good German

"An Honorable Man is that rare beast: a good, old fashioned spy novel. But like the best of its kind, it understands that the genre is about something more: betrayal, paranoia, unease, and sacrifice. For a book about the Cold War, it left me with a warm, satisfied glow."
— John Connolly, #1 Internationally Bestselling Author of A Song of Shadows

"A richly atmospheric and emotionally complex...tale of spies versus spies in the Cold War . . . . Vidich writes with an economy of style that acclaimed espionage novelists might do well to emulate. This looks like the launch of a great career in spy fiction."
— Booklist (starred review)

"A moody debut spy novel inspired by real events. . .Dead-on Cold War fiction. Noir to the bone."
— Kirkus Reviews

"Paul Vidich is a very strong new voice in spy fiction. The writing is powerful, the setting real, the characters magnetic. Vidich portrays the paranoia of America's anti-communist moment brilliantly, and he captures the grey, gritty realities of counterintelligence. If you love Charles McCarry, read Vidich."
— Adam Brookes, Author of Night Heron

"If you like movies such as Tinker Tailor Soldier Spy or Tom Hank's 2015 spy flick A Bridge of Spies, you need to read this book."
— The Real Spy Book

"Taut storytelling … Reminiscent of old-school John Le Carré spy thrillers."
— Judith D. Collins Must Reads

"Vidich is a star in the making. His books have more of a slow-burn to them and are definitely classic espionage thrillers."
— The Real Book Spy, Binge-Worthy New Series that All Thriller Fans Should be Reading
or
Not Currently Available for Direct Purchase