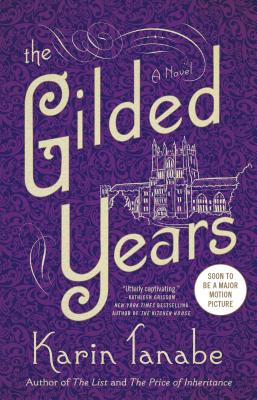 The Gilded Years
A Novel
Paperback

* Individual store prices may vary.
Other Editions of This Title:
Digital Audiobook (6/6/2016)
Hardcover, Large Print (8/17/2016)
Description
Passing meets The House of Mirth in this "utterly captivating" (Kathleen Grissom, New York Times bestselling author of The Kitchen House) historical novel based on the true story of Anita Hemmings, the first black student to attend Vassar, who successfully passed as white—until she let herself grow too attached to the wrong person.

Since childhood, Anita Hemmings has longed to attend the country's most exclusive school for women, Vassar College. Now, a bright, beautiful senior in the class of 1897, she is hiding a secret that would have banned her from admission: Anita is the only African-American student ever to attend Vassar. With her olive complexion and dark hair, this daughter of a janitor and descendant of slaves has successfully passed as white, but now finds herself rooming with Louise "Lottie" Taylor, the scion of one of New York's most prominent families.

Though Anita has kept herself at a distance from her classmates, Lottie's sphere of influence is inescapable, her energy irresistible, and the two become fast friends. Pulled into her elite world, Anita learns what it's like to be treated as a wealthy, educated white woman—the person everyone believes her to be—and even finds herself in a heady romance with a moneyed Harvard student. It's only when Lottie becomes infatuated with Anita's brother, Frederick, whose skin is almost as light as his sister's, that the situation becomes particularly perilous. And as Anita's college graduation looms, those closest to her will be the ones to dangerously threaten her secret.

Set against the vibrant backdrop of the Gilded Age, an era when old money traditions collided with modern ideas, Tanabe has written an unputdownable and emotionally compelling story of hope, sacrifice, and betrayal—and a gripping account of how one woman dared to risk everything for the chance at a better life.
Praise For The Gilded Years: A Novel…
Praise for The Gilded Years:

"Smart and thoughtful, The Gilded Years is a must-read this summer."
— PopSugar

"Enticing...As Anita is drawn into Lottie's elite world, her secret roars beneath everything, threatening every step she takes."
— Bustle

"Tanabe's thought-provoking novel raises challenging questions about how race, gender, and class advance and limit opportunities. There is plenty of material here for book group discussions."
— Library Journal (starred review)

"Tanabe immerses the reader in a world of romance and manners, but also leaves you gripping the edge of your seat…An elegant and extremely gratifying imagining of one remarkable woman's life."
— USA Today

"Anita is the first African American to attend Vassar College— and, because of her light skin, no one knows. That is, until her roommate, a scion of an NYC family, jeopardizes her secret — and degree. Karin Tanabe based her 1897-set story on real events."
— Us Weekly

"Based on the true story of the first African-American woman to ever go to Vassar College. The catch? No one knew she was African-American. After befriending the school's Serena van der Woodsen, she has to work even harder at keeping her secret. Think: "Gatsby" meets college meets an impressive beach read."
— The Skimm

"Tanabe smoothly blends history, race and class into a whip-smart novel [with a] vividly complex heroine."
— Essence

"This fictionalized take on Hemmings's real-life story animates her struggle to straddle two worlds, each with its own separate definition of freedom."
— Good Housekeeping

"Elegant and whip-smart...Tanabe's irresistible narrative is a brilliant tale between two worlds, and one of the most effective stories you'll read this summer."
— NY1

"[The Gilded Years] is trademark Tanabe: a juicy plot, charming writing, shrewd observations. But here, there are also shades of Edith Wharton…This story of race and class is compelling and wise."
— Toronto Star

"In Anita's captivating story, heightened by richly drawn characters, Tanabe insightfully grapples with complex and compelling issues."
— Booklist

"This charming, thoughtful, and affecting book tells the story of the first black woman to attend Vassar. That she attended as a white woman, passing and always at risk of exposure, drives the plot and allows Tanabe to tell a rich, complicated story about race, gender, education, love, and belonging in the Gilded Age."
— Book Riot

"This engaging novel, set in a time of conflict between old money and new ideas, captures both the bravery and the heartbreak of Anita's decision…the story is a captivating one. Readers won't soon forget Anita Hemmings or the choices she made."
— BookPage

"Tanabe artfully creates dynamic characters whom you find yourself missing the moment the book ends."
— DC Refined

"This engrossing work of historical fiction follows a powerful woman who would risk everything for an education."
— Washington Life

"In this gripping, tension-filled story, Karin Tanabe reveals to us the impossible choices that one woman was forced to make when she decided to follow her dream for a better life. As with many courageous acts, controversy follows our heroine, and for that reason alone book clubs will find much to discuss here. An utterly captivating narrative that kept me turning pages late into the night."
— Kathleen Grissom, New York Times bestselling author of THE KITCHEN HOUSE

"Brilliant, beautiful, and kind, Anita Hemmings should be a perfect fit for Vassar College.But it's 1897, and while Anita appears to be Caucasian, her school would be scandalized if it knew her secret. In a story at once heartbreaking and uplifting, Karin Tanabe limns the tensions of a young woman's desire to participate fully in a world in which she doesn't dare reveal her full self,the myopia of a society twisted by soul-straitening rules, and the wonders—and frustrations—of the highest rung of women's education at the turn of the last century. Most impressive are the characters' emotional complexity; Tanabe understands that human relations are never so simple as black and white."
— Christina Schwarz, #1 New York Times bestselling author

"The Gilded Years tells the compelling story of Anita Hemmings, a woman who defied the expectations and limitation of her world to follow her mind and her heart. Karin Tanabe weaves a tale rich with historical detail and heartbreaking human emotion that demonstrate the complex and unjust choices facing a woman of color in 19th century America. That so many of the questions explored by Tanabe about race, gender, ambition and privilege still resonate today makes this novel required reading."
— Tara Conklin, New York Times bestselling author of The House Girl

"Tanabe has written a moving portrait of a fascinating and complicated woman who crossed the color line when the stakes were high. This richly imagined novel about a woman of brilliance and fierce self-creation is sure to captivate readers as it did me."
— Heidi W. Durrow, New York Times bestselling author of The Girl Who Fell From the Sky

"The Gilded Years is a thrilling and foreboding tale about social and racial rules in nineteenth century America. Anita Hemmings begins her senior year at Vassar in 1896, the year that the Plessy doctrine of separate but equal became the law of the land. She is at the top of her class, speaks five languages, and is the class beauty. One rumor away from disaster, Anita lives with a secret that could get her thrown out of Vassar, injure her family, and destroy her academic future. Tanabe's narration is reminiscent of novels of the 1890s, with dialogue that is spot on for that era. The compelling story covers a shameful time in American history, and is unrelenting in its tension and gripping detail."
— Anna Jean Mayhew, Author of The Dry Grass of August

"The true story of Anita Hemmings, Vassar College's first African-American graduate, comes to life in vivid detail in Tanabe's The Gilded Years. Hemmings' gut-wrenching decision to pass as white in order to obtain an education is a poignant journey and Tanabe's lyrical style is sure to keep readers turning pages."
— Renee Rosen, author of White Collar Girl

"The Gilded Years really brought home the horrific limitations and choices that were faced by black people post-Civil War, even in the supposedly more enlightened North. The characters were vivid and compelling, and it was heartbreaking to witness the terrible lie Anita was forced into to achieve her dream of a Vassar education. That the story is based on true people only added to its richness."
— Laila Ibrahim, author of The Yellow Crocuses

Praise for THE PRICE OF INHERITANCE:
"Readers will find plenty to savor...Carolyn is a winning character with a quick wit and the opulent environs she inhabits are definitely worth a visit."
— The Washington Post

"A compelling novel of financial and emotional high stakes."
— In Touch

"Tanabe's absorbing novel blends equal parts mystery, wit, and romance."
— Booklist

"Karin Tanabe's The Price of Inheritance is a deeply enjoyable and riotously funny takedown of the high-stakes New York art world and its most glamorous and illicit auction houses. Matching the spirit and wit of Steve Martin's An Object of Beauty, Karin Tanabe focuses her shimmering humor and laser eye on the dangerous lengths the very wealthy will journey to own a costly piece of history. Lushly detailed and ambitious in scope, The Price of Inheritance is rich in romance, war stories and betrayals. A priceless read by a writer of immense talent."
— Amber Dermont

"This absorbing, quick-turning story takes us behind the doors of the big auction houses into the homes of the art-collecting elite and onto the international marketplace with sure-handedness, and in fascinating detail. Karin Tanabe writes with passion, intelligence, and a lot of wit, and the book is insanely difficult to put down."
— Jessica Lott

With The Price of Inheritance, Karin Tanabe pulls off a triple-coup: she gives us a juicy insider's look at the high-stakes auction business, a late-coming-of-age (and enticingly New York) love story, and a truly suspenseful mystery that crosses borders from Rhode Island to Iraq. Any one of these on its own would have been a compelling read. But all three at once? I couldn't put it down."
— Allison Lynn

"In The Price of Inheritance, Karin Tanabe weaves a tangled web of romance and intrigue, while exposing the underbelly of the art world. This smart and captivating read will have you turning pages faster than you can say forgery."
— Emily Liebert

Praise for THE LIST:
"A biting, hilarious send-up of D.C.'s elite."
— People on THE LIST

"Former Politico reporter Tanabe's roman-a-clef is a hilarious skewering of digital journalism – and how news is tweeted and blogged at a dizzying pace by armies of underpaid and overworked 20-something journos—as well as smartly paced and dishy debut, part political thriller, part surprisingly sweet coming-of-age tale, and part timeless ode to dogged reporters with good instincts and guts of steel."
— Publisher's Weekly (starred review)

"A contemporary, politically astute novel that is both wickedly humorous and enticing...[with] complex characters, an intriguing plot, and tightly brilliant execution. When word gets around about The List, readers will clamor for their copy and devour this book."
— New York Journal of Books on THE LIST

"Tanabe gleefully skewers digital media sweathshops...[but] despite its breezy, chick-lit tone, The List has more in common with newsroom satires."
— The Washington Post on THE LIST

"The List is mandatory reading for anyone who wonders about the impact of new media on Washington's political culture. Tanabe has written a novel that is delicious fun and incredibly revealing about life at the intersection of politics and journalism."
— Nicolle Wallace

"A gorgeous book—I loved it. Funny, intriguing, and utterly unputdownable."
— Penny Vincenzi on THE LIST

"The List is a wonderfully witty insider's romp through Washington. Karin Tanabe has as sharp a tongue as she does an eye for detail, about everything from political scandal to office politics. And I thought New York was a tough town!"
— Cristina Alger

"Appealing… plenty of sibling rivalry, deceit and intrigue, and a spunky heroine."
— Kirkus on THE LIST

"The List is a breezy, dishy romp through Washington, DC politics, journalism, and scandal—a witty and caffeinated glimpse into a world few of us ever see, let alone know as intimately as Karin Tanabe surely does. But underneath the considerable pleasures of its glimmering surface, it's a surprisingly moving coming of age story about a young woman navigating the bumpy terrain between ambition and ethics, between her hunger for professional success and the quiet truth of her own heart."
— Lauren Fox

"Part coming of age, part political thriller, Karin Tanabe's The List is a mordantly funny send-up of quadruple espresso fueled journalism in the internet age, with the most irresistible heroine since Bridget Jones at its center. This is Evelyn Waugh's Scoop for the 21st century."
— Susan Fales-Hill

"Karin Tanabe's energetic, humorous debut is narrated by a young reporter trying to prove herself by chasing the biggest story of the year. The List perfectly captures the frenetic, all-consuming pace of political reporting, with a healthy dose of scandal, glamour and intrigue thrown in. Think The Devil Wears Prada meets Capitol Hill."
— Sarah Pekkanen
Washington Square Press, 9781501110450, 400pp.
Publication Date: June 7, 2016
About the Author
Karin Tanabe is the author of A Woman of Intelligence, The Gilded Years, The Price of Inheritance, A Hundred Suns, The Diplomat's Daughter, and The List. A former Politico reporter, her writing has also appeared in the Miami Herald, Chicago Tribune, Newsday, and The Washington Post. She has made frequent appearances as a celebrity and politics expert on Entertainment Tonight, CNN, and The CBS Early Show. A graduate of Vassar College, Karin lives in Washington, DC. To learn more visit KarinTanabe.com.