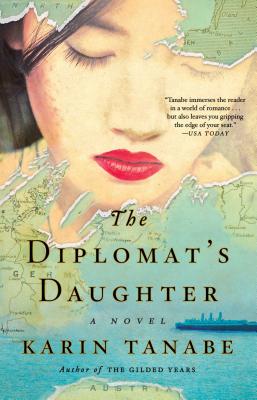 The Diplomat's Daughter
A Novel
Paperback

* Individual store prices may vary.
Other Editions of This Title:
Digital Audiobook (7/10/2017)
Hardcover, Large Print (8/2/2017)
Description
For fans of All the Light We Cannot See and Orphan Train, the author of the "thought-provoking" (Library Journal, starred review) and "must-read" (PopSugar) novel The Gilded Years crafts a captivating tale of three young people divided by the horrors of World War II and their journey back to one another.

During the turbulent months following the 1941 bombing of Pearl Harbor, twenty-one-year-old Emi Kato, the daughter of a Japanese diplomat, is locked behind barbed wire in a Texas internment camp. She feels hopeless until she meets handsome young Christian Lange, whose German-born parents were wrongfully arrested for un-American activities. Together, they live as prisoners with thousands of other German and Japanese families, but discover that love can bloom in even the bleakest circumstances.

When Emi and her mother are abruptly sent back to Japan, Christian enlists in the United States Army, with his sights set on the Pacific front—and, he hopes, a reunion with Emi—unaware that her first love, Leo Hartmann, the son of wealthy of Austrian parents and now a Jewish refugee in Shanghai, may still have her heart.

Fearful of bombings in Tokyo, Emi's parents send her to a remote resort town in the mountains, where many in the foreign community have fled. Cut off from her family, struggling with growing depression and hunger, Emi repeatedly risks her life to help keep her community safe—all while wondering if the two men she loves are still alive.

As Christian Lange struggles to adapt to life as a soldier, his unit pushes its way from the South Pacific to Okinawa, where one of the bloodiest battles of World War II awaits them. Meanwhile, in Japanese-occupied Shanghai, as Leo fights to survive the squalor of the Jewish ghetto, a surprise confrontation with a Nazi officer threatens his life. For each man, Emi Kato is never far from their minds.

Flung together by war, passion, and extraordinary acts of selflessness, the paths of these three remarkable young people will collide as the fighting on the Pacific front crescendos. With her "elegant and extremely gratifying" (USA TODAY) storytelling, Karin Tanabe paints a stunning portrait of a turning point in history.
Praise For The Diplomat's Daughter: A Novel…
Praise for The Diplomat's Daughter:

"Karin Tanabe's moving new novel, The Diplomat's Daughter, is set during the global turmoil of the late 1930s and '40s, but its political resonance is timeless and its story is captivating...All this makes for rich reading. And even though we know how World War II concludes, the fates of Emi, Leo, and Christian will surprise you."
— Washington Post

"Tanabe gracefully entwines [Emi, Leo and Christian's] lives, deftly depicting the psychological devastation of thwarted futures and poignantly sketching the shifts into cherishing the present moment. A gorgeously sweeping tale of the transcendence of love."
— Kirkus

"Above all, this is a novel about people from different backgrounds and walks of life being flung together by circumstance and finding love...[Tanabe's] attachment to her characters and passion for the period shine through."
— Historical Novel Society

"Well-drawn, believable characters, a timely theme and a plot that holds your interest as the action moves from Austria, to the United States, Japan and China."
— The Missourian

"Tanabe's captivating novel sweeps across three continents during World War II…top-notch storytelling and a gripping plot make this a satisfying read."
— The Plain Dealer

"Tanabe's back with another summer read chock full of drama and rich historical detail."
— Working Mother

Praise for The Gilded Years:

"Smart and thoughtful, The Gilded Years is a must-read this summer."
— PopSugar

"Enticing...As Anita is drawn into Lottie's elite world, her secret roars beneath everything, threatening every step she takes."
— Bustle

"Tanabe's thought-provoking novel raises challenging questions about how race, gender, and class advance and limit opportunities. There is plenty of material here for book group discussions."
— Library Journal (starred review)

"Tanabe immerses the reader in a world of romance and manners, but also leaves you gripping the edge of your seat…An elegant and extremely gratifying imagining of one remarkable woman's life."
— USA Today

"Anita is the first African American to attend Vassar College— and, because of her light skin, no one knows. That is, until her roommate, a scion of an NYC family, jeopardizes her secret — and degree. Karin Tanabe based her 1897-set story on real events."
— Us Weekly

"Based on the true story of the first African-American woman to ever go to Vassar College. The catch? No one knew she was African-American. After befriending the school's Serena van der Woodsen, she has to work even harder at keeping her secret. Think: "Gatsby" meets college meets an impressive beach read."
— The Skimm

"Tanabe smoothly blends history, race and class into a whip-smart novel [with a] vividly complex heroine."
— Essence

"This fictionalized take on Hemmings's real-life story animates her struggle to straddle two worlds, each with its own separate definition of freedom."
— Good Housekeeping

"[The Gilded Years] is trademark Tanabe: a juicy plot, charming writing, shrewd observations. But here, there are also shades of Edith Wharton…This story of race and class is compelling and wise."
— Toronto Star

"In Anita's captivating story, heightened by richly drawn characters, Tanabe insightfully grapples with complex and compelling issues."
— Booklist

"This charming, thoughtful, and affecting book tells the story of the first black woman to attend Vassar. That she attended as a white woman, passing and always at risk of exposure, drives the plot and allows Tanabe to tell a rich, complicated story about race, gender, education, love, and belonging in the Gilded Age."
— Book Riot

"This engaging novel, set in a time of conflict between old money and new ideas, captures both the bravery and the heartbreak of Anita's decision…the story is a captivating one. Readers won't soon forget Anita Hemmings or the choices she made."
— BookPage

"In this gripping, tension-filled story, Karin Tanabe reveals to us the impossible choices that one woman was forced to make when she decided to follow her dream for a better life. As with many courageous acts, controversy follows our heroine, and for that reason alone book clubs will find much to discuss here. An utterly captivating narrative that kept me turning pages late into the night."
— Kathleen Grissom, New York Times bestselling author of THE KITCHEN HOUSE

"Brilliant, beautiful, and kind, Anita Hemmings should be a perfect fit for Vassar College.But it's 1897, and while Anita appears to be Caucasian, her school would be scandalized if it knew her secret. In a story at once heartbreaking and uplifting, Karin Tanabe limns the tensions of a young woman's desire to participate fully in a world in which she doesn't dare reveal her full self,the myopia of a society twisted by soul-straitening rules, and the wonders—and frustrations—of the highest rung of women's education at the turn of the last century. Most impressive are the characters' emotional complexity; Tanabe understands that human relations are never so simple as black and white."
— Christina Schwarz, #1 New York Times bestselling author

"The Gilded Years tells the compelling story of Anita Hemmings, a woman who defied the expectations and limitation of her world to follow her mind and her heart. Karin Tanabe weaves a tale rich with historical detail and heartbreaking human emotion that demonstrate the complex and unjust choices facing a woman of color in 19th century America. That so many of the questions explored by Tanabe about race, gender, ambition and privilege still resonate today makes this novel required reading."
— Tara Conklin, New York Times bestselling author of The House Girl

"Tanabe has written a moving portrait of a fascinating and complicated woman who crossed the color line when the stakes were high. This richly imagined novel about a woman of brilliance and fierce self-creation is sure to captivate readers as it did me."
— Heidi W. Durrow, New York Times bestselling author of The Girl Who Fell From the Sky

"The Gilded Years is a thrilling and foreboding tale about social and racial rules in nineteenth century America. Anita Hemmings begins her senior year at Vassar in 1896, the year that the Plessy doctrine of separate but equal became the law of the land. She is at the top of her class, speaks five languages, and is the class beauty. One rumor away from disaster, Anita lives with a secret that could get her thrown out of Vassar, injure her family, and destroy her academic future. Tanabe's narration is reminiscent of novels of the 1890s, with dialogue that is spot on for that era. The compelling story covers a shameful time in American history, and is unrelenting in its tension and gripping detail."
— Anna Jean Mayhew, Author of The Dry Grass of August

"The true story of Anita Hemmings, Vassar College's first African-American graduate, comes to life in vivid detail in Tanabe's The Gilded Years. Hemmings' gut-wrenching decision to pass as white in order to obtain an education is a poignant journey and Tanabe's lyrical style is sure to keep readers turning pages."
— Renee Rosen, author of White Collar Girl

"The Gilded Years really brought home the horrific limitations and choices that were faced by black people post-Civil War, even in the supposedly more enlightened North. The characters were vivid and compelling, and it was heartbreaking to witness the terrible lie Anita was forced into to achieve her dream of a Vassar education. That the story is based on true people only added to its richness."
— Laila Ibrahim, author of The Yellow Crocuses

"Entwined with a timely history lesson is a forbidden love story that moves from Kristallnacht in Vienna to Crystal City in Texas, to Shanghai, Tokyo and the oceans between. With the eye of a war correspondent, the author illuminates the moral ambiguities of national alliances and the transcendent power of love."
— The Georgetown Dish
Washington Square Press, 9781501110474, 464pp.
Publication Date: July 11, 2017
About the Author
Karin Tanabe is the author of A Woman of Intelligence, The Gilded Years, The Price of Inheritance, A Hundred Suns, The Diplomat's Daughter, and The List. A former Politico reporter, her writing has also appeared in the Miami Herald, Chicago Tribune, Newsday, and The Washington Post. She has made frequent appearances as a celebrity and politics expert on Entertainment Tonight, CNN, and The CBS Early Show. A graduate of Vassar College, Karin lives in Washington, DC. To learn more visit KarinTanabe.com.
or
Not Currently Available for Direct Purchase