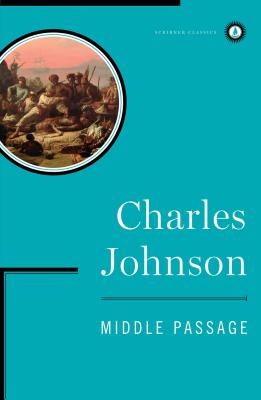 Middle Passage (Hardcover)
Scribner, 9781501110528, 224pp.
Publication Date: July 7, 2015
* Individual store prices may vary.
Description
A Scribner Classics edition of Charles Johnson's masterpiece, winner of the National Book Award—"a novel in the tradition of Billy Budd and Moby-Dick…heroic in proportion…fiction that hooks the mind" (The New York Times Book Review).

It is 1830. Rutherford Calhoun, a newly freed slave and irrepressible rogue, is desperate to escape unscrupulous bill collectors and an impending marriage to a priggish schoolteacher. He jumps aboard the first boat leaving New Orleans, the Republic, a slave ship en route to collect members of a legendary African tribe, the Allmuseri. Thus begins a daring voyage of horror and self-discovery.

Peopled with vivid and unforgettable characters, nimble in its interplay of comedy and serious ideas, this dazzling modern classic is a perfect blend of the picaresque tale, historical romance, sea yarn, slave narrative, and philosophical novel.
About the Author
Charles Johnson is a novelist, essayist, literary scholar, philosopher, cartoonist, screenwriter, and professor emeritus at the University of Washington in Seattle. A MacArthur fellow, his fiction includes Night Hawks, Dr. King's Refrigerator, Dreamer, Faith and the Good Thing, and Middle Passage, for which he won the National Book Award. In 2002 he received the Arts and Letters Award in Literature from the American Academy of Arts and Letters. He lives in Seattle.
Praise For Middle Passage…
Long after we'd stopped believing in the great American novel, along comes a spellbinding adventure story that may be just that."

"A novel in the honorable tradition of Billy Budd and Moby Dick... heroic in proportion...fiction that hooks into the mind."

"A rousing adventure yarn that resonates with and echoes the spirit of early sea stories...Johnson has fashioned a tale of travel and tragedy, yearning and history, and done so from a different, rarely explored viewpoint....Middle Passage is a story of slavery, often brilliant in its structure and riveting in the way it's told."

"Middle Passage is both unexpectedly funny and highly intellectual."

"Highly readable...by turns mimicking historical romance, slave narrative, picaresque tale, parable, and sea yarn, indebted to Swift, Coleridge, Melville, and Conrad."

"A vivid and compelling work."

"A fascinating allegory of the way black and whites came together in this country...Johnson's remarkable novel challenges us."

"A savage parable of the black experience in America...blending confessional, ship's log, and adventure...in luxuriant, intoxicating prose."

"Middle Passage resonates...a spirited adventure tale daringly spun off the realm of myth."
or
Not Currently Available for Direct Purchase