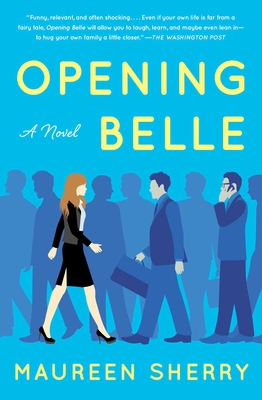 Opening Belle (Paperback)
A Novel
Simon & Schuster, 9781501110634, 352pp.
Publication Date: December 6, 2016
Other Editions of This Title:
Digital Audiobook (2/1/2016)
Hardcover (2/2/2016)
Hardcover (3/10/2016)
* Individual store prices may vary.
Description
Maureen Sherry's funny insider novel about a female Wall Street executive also trying to be a mother and a wife is a "compulsively readable…cheeky—and at times, romantic—battle-cry for any woman who's ever strived to have it all and been told by a man that she couldn't" (Entertainment Weekly).

It's 2008 and Isabelle, a thirty-something Wall Street executive, appears to have it all: the sprawling Upper West Side apartment; three healthy children; a handsome husband; and a job as managing director at a large investment bank. But her reality is something else. Her work environment resembles a frat party, her husband feels employment is beneath him, and the bulk of childcare logistics still fall in Belle's already crowded lap.

Enter Henry, the former college fiancé she never quite got over; now a hedge fund mogul. He becomes her largest client, and Belle gets to see the life she might have had with him. While Henry campaigns to win Belle back, the sexually harassed women in her office take action to improve their working conditions, and recruit a wary Belle into a secret "glass ceiling club" whose goal is to mellow the cowboy banking culture and get equal pay for their work. All along, Belle can sense the financial markets heading toward their soon-to-be historic crash and that something has to give—and when it does, everything is going to change: her marriage, her career, her bank statement, and her colleagues' frat boy behavior.

Optioned by Reese Witherspoon who called it "smart, biting, and honest," Opening Belle is "funny, relevant, and often shocking….Even if your own life is far from a fairy tale, it will allow you to laugh, learn, and maybe even lean in—to hug your own family a little closer." (The Washington Post).
Praise For Opening Belle: A Novel…
"Compulsively readable…a cheeky—and at times, romantic—battle-cry for any woman who's ever strived to have it all and been told by a man that she couldn't."

"Funny, relevant and often shocking.... Even if your own life is far from a fairy tale, Opening Belle will allow you to laugh, learn and maybe even lean in — to hug your own family a little closer."

"Maureen Sherry's comic novel unspools like a movie....I can just hear Cyndi Lauper's version of 'Money Changes Everything' on the soundtrack."

"Corporate sexism and the mortgage crisis are a laugh a minute...in this delightful comic novel, at least....So much fun, and educational too."

"A smart, biting and honest peek into what it means to be a woman on Wall Street. I loved this book."

"Working Girl meets Wolf of Wall Street in this in-depth, behind-the-pinstripe peek inside a temple of elite finance, navigated by a sharp, smart woman in an old boys' world."

"Wow. This is the inside story we've been waiting for. Wall Street women never talk because their silence has been bought. Not Maureen Sherry. She tells her story of a working mother's battle against outrageous sexism and financial recklessness with laugh-out-loud insight and winning panache. Shocking and hilarious, Opening Belle is one woman's glorious revenge on the unreconstructed Tarzans of the corporate jungle. I don't know how she does it, but I'm really glad she did."

"Opening Belle is an irresistibly Zeitgeist-y novel about motherhood, marriage, misogyny, lust, ambition, discovery, disappointment, entitled nannies, and Goldfish crackers on the floor that (and this is big) rings true. But that's not all. Sherry's novel is also a delightfully funny and frequently damning participant-observer's dissection of the secretive codes and practices of an elite, socially antediluvian tribe of men who, in a very real sense, run the world. For them, the bell has sounded."

"Rooting for our girl banker/mommy/wife Isabelle is not tough; she is so brilliantly breezy. This book reveals the honest reality of a woman working in a man's world and still being treated like she's in an updated version of the cult classic 9 - 5."

"Maureen Sherry reveals what it's like to be a woman working in the adrenaline-fueled, complex, exciting, rewarding, and demanding culture of Wall Street. You won't be bored on this roller coaster ride."

"This funny and fast-paced romp is sure to entertain."

"This workplace novel that takes a fun look at Wall Street and the Park Avenue set is filled with humor and heart."