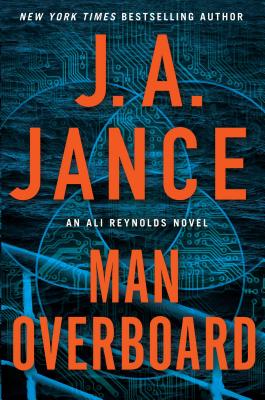 Man Overboard (Hardcover)
An Ali Reynolds Novel (Ali Reynolds Series #12)
Touchstone, 9781501110801, 352pp.
Publication Date: March 21, 2017
* Individual store prices may vary.
Description
In New York Times bestselling author J.A. Jance's gripping new thriller, Man Overboard, two tech geniuses face off—one intent on saving lives, the other on ending them.

Cybersecurity expert Roger McGeary finally has his life back on track after years of struggling with depression. But when he falls from the balcony of his suite on an all-expenses-paid cruise, the police quickly dismiss it as "death by misadventure," a vague phrase leaving much to interpretation.

Unsatisfied, Roger's tough-as-nails aunt, Julia Miller, is determined to find answers and closure. By contacting Roger's childhood friend Stuart Ramey to help her solve the mystery of his fate, Julia unwittingly sets up a collision course with a serial killer.

Stuart, his sidekick Cami Lee, and journalist turned amateur sleuth Ali Reynolds put the full resources of cutting edge online security firm High Noon Enterprises into learning the truth about Roger's death. With Cami on the high seas investigating the ship from which Roger disappeared, Stuart stays tied to his computer, locked in a battle of wits and technology against an unusually twisted adversary. Aided by Frigg, an artificial intelligence companion of his own creation, the killer targets victims who have lost parents to suicide and attempts to drive them to the same tragic end.

When the heartless killer and his cyber accomplice set their sights on Stuart, High Noon must race against time to save him and countless others.
About the Author
J.A. Jance is the New York Times bestselling author of the Ali Reynolds series, the J.P. Beaumont series, and the Joanna Brady series, as well as five interrelated Southwestern thrillers featuring the Walker family. Born in South Dakota and brought up in Bisbee, Arizona, Jance lives with her husband in Seattle, Washington, and Tuscon, Arizona. Visit her online at JAJance.com.
Praise For Man Overboard: An Ali Reynolds Novel (Ali Reynolds Series #12)…
Praise for Man Overboard:

"Imaginative . . . [with] a climactic showdown." —Publishers Weekly

"Offering a great ending that all thriller readers beg for, J.A. Jance has absolutely created yet another A+ title." —Suspense Magazine

"The entertaining mystery speeds along, helter-skelter, as multiple forensic online investigations proceed." —The Seattle Review of Books

"All elements . . . combine to make [Jance's] progression into the creepy underworld of the dark web hard to put down." —Green Valley News

Praise for Clawback:

"Entertaining. . . . Jance makes it interesting; she never forgets the human side." —San Jose Mercury News

"Equal parts financial thriller and first-rate mystery. A lesson in pace and plotting from a grand master of the genre." —Providence Journal

Praise for Cold Betrayal:

"Well-drawn characters, brisk prose, and skillful plotting."

"Incredible . . . This is a gem by a winning author. . . . Yet another terrific book by Jance that fans and readers will absolutely cheer about."

"The prolific Jance knows how to tell a story…fans won't be disappointed."

"Ali's good heart and sense of justice combine with well-paced suspense to create a satisfying whole." –Kirkus Reviews

Praise for J.A Jance:

"Jance skillfully avoids the predictable. . . . Her crisp plotting, sharp characters and realistic dialogue carry Moving Target through its many surprising twists."

"Lots of action, and the book is fast-paced and technology-savvy."

"The story, on two continents, is complicated and interesting, but the best thing is the characters, rich and deep and believable."

"Jance adroitly combines well-rounded characterizations and brisk storytelling with high-tech exploits, arson, kidnappings, and a shootout for an entertaining and suspenseful addition to this solid series."

"Jance delivers a devilish page-turner."

"Jance starts her books fast . . . and keeps things moving with cinematic panache. . . . You want an accessible thriller? Jance is your gal . . . Engaging and entertaining."

"Compelling... Satisfying."

"Heart-stopping . . . Jance deftly brings the desert, people, and towns of southeastern Arizona to life."

"An intriguing plot, colorful characters."

"Characters so real you want to reach out and hug—or strangle—them. Her dialogue always rings true."

"J.A. Jance is addictive because of moments that just rise up and make things so real you'll swear you are a part of the book. . . . Jance will charm you into reading everything by her you can find."

"Prolific Jance . . . [carries] readers swiftly to an unexpected conclusion."

"Fast pacing, multiple plotlines, a fascinating look at online research, and sympathetic characters all provide appeal in Jance's suspenseful story."

"Series fans will welcome the familiar supporting cast, including computer nerd Stuart Ramey and boyfriend B. Simpson."

"Engaging . . . Ali charms the locals into giving valuable if inadvertent clues."

"Entertaining on all counts."

"Loyal fans and newcomers alike will be glad to join feisty Ali in her latest adventure."

"A truly thrilling case with red herrings, characters coming out of the woodwork, back stories that will make you gasp, and a conclusion that you will not see coming!"